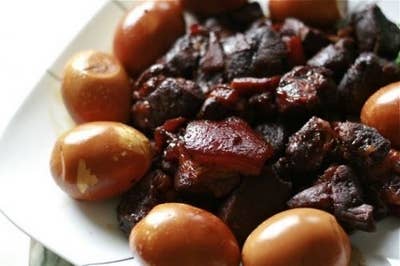 Culture
Sites We Love: The Spinning Plate
Gorgeous photos? Check. Engaging writing? Check. Seriously inspiring recipes, tips, and culinary curiosity? Check, check, and check. The best food blogs all seem to have a lot in common — but what separates them out are the strong personalities behind them. In our Sites We Love series, we sit down with some of our favorite bloggers to find out how they do it — and why it's as much fun for them as it is for us.
Often, we find ourselves turning to food blogs for immediate gratification: what should we make for supper tonight? What should we serve at next week's dinner party? How can we jazz up this bunch of beets that we picked up at the farmer's market? But it's wonderful to go in search of cooking inspiration and find ourselves being drawn in to the words as much as the pictures and recipes. The Spinning Plate's Angela Mears tells us that she thinks of her site as "a writing blog that happens to feature recipes," and for that it's a Site We Love: minimalist, thoughtful prose that locates each recipe within a framework of color, mood, and place. It's intimate and personal, but thanks to the universality of Angela's recipes, it's accessible, too — it's a pleasure spending time getting lost in her thoughts. Here's what Angela had to say about her site:
Live since**: January 2009
Posting rate: Two to three per month. I tend to sit on posts until the writing is where I want it to be.
Geographic location: Chicago
Why is the site called The Spinning Plate? My friend Alan gave the blog its name. He threw it out and it resonated, somehow. The Spinning Plate—It was the only name I heard suggested that wasn't precious. I still can't quite articulate why it works, but it's something about the spin, the dizziness, maybe. The craze.
What's been your most popular post? Pizza Margherita still gets the most traffic. And I'm glad—I worked hard for it. For that post I grew basil, made cheese, peeled tomatoes, sourced local milk and drove all over Chicago to find rennet and the right thermometer. I made dough, sauce, probably half a dozen failed pies. Once I got it right, though, it was a great pizza, well worth the effort. I feel a little sad looking back because I could never produce a post like that now. I wrote it right after I graduated from college, when I had this frenzied hunger for filling time.
What's your favorite post? Probably A Good Thing . It features an old Shanghai recipe called _hong shao rou—_supple skin-on pork that's cooked for hours with soy sauce, ginger and rock sugar. Eggs are involved. It's one of the great meals.
But the post isn't about that—or it's not only about that. When I wrote it, I was thinking about the cruelties we confront when we eat meat, and why we might still be motivated to do it. I've always been interested in this question of cruelty, of satisfying appetites in a way that does damage. I know the answer in my gut, in my belly, but it's not always easy to defend, and it's even harder to write about. The post is difficult. Maybe it challenges the reader a little bit. I like that.
What's something great that you've learned or that's happened to you since starting your blog? I got the job I have now because of the blog. My college was nice enough to do a feature on the Spinning Plate, and I received a few offers from alumni because of it. I ended up seeing one through, and now I'm working PR in Chicago. And I've learned how to make good pizza. And how to shuck oysters.
What's the usual process for developing one of your posts?** Usually I have the photographs and recipe long before I figure out what I want to write about them. Readers of my blog have come to expect that the posts aren't always about the recipe, though I try to circle back to food at the end. Each post is ideally a self-contained little essay on a running theme—which is something about feeling hungry and seeking satisfaction and finding loneliness, something about what it feels like to be a young woman.
I know people will call the Spinning Plate a food blog that happens to value good writing. And that's fine. That's true. But for me it's always been more useful to think about it as a writing blog that happens to feature recipes.
What are your favorite ingredients and tools? All my favorite ingredients are ones that are perfect on their own, that are impossible to write recipes for. I mean imagine writing the ideal recipe for oysters. Shuck. Slurp. It just doesn't get better than that. (But, um, I've published a recipe for oysters. It involved a myriad of stupid toppings. I didn't know then what I know now. I'm not proud.) It should come as no surprise, then, that my favorite tool is my oyster knife, which I don't get to use nearly enough. I also love the heavy-duty meat cleaver my mother gave me. I have a thing for knives.
What are your favorite food and cooking resources? Most of my recipe ideas come from grocery shopping or eating out. If I see some beautiful radishes at the farmer's market, I'll figure out what to do with them. If I order a dish at a restaurant that works in theory but ended up tasting not-quite-right, I'll try to figure out a way to fix it. I'm not a recipe clipper (or follower), and don't own a single cookbook. When I'm short on ideas, I flip through food magazines. I got the idea for a recent post, roasted artichokes, from Saveur.
**What photography equipment do you use? **I have a Canon Rebel Xti with a 50 mm lens. It's not a fancy setup, but there seems to be so much for me to learn, still. I don't use a flash or a tripod or filters… Once I've mastered the bare bones stuff, maybe I'll get into that racket. I'm making plans.
Where else can we find your work? I have an essay about hunger coming out in the North American Review soon. Readers who enjoy the content on the Spinning Plate would find something to connect to in that piece, I think.
What food blogs do you follow? Recently, I've been reading ShiChiMi . The author of that blog lives in Japan, and she wrote some very compelling posts after the earthquake and tsunami there. I also follow a few baking blogs. I do hardly any baking, so it's a pleasure to see what other bloggers are capable of. Sweet and Crumbly and the Whisk Kid are great. Both Geni and Kaitlin feature thoughtful writing in addition to the top-notch photos and creative recipes we've all come to expect. And finally, Green Cilantro is just one of the most gorgeous sites to look at—the photos are stunning, of course, but Vivienne is generous with her process photos, which not a lot of bloggers take the time to do.
Photos by Angela Mears/TheSpinningPlate.com
Do you know a blog or blogger who deserves to be featured in this space? Email a nomination — including a link to the site and a few sentences on why they're worthy of love — to siteswelove@saveur.com.