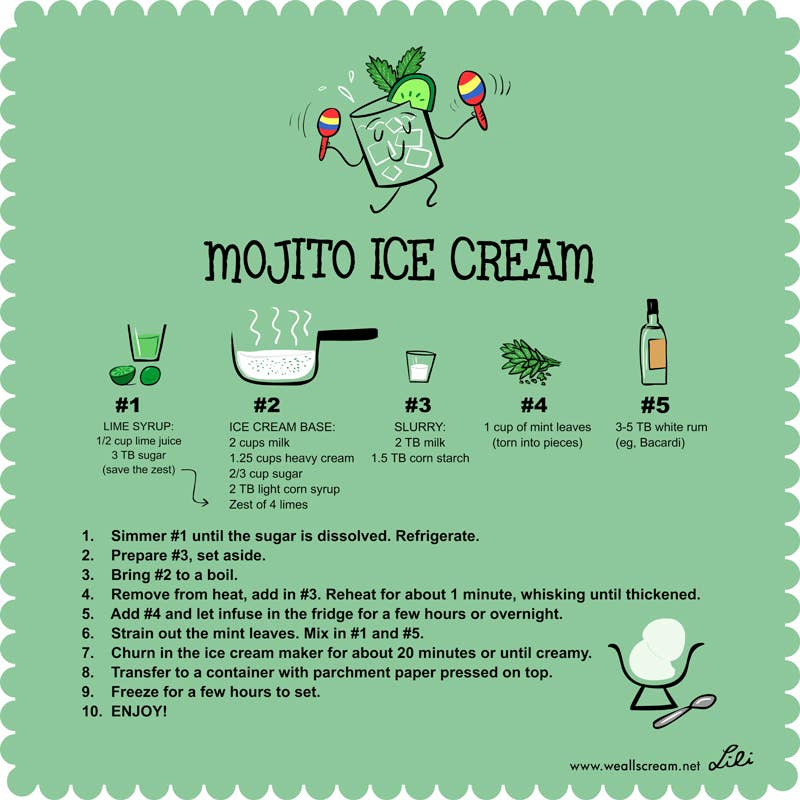 Culture
Sites We Love: We All Scream
Gorgeous photos? Check. Engaging writing? Check. Seriously inspiring recipes, tips, and culinary curiosity? Check, check, and check. The best food blogs all seem to have a lot in common—but what separates them out are the strong personalities behind them. In our Sites We Love series, we sit down with some of our favorite bloggers to find out how they do it—and why it's as much fun for them as it is for us._
Today's site we love is We All Scream, where artist and animator Lili Chin illustrates recipes for deliciously unique ice cream flavors like Goat Cheese and Pears, Thai Iced Tea, and Wasabi Pea. Here's what Lili has to say about her site.
Posting rate: My posting rate depends on when I am inspired or have the time to make a new flavor of ice cream. The blog becomes livelier as the weather warms up and I may post at least one or two new recipes per week. In the cooler months, I may post only once or twice per month.
Geographic location: Los Angeles, CA
What's your favorite post? I don't know if I can pick a favorite. Perhaps the Pawfect Parfait ice cream for dogs because for this particular post, I was able to recruit a bunch of enthusiastic testers and receive "pawsitive" feedback.
What's something great that you've learned or that's happened to you since starting your blog? This blog is really a combination of two hobbies: making ice cream and drawing. It is sort of a personal project because I often take flavor requests from friends, and my friends are my tasters. It's great when I have the opportunity to take this hobby to another level, such as attending L.A. Food Swap events where I can share what I love with new people. I don't consider myself a professional food blogger and We All Scream isn't a conventional cooking blog, so it's also a thrill to be interviewed by SAVEUR!
What's the usual process for developing one of your posts? First of all, I decide on a flavor or a combination of flavors and then I research recipes in books and on the internet. I choose a few favorite recipes. I may tweak them. I am a big fan of the egg-free ice cream method in the book Jeni's Splendid Ice Creams At Home and I stick to this method pretty much all the time. I then make the ice cream, create a mascot character for this flavor, illustrate the recipe and upload it to the blog. Sometimes, the ice cream doesn't taste right. So I make it again, tweak the recipe and update it on the blog.
What photography equipment do you use? I don't take photos because everything is illustrated!
Where else can we find your work? I am a professional artist and animator who also works as a pet portraitist. You can see my work at doggiedrawings.net and lilichin.com.