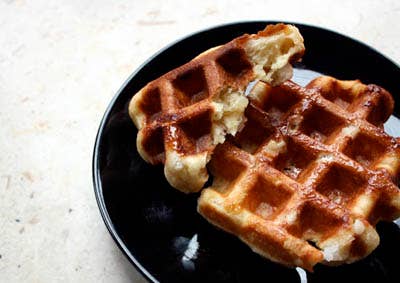 Culture
Sites We Love: Whipped
Gorgeous photos? Check. Engaging writing? Check. Seriously inspiring recipes, tips, and culinary curiosity? Check, check, and check. The best food blogs all seem to have a lot in common — but what separates them out are the strong personalities behind them. In our Sites We Love series, we sit down with some of our favorite bloggers to find out how they do it — and why it's as much fun for them as it is for us.
This week's Site We Love is Whipped, where creator Caroline Lubbers features her inventive baked goods and family-friendly fare. An active food blogger since 2007, Caroline's baking skills, warm manner, and eye for crowd pleasing cuisine have garnered her quite a following. Here's what Caroline has to say about her site:
Posting rate: I shoot for 2-3 a week but work, motherhood, and the day-to-day craze sometimes make it more like 1-2.
Geographic location: Chicago.
Why is the site called Whipped? When I decided to start a food blog, I was thinking of names and it just popped into my head one day when I woke up. I love baking so it made sense. I also thought it was funny, and still get a giggle when I imagine what type of site people are expecting when they search "whipped." Perhaps they are disappointed when they find a wholesome food/mom blog!
What's been your most popular post? White Chocolate Macadamia Nut Cookies. It is as a perfect, basic recipe that many people search for and they find their way to Whipped through these cookies. Although it isn't a post, I also get a number of visits on my Greek Favorites page. My husband is half Greek and we visit Greece every year so I am the odd redheaded American who makes a lot of Greek food!
What's your favorite post? My favorite post is about Triple Pink Cupcakes. I was inspired by my daughter's love of pink and did my best to make her birthday a pink extravaganza.
What's something great that you've learned or that's happened to you since starting your blog? My blog has connected me to many new people and once, reunited me with someone from my past! I had a favorite babysitter named Jane who used to stay with us when my parents were out of town. We lost touch and I often wondered what had become of her. One day, I received a comment on my blog asking if I was the same little red head she used to babysit. She had stumbled on my blog during a recipe search and recognized my photo. We reconnected and even arranged a visit with our families through she lives in Colorado and I am in Chicago. We now keep up from time to time, mostly through blog comments she leaves!
What's the usual process for developing one of your posts? I have hundreds of little scribbles at my office, at home, and in notebooks for post ideas. Sometimes I am inspired to cook with a certain ingredient and other times there are events I am cooking for that inspire my recipes. If the food turns out well, and if I have the time and right lighting to take a good photograph, then I proceed with writing a post.
What are your favorite ingredients and tools? I love baking so I suppose I would say I love flour! Cakes, scones, muffins, cookies, brownies, pies .... I find such solace in baking. My favorite herb is cilantro as I feel like it adds a fresh aroma to almost anything. At the grocery store, I often lean over the heaps of fresh cilantro and inhale the scent! As for tools, I don't use it that often, but I love using a rolling pin. It is so satisfying to roll out dough for pizza, cinnamon rolls or pies.
What are your favorite food and cooking resources? I love sitting with a stack of cookbooks and old cooking magazines and leafing through them and marking pages. Online, I search other blogs or go to Tastespotting.com and search an ingredient or recipe.
What photography equipment do you use? I used a Canon Rebel xsi. Currently, I have the original lens but this holiday season I am treating myself to a new, fancier lens. I also use Photoshop to crop my photos and adjust any lighting or color issues.
Where else can we find your work? I am a contributor for the Christian Science Monitor's Stir It Up food section. I am also a scout for Stroller Traffic, a great place for mom advice and finds. Fortunate for me, I also get to write about food through my "day job" as a marketing consultant. I work regularly with Vosges Haut-Chocolat and Cafe Britt.