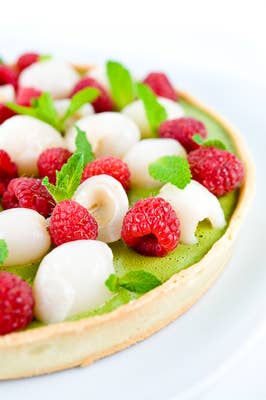 Culture
Sites We Love: Zen Can Cook
Gorgeous photos? Check. Engaging writing? Check. Seriously inspiring recipes, tips, and culinary curiosity? Check, check, and check. The best food blogs all seem to have a lot in common — but what separates them out are the strong personalities behind them. In our Sites We Love series, we sit down with some of our favorite bloggers to find out how they do it — and why it's as much fun for them as it is for us.
This week's site we love is Zen Can Cook, where French-born private chef Stephane Lemagnen shares his thoughtful recipes, accompanied by some seriously appetizing photos. From elaborate desserts to the latest in sous vide cooking, Stephane documents it all. Here's what Stephane has to say about his site:
Posting rate: I usually post once or twice a week.
Geographic location: New York City
Why is the site called Zen Can Cook? I had a nickname when I used to work the line in a high intensity restaurant kitchen, the executive chef would call me "Zen Chef" because I would never lose my 'cool' during dinner rush, even in the most chaotic situations. The nickname stayed with me and kind of defined the chef that I am today. I believe that good cooking starts when you shut out your kitchen inhibitions and allow yourself to make mistakes. My goal is to share with people that cooking should be more an enriching experience than a nerve-wracking process. When we cook, we're also working on ourselves.
What's been your most popular post? A chocolate souffle I posted a few years ago is the most viewed recipe on Zen Can Cook. More recently I posted a green tea crepe cake that is getting a lot of attention as well.
What's your favorite post? It's hard to pick a favorite post but I really enjoy working on the "Behind the Line" series where I go undercover in famous restaurants kitchen for a few days, and write about the experience. My favorite of all is probably the one I wrote on Kaiseki MasterYoshimi Tanigawain Kyoto. I also visited Joel Robuchonat L'Atelier in New York, worked a few days at Le Bernardin, and went on a tour of Paris fancy kitchens at Apicius, Le Laurent and L'Ambroisie. I'm heading to Nathan Myrhvold's Modernist Cuisine lab in Seattle later this year so you can expect to read about this experience as well.
What's something great that you've learned or that's happened to you since starting your blog? A lot of positive things have happened to me since I started the blog but by far the most gratifying and humbling experience of all has been the great feedback I receive from my readers. I have made friendships, learned how to use a fancy camera, made knackwurst on a Brooklyn rooftop, and went on a food tour to Japan to meet chefs and food bloggers. I also got my current job because of my blog. I was 'noticed' by a well-known power couple last year-sorry, can't name names-and got hired to work for them full-time as a private chef.
What's the usual process for developing one of your posts? It usually starts with: "What am I craving right now?" When I pinpoint the source of my cravings, I start building an idea around it. How can I present something differently? Orwhat unexpected twist can I surprise the readers with? Is the dish approachable? Is it something that is easy to make?
And when I'm set on an idea, I cook the dish while taking notes, and photograph it. If I'm happy with the results, I'll write a recipe and a post describing how I got there and what the inspiration behind the dish is. Sometimes I post photo previews on Twitter.
When I'm not feeling inspired I like to flick through the pages of my collection of SAVEUR, cookbooks or menus for inspiration. Sometimes a word, an ingredient or a photo is going to trigger an idea.
What are your favorite ingredients and tools? I come from a pretty classical cooking background but lately I've developed an interest for sous-vide cooking and modern techniques. So right now my favorite tools in the kitchen are a sous-vide machine and a pacojet, a high-tech ice cream machine. And nobody is allowed to touch my Nenox Gyutou knife!
As for favorite ingredients, I couldn't live without fleur de sel and good olive oil. I love Piment d'Espelette from the Basque region which is a dried red pepper with a slightly smoky, slightly sweet, slightly spicy flavor. And I think that 'Yuzusco', a Japanese Tabasco made from yuzu rind is going to be the next big thing.
What are your favorite food and cooking resources? My favorite food is a bowl of ramen at Ippudo with extra pork chashu on the side. I'm easy.
For books, I really go for Kitchen Arts and Letters in NYC.They have the most amazing collection of new, old and out-of-print cookbooks. I could spend hours there.
Where else can we find your work? I just started a website called Zenspotting. I like to think of it as a Tastepotting for adventurous cooks. I had a recipe featured in the novel Table Manners by Mia King. I contributed to Peko-Peko cookbook last year, which was written to raise money to support Japan's recovery after the calamities. I have great respect for bloggers like my friend Patrick over at Appetite for Good who focus a lot of energy into raising money for good causes. I aspire to do more food-related charity work in the future.
What food blogs do you follow? There are too many great blogs to mention them all but I followNo Recipes because I love Marc's bold approach to cooking. He's naturally gifted in the kitchen. The Ulterior Epicure is my source for well thought-out restaurant reviews and breathtaking food photography. I also admire The British Larder because I simply love everything that comes out from their kitchen, and Seattle Food Geek is where food meets science.
Do you know a blog or blogger who deserves to be featured in this space? Email a nomination — including a link to the site and a few sentences on why they're worthy of love — to siteswelove@saveur.com.