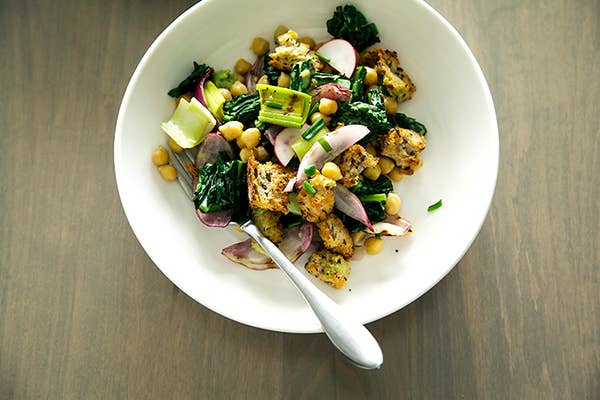 Culture
Sites We Love: The First Mess
Gorgeous photos? Check. Engaging writing? Check. Seriously inspiring recipes, tips, and culinary curiosity? Check, check, and check. The best food blogs all seem to have a lot in common—but what separates them out are the strong personalities behind them. In our Sites We Love series, we sit down with some of our favorite bloggers to find out how they do it—and why it's as much fun for them as it is for us.
Today's site we love is The First Mess, where Ontario-based blogger and vegetable gardener Laura Wright whips up vegetarian dishes with a level of creativity rarely seen, and writes about the sometimes-serious subjects of veganism and sustainability with wit and casual grace. Here's what Laura has to say about her site:
Blog Name: The First Mess
Posting rate: Once a week.
Geographic location: The Niagara region of Southern Ontario, Canada.
Why is the site called The First Mess? I came across a passage in M.F.K. Fisher's An Alphabet for Gourmets where she talks about "the first mess of peas," and I knew that it would fit just fine. She calls their arrival "the day with stars on it," which points to this graceful reverence for the earth. I expanded on the title and how it's seemed to evolve a bit in this post.
**What's your favorite post? **The chickpea, spring onion and Tuscan kale panzanella. The photos aren't my best, but it gave me some clarity on food accessibility and how those issues influence the site. The inherent power of food isn't always so apparent, wherever you may find it, but the feedback and emails from that post blew my mind.
**What's something great that you've learned or that's happened to you since starting your blog? **Perhaps the most illuminating thing I've learned is that a lot of us want to aim higher in a general sense, to do a little bit better by our bodies, the earth that we're traveling on, and the community that we lean on. Small steps and movements to make the big beautiful. Food is an obvious starting point, in a certain way, because it is necessary. How to approach the actual preparation, and finding a way to make it work, isn't always so obvious, though. I used to think that anything I posted had to be this grandiose, original thing. I get emails about simplifying in terms of wholesome meals and such fairly often now, which is pretty splendid because that's how I actually like to eat and live.
**What's the usual process for developing one of your posts? **It's never the same, but generally I'm inspired by something—an ingredient, a conversation with a friend, the season, whatever abundance is popping up in the garden, a song, a scene from a film, instances of intimidation, an article, something we're doing at the restaurant where I work, anything really—and then a recipe concept, loose aesthetic vision and thoughts just flow from there.
What are your favorite ingredients and tools? Seasonal produce is an obvious one, but I also really dig on maple syrup, smoked paprika, citrus, good olive oil and unusual flours like chestnut, whole spelt and buckwheat. With tools, I love a no-frills Benriner mandoline and MAC knives, but my Vitamix blender gets the heaviest play in the kitchen for sure—whether it's homemade almond milk, green shakes, hummus, pistachio butter or perfectly smooth soups.
What are your favorite food and cooking resources? The Flavor Bible is a really wonderful resource for any cook at whatever level. I have a lot of interesting, super technical textbooks from my time in culinary school, like Larousse Gastronomique, that I'm always flipping through. I love the no-frills, quietly badass approach of Cook's Illustrated. I still can't believe that Lucky Peach even exists and I treasure my back issues of Gourmet. I also really love Bryant Terry's cookbooks. When I initially got into plant-based cooking, his work was so refreshingly inspired and genuine to me. It's made me work harder towards the clarification of my cooking style. I feel like I'm always learning something from Food52 as well.
**What photography equipment do you use? **A Canon EOS 5D Mark II body and for lenses, I primarily use a Canon EF 24-105mm and the EF 50mm 1.4 here and there. I edit the photos with Lightroom and play around with VSCO Film too.
What food blogs do you follow? I subscribe to over 80 blogs, so it's obvious that I enjoy the whole scene with a bit of enthusiasm. For recipes and just great vibes, I love My Darling Lemon Thyme, Oh, Ladycakes, Sprouted Kitchen, Apt. 2B Baking Co., and Golubka. In terms of overall immersive greatness, I like The Vanilla Bean Blog, Delightful Crumb, The Yellow House, Seven Spoons, Local Milk, and Happyolks.