Indian Travel Resources
A collection of our favorite guide books and apps to help you navigate this vast and varied country.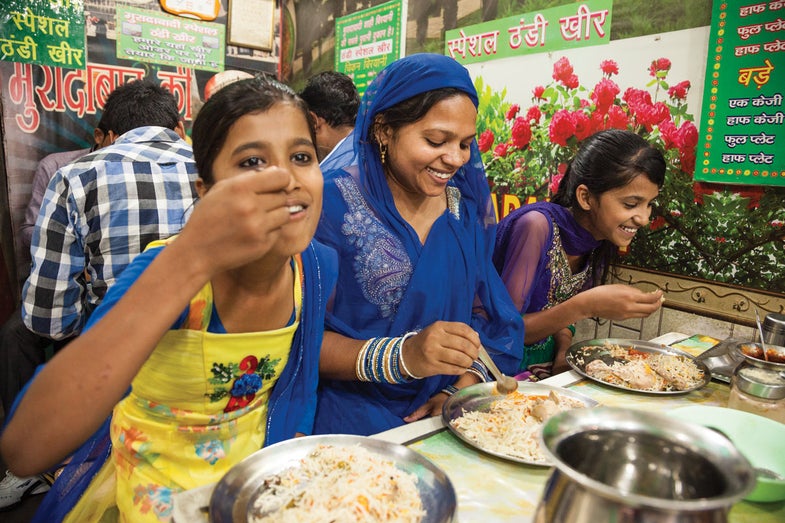 Expanded to include Sri Lanka, Alastair Sawday's Special Places to Stay is essential for travelers looking for stylish, unforgettable adventures. Combing India for quirky and off-the-beaten-path accommodations, Sawday finds something to suit everyone. With rooms ranging from $20 to $360, the book covers a wide array of budgets and experiences, from luxurious old Portuguese churches to organic farms and desert tents. In-depth descriptions, photographs, and maps ensure that travelers are as informed as possible.
Alastair Sawday Publishing Co. Ltd, 2010; $17
Buy Alistair Sawday's Special Places to Stay on Amazon.com
If you're going to purchase only one guide book, make it Lonely Planet India. With relevant tips on what to see, what to miss, and everything in between, Lonely Planet India deserves its distinction as the number-one best-selling guide to the country. From visiting the Taj Mahal to experiencing singular adventures—such as riding a camel through the desert by moonlight—Lonely Planet India covers a wide range of options. Maps, itineraries, and insights from locals help you shape your trip into something extraordinary. Explore Delhi's bazaars, Goa's white-sand beaches, Darjeeling's tea plants, and Himalayan monasteries with this trusty companion.
Lonely Planet, 2013; $35
Buy Lonely Planet India on Amazon.com
by Charmaine O' Brien
The first of its kind, this comprehensive guide will take you on a culinary exploration of India that includes both the exotic and the everyday fare of this beautiful country. Author and historian Charmaine O'Brien seeks to unravel the world through food, from Goan chicken cafreal and Hydrabadi mutton biryani to bang ka raita, a rich side dish of spiced eggplant and yogurt from Utterakhand. O'Brien delves into the varied palate of India and offers historical information and cultural tidbits.
Penguin, 2013; $11
Buy The Penguin Food Guide to India on Amazon.com
by Annie Dare
Amazingly in-depth and up-to-date, Footprint India is beyond extensive. In fact, it's a brick—you may want to cut out the sections you need and leave the rest behind. This comprehensive resource will give you all the information you need to navigate India like a local. Written by established experts in the various regions, amoung them a professor of South Asian Geography at the School of Oriental and African Studies, this book is the best way to quickly get a grip on India.
Footprint Handbooks, 2005; $25
Buy Footprint India on Amazon.com
Start with the pre-travel tips and practical information about your destination (the history, music, languages, even book recommendations), then peruse the comprehensive guides for each area. Highlights, full-color maps and photos, and essential insider tips like how to get around and the best times for particular activities make this an outstanding resource and source of inspriation.
Rough Guides, 2013; $23
Buy The Rough Guide to India on Amazon.com
This English-to-Hindi travel translator is worth far more than the dollar you'll spend on it. Designed for travel, it covers all the essentials, paying special attention to food, drinks, directions, banking, and introductions. See the written translation and listen to the accompanying audio to memorize important words and phrases. It even works offline, so there's no hassle with spotty wifi or data charges.
Glykka, 2011; $1
Buy QuickHindi on iTunes.com
This is the best app for staying up to date on what is happening around you while traveling in India. Get live coverage of all breaking news on your smartphone via Times Now Live TV & Times Now Live audio. Stay connected with local news from 45 Indian cities and read news offline if you've visited a section before.
Times of India, 2014; free
Get Times of India on iTunes.com
Mirroring Spotify's user-based model for music, Trippy connects to social media sites like Facebook and Twitter to find friends who've been to your location before. From there, it's fun and easy to crowdsource recommendations on where to go and what to do. You can even create a library of destinations and mark them all on the in-app map, then share your photos and comments with the people whose recommendations made your trip great.
Trippy.com, 2014; free
See more stories, recipes and travel guides in our India issue »