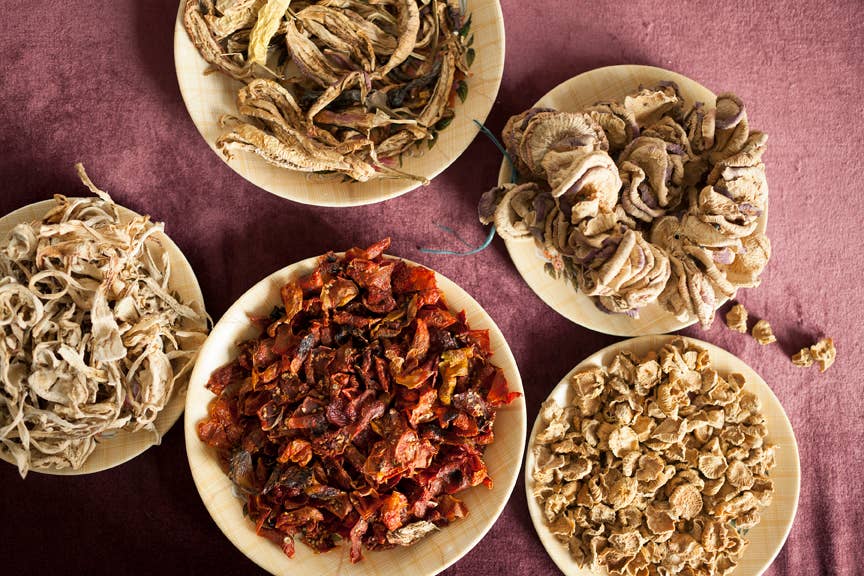 Travel
Saving the Sun for Winter
In Kashmir, some of the best dishes are made with sun-dried vegetables
"It's a good thing that it's cold and cloudy today," Sirbuland Andrabi said as we shook off the raindrops from our clothes. Indeed, banks of dark gray clouds hung over the Vale of Kashmir, and from the Andrabis' hilltop residence, it felt even colder as impossibly large carmine roses nodded furiously in the icy wind that was blowing across the terraced garden. But this turned out to be a deliciously good omen. We were visiting with the Andrabi family to learn the art of cooking with sun-dried vegetables, a specialty of Kashmir eaten only during the winter season, so it was fortuitous that we had winter weather in the middle of May.
In the cornucopia of Kashmiri cuisine, sun-dried vegetables are a small but essential component. Up until 20 years ago, Kashmiris would have starved had their larders not been stocked with gourds, leafy greens, turnips, tomatoes, onions, and even mushrooms carefully dried all through autumn to last through the three months of winter, when the only road leading to the valley was snowed out. Ask any Kashmiri who lives outside the state what his fondest memories of home are, and he's likely to cite huddling with the family in the kitchen during winter and eating steaming hot rice with a succession of sun-dried vegetables. Today, even when the lone road to the valley is maintained year-round and meticulously cleared of snow to ensure a regular supply of southern produce to Kashmir, families like the Andrabis like to dip into their stash of home-dried collard greens and eggplants to decide on an impromptu winter treat on a cold spring day.
Sirbuland was masterminding operations in the kitchen. At 73, she had more or less handed over the reins to her daughter-in-law Irfana, but on that particular day, her daughters Sabeena and Sameena had come to visit with their own daughters, so the kitchen was filled with happy chatter and the bustle of three generations of ladies working superbly in unison. No sooner had granddaughter Sheeban sifted through a mound of lentils with an eagle eye, discarding discolored pulses and small pebbles, than she'd handed it to her aunt Sameena, who set it to cook in a pressure cooker and moved rapidly out of the way so that Irfana could sauté sun-dried tomatoes to fry with the hard-cooked eggs that young Zainab was peeling with expertise. In the meantime, Sabeena was slicing onions with machine-gun rapidity, without the help of a chopping board, so that each blade-thin slice fell straight into the frying pan.
Sirbuland was in her element. "It gives me a high when I see my granddaughters making the very same dishes that I taught their mothers all those years ago. We are an extremely traditional culture, and we take comfort in the continuation of our traditions." It is possible to buy dried vegetables from the market, but no family who prides themselves on a well-kept table would ever resort to that. "From the end of September onward, our main activity is preparing for winter," Sirbuland said. Preparations include chopping or slitting vegetables and hanging them out to dry in the sun, often on the clotheslines. Turnips are dried whole, threaded on string and hung up to dry outside windows. The Andrabi garden becomes a bed of vegetables spread out to dry on a succession of sheets and newspapers, with someone turning them over at intervals. Even foraged vegetables like dandelion make it to the list of must-dry vegetables.
While there are some immutable rules for dried vegetables, others change from one family to another. Dried vegetables are never combined with fresh ones, so some families even sun-dry sliced onions just to use in these winter dishes. And as sun-dried vegetables are considered warming to the body's system, they're not considered suitable for a hot summer's day. When we sat down to supper, the dining table was hidden under a profusion of traditional tinned-copper Kashmiri tableware laden with dishes: dried bottle gourd (young calabash) stewed with chicken in a sauce vibrant with mustard oil, turmeric, and ginger; chile-spiced, earthy dried turnips and lamb; fennel-laced dal with dried eggplant; hard-cooked eggs fried in a sauce of piquant dried tomatoes. Weeks of resting beneath the sun's bright rays had intensified their flavors, concentrated their sugars, and altered their texture, lending them a satisfying chew. The skill of the ladies of the Andrabi household consisted in knowing what dried vegetable to keep al dente, the better to contrast with the accompanying ingredients. The firm bite of dried eggplants counterbalanced the creaminess of puréed green lentils; the turnips were as meaty as the lamb that accompanied them. It was robust survival food from a northern clime's cold-weather larder, but with its splendid flavors and textures, it was also so much more.
Marryam Reshii is a restaurant critic and consulting editor for the Times of India