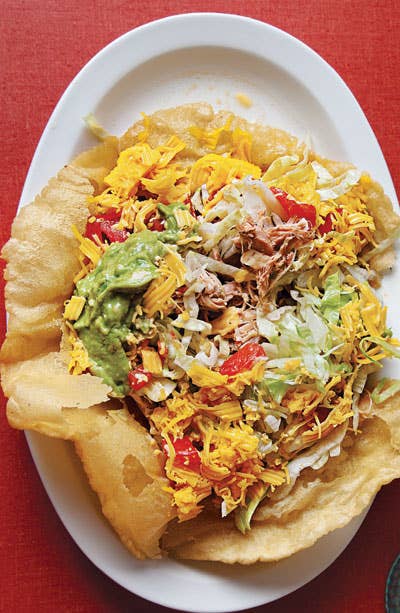 Travel
San Antonio Tex-Mex
In this year's SAVEUR 100, we take stock of our favorite things: recipes, people, places. We consider every last one a new classic.
Behold the puffy taco, pride and joy of San Antonio, Texas. It is the epitome of Tex-Mex cuisine, taking a south-of-the-border element like the tortilla (either corn or flour), pumping it up (via deep-frying), and heaping it with American-size quantities of shredded chicken, guacamole, tomatoes, lettuce, cheddar cheese, or anything else you fancy.
San Antonio is the capital of Tex-Mex, and whenever we've got a hankering for that singular style of spicy, cheesy, bighearted cooking we seek out a few classic spots in the city. First stop: Mi Tierra Cafe y Panaderia, a sprawling space filled with the music of mariachis that's open 24-7. Here all the touchstones—tacos, enchiladas, chile con queso, and more—are served in that most Tex-Mex of presentations, the combo plate. Any visitor to the city should swing by Taco Taco Cafe for a superlative puffy taco, as well as traditional soft and crispy tacos. Rolando's Super Tacos (919 W Hildebrand Ave) claims to serve "The Biggest Tacos in Town" (that's their puffy version pictured) on 12-inch tortillas. And when we want the extra-thick soft flour tortillas that are another San Antonio signature, we head to Pete's Tako House (1022 N Main Ave; 210/224-2911) where they're as robust as any we've had, filled with anything from lengua (tongue) to the kind of country sausage and gravy typically served on southern-style biscuits—a beautiful fusion of the best of both sides of the border.
Rolando's Super Taco's
979 W. Hildebrand Avenue
210/732-6713
Pete's Tako House
7022 N. Main Avenue
210/224-2911