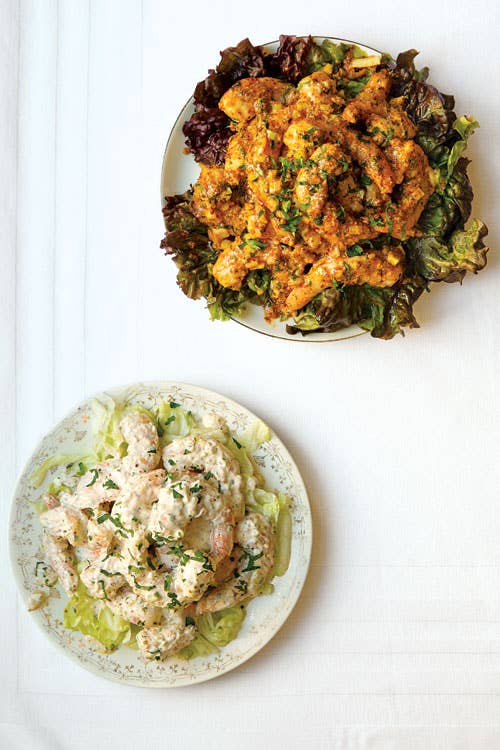 Travel
Special Sauce
Tangy, creamy shrimp rémoulade, though French in origin, has become a uniquely New Orleans tradition
I spent part of my late 20s living in New Orleans. And like most anyone who's lived in that city will tell you, it got inside of me, never let me go. Though I now reside in Brooklyn, on many a weekend you'll find me in my kitchen—Saints cap on my head, cold bottle of Abita beer in my hand—stirring a pot of chicken and andouille gumbo, or a batch of red beans and rice. But there was one New Orleans staple I'd never tackled at home—the Creole mustard-based appetizer known as shrimp rémoulade. Strange since I once loved the dish so much, devouring zesty forkfuls of it at New Orleans institutions like Arnaud's in the French Quarter, or the Upperline, where it is served on a bed of tart fried green tomatoes. Craving it on a particularly frigid day last winter, I started searching online for a recipe—a search that led me to a YouTube video of the late, great Warren Leruth.
Leruth was the chef-owner of LeRuth's, one of southern Louisiana's most celebrated restaurants in the late 1960s and '70s. In the video, he shyly whips up a batch of his red paprika-laced sauce, which he then pours over a carefully assembled pile of shrimp. Jotting down the ingredients, I headed to the market, determined to replicate it.
Like many New Orleans dishes, the origins of shrimp rémoulade are French. The word rémoulade is said to come from the French rémola, or black radish, perhaps because the mixture delivers the same kick as a radish, though other theories abound. The tartar sauce-like white version that appears in the 1938_ Larousse Gastronomique_ is made by "adding mustard, gherkins, capers, and chopped herbs to mayonnaise," sometimes with anchovies mixed in at the end. In France it was, and still is, used as a dressing for julienned celery root. But all this is a far cry from Louisiana's brick-red shrimp rémoulade.
According to New Orleans Cuisine: Fourteen Signature Dishes and Their Histories (University Press of Mississippi, 2009), the turning point from white French to red New Orleans sauce came in 1920, when the famed Arnaud's restaurant opened. The chefs there, fueled by the spirit of innovation and eager to appeal to customers who adored sweet shrimp, riffed on a rémoulade base to create a dish they called shrimp Arnaud. With the addition of celery, paprika, horseradish, and grainy Creole mustard, a move that reflected the distinctive local love of piquancy, the preparation was indistinguishable from today's Creole rémoulade.
On Tulane University's Culinary History Project website, I found a chart listing all the different ingredients employed throughout the city. Antoine's uses ketchup spiced with horseradish; the Gumbo Shop tosses in pimentos; Paul Prudhomme adds Worcestershire sauce. But even the city's white rémoulades, like the one I found in a cookbook from Galatoire's, the French Quarter institution, get a fiery punch from Creole mustard, horseradish, and cayenne pepper.
Returning from the grocery, I clicked back to Chef Leruth's video and followed along, boiling up shrimp and mixing Creole mustard with chopped onions, celery hearts, sugar, parsley, and Tabasco. I threw in paprika and watched the chunky mishmash turn crimson before drizzling in cottonseed oil. I took a taste. It all came together perfectly: the tang of the mustard, the nuttiness of the oil, the crunch of the vegetables. I poured it over my shrimp and placed them in the fridge to let the flavors jibe.
Later that night, as I sat at my dining room table listening to scratchy Louisiana R&B streaming on WWOZ, I took a bite of my first homemade shrimp rémoulade. Its quintessentially New Orleans flavors, melding so beautifully with the cool, succulent shrimp, reminded me of long ago dinners in a city I won't soon forget.