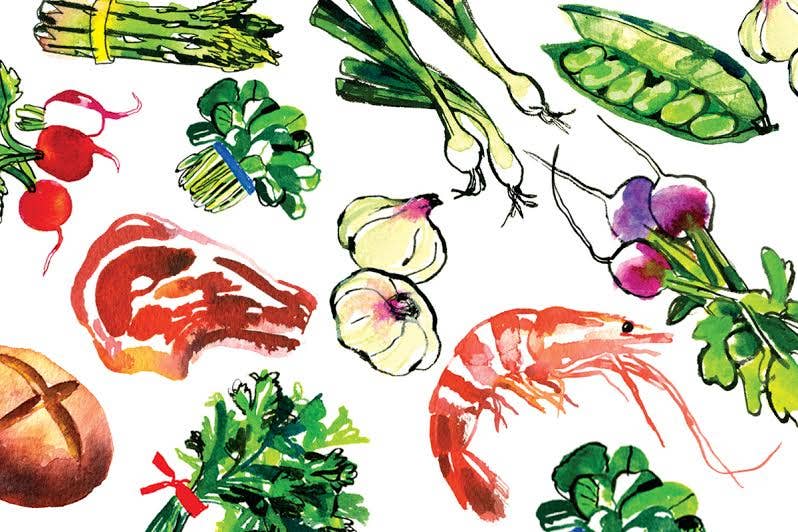 Travel
The Hungry Metropolis
From street food to upscale dining, LA is the best place in the world to eat now.
When I am showing visitors around Los Angeles, I like to take them for a sandwich at Langer's, an old-line Jewish delicatessen across the street from MacArthur Park that happens to serve the best hot pastrami in the world. By the time they walk the half block from the subway stop to the restaurant, they will have smelled food from four or five Central American countries, examined Mexican street murals, and been offered the opportunity to buy fresh mango, forged green cards, Salvadoran tamales, and cut-rate CDs of LA-style cumbia music. Within Langer's itself, they will probably wait for a table with customers speaking Spanish, Korean, and one or two regional Mexican dialects. Hot pastrami is a universal language.
Or maybe it's a cool spring evening, clouds skittering across the darkening sky, and we bomb across the east side looking for an itinerant vendor known for her mastery of the chalupa, the deep-fried-masa snack from central Mexico. Or perhaps we huddle around the outdoor fire pit at Street, Susan Feniger's new street food-themed restaurant in Hollywood, contemplating the potato-filled pastry pani puri. Or we buzz through a bowl of ash-e jow, a comforting vegetable soup, at the Iranian sandwich shop Attari; or try the consomme with beef-marrow dumplings under the olive tree at Spago; or sip Malibu-grown pinot noir amid the Frank Stella and Robert Graham sculptures on the patio at Michael's.
Manhattan may boast the highest concentration of high-end restaurants in the world, and Singapore hawker centers may pack more joy into each square inch, but Los Angeles is the best place in the world to eat at the moment, a frieze of fine dining overlaying a huge patchwork of immigrant communities big enough and self-sustaining enough to produce exactly the food that they want to eat. The famous insularity of Angelenos, our attraction to the pleasures available in our own backyards, may be bad for the civic culture, but the anti-melting pot is excellent for cuisine.
The Japanese phone books published here dwarf the ones you get from the telephone company; the Korean supermarkets are vaster than the American ones; and there are more Mexicans in LA County than there are in Guadalajara. When somebody asks if you feel like going out for Chinese food, the only sensible response is "What kind?" The Chinese community in the San Gabriel Valley, which stretches for almost 20 miles, supports restaurants from every corner of China, including districts you'd be hard-pressed to find on a map. When Mr. Chen goes out for a bowl of noodles on a Wednesday afternoon, he gets a bowl of noodles that replicates to the extent possible the dish that he used to get in the northern province of Shaanxi, not noodles that have been altered for the carriage trade. Mr. Chen gets his taste of home. We get the pure taste of Shaanxi. Everybody wins.
It should be noted that Los Angeles has its own, indigenous cuisine, too. The city and the surrounding area gave birth to the Cobb salad and the chiffon cake; the chili burger and the California roll; Taco Bell and McDonald's. What most people think of as Los Angeles cuisine is a variant of gracious, basic cooking: Dad grilling steaks and burgers out on the deck, Mom tossing a big salad, a pot of beans on the stove. Compared with London or Barcelona, Los Angeles is a young city, but its food has always had its own style, informed by the quality of the produce, the cultivated ease, and the pleasure of being able to barbecue outside in your shirtsleeves almost every day of the year. The vaqueros, the Mexican cowboys who settled this land more than 200 years ago, ate a lot of grilled meat and salad in California's early days, and so did the Midwesterners who ended up here at the beginning of the last century. The Sunset magazine, ranch house, checked-blouse paradigm of the 1950s was a continuation of that lifestyle—and so, in their way, are the grill-intensive menus of Wolfgang Puck's Spago, the big salads at places like the Beverly Hills Hotel's Polo Lounge, and the fire-charred pizzas at Nancy Silverton and Mario Batali's Mozza. When it is 72 degrees outside and the surf is up and Vin Scully is calling the Dodgers game on the radio, there is no patience for casseroles or stews.
What defines a Los Angeles restaurant? That may be harder to answer. You can find molecular-gastronomy spectacles, casually elegant hangouts with pitch-perfect Mediterranean food, old-school chop houses, fancy burger joints, secret restaurants run out of borrowed kitchens by ambitious line cooks, and places that are so beholden to the whims of the farmers' market that they are barely able to get a sandwich to the table. Food is political here in a way that rock and roll hasn't been for years; it plugs into the rhythms of the city and the world, engaging all the important questions of social justice and health, diversity and inclusion.
Chefs here are inspired by the food around them and assume that their customers understand what they are alluding to when they serve riffs on Peruvian tiradito (a cousin of ceviche) or toast spread with Malaysian kaya (a sweet, thick coconut jam). Culinary traditions bounce off one another in fascinating ways: the Good Girl Dinette in Highland Park serves a perfect biscuit-topped chicken pot pie, except that the chicken component is a Vietnamese curry; ramen stands are as popular in Chinese neighborhoods as they are in the Japanese enclaves of the South Bay; and Koreatown is lined with places to get pho, the Vietnamese beef noodle soup.
And that other Los Angeles? That alternate universe of bed-headed young actors in muscle shirts, where everyone you meet has a role in a basic-cable series and Ashton Kutcher is the most successful restaurateur in town? It eats pretty well, too. Say what you will about Hollywood, but never has there been a more supportive crowd of diners. And, back in the day, there was an undeniable thrill to spotting Jimmy Stewart at Chasen's, the legendary Beverly Hills supper club that closed in 1995, or Orson Welles at Ma Maison on Melrose. ("My doctor told me to stop having intimate dinners for four. Unless there are three other people," Welles once said.) It's not surprising to me that almost every current that has informed American dining in the past 30 years, including Asian fusion, high-end comfort food, the sushi-driven bistro, modern Southwest cuisine, slow-rise bread, and the cult of the celebrity chef, began in LA kitchens.
But while it's easy enough to have a great meal at popular Hollywood places like Sona and Providence, Los Angeles rewards the peripatetic spirit. When I was a young restaurant critic in the 1980s, specializing in what was then known as the "ethnic" beat, it occurred to me that week after week I was uncovering not just new dishes but whole new cuisines while the senior critic was busy eating at a lot of second-rate Italian restaurants. After a while, I learned that I was just as likely to find bliss on a folding table in a dicey parking lot as I was in a Michelin-starred restaurant. And while I might not be able to stop a guy in the street and talk with him in his native tongue about Khmer lounge singers or Mexican futbol, I can sit down in restaurants, eat well, and absorb as much of the city's diverse cultures as I care to take away.
Los Angeles, as urban planners are fond of telling us, is a constellation of a hundred languages and a thousand micro-ethnicities, a complex, Blade Runner-esque metropolis. Does such a postmodern city provide the road map for the future of American food? As a hungry native Angeleno, I can say, We should only be so lucky. —Jonathan Gold, food critic for LA Weekly and author of Counter Intelligence: Where to Eat in the Real Los Angeles (LA Weekly Books, 2000)