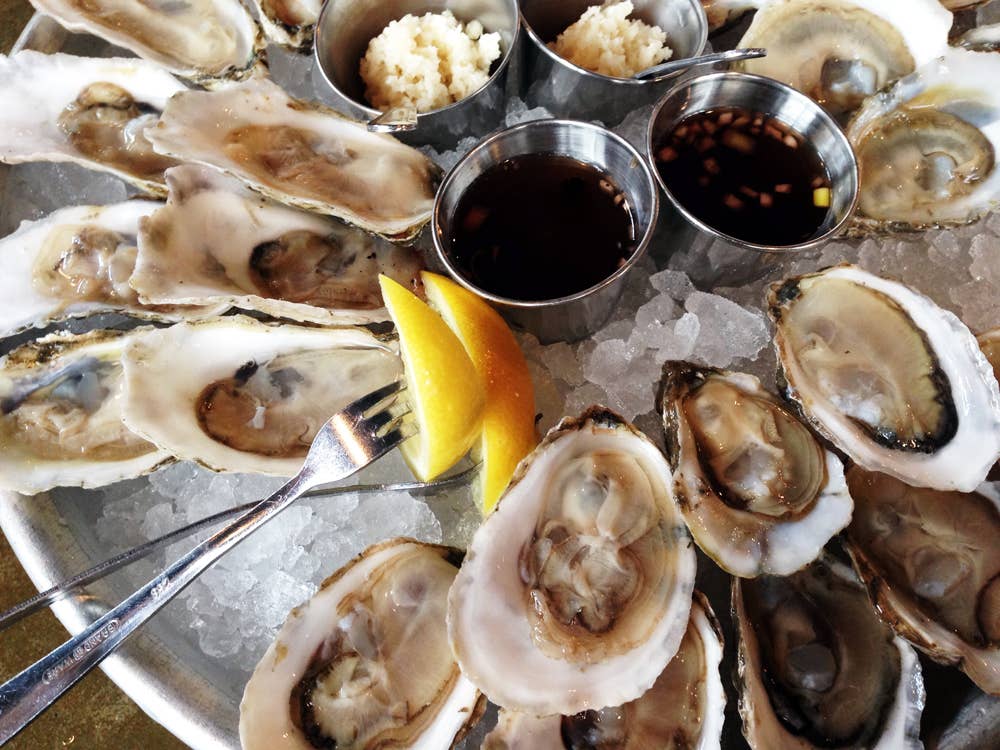 Travel
Where We're Eating: Merroir
The tasting room of Rappahannock River Oyster Co. in Topping, Virginia, turns an oyster agnostic into a full-fledged fiend
There are some people who love oysters so much that the mere mention of an oyster bar, or oyster happy hour, or even just the possibility that there might be oysters to eat in the near future, will have them dancing in their seats. I was never one of those people. My fits of gastronomic joy were usually reserved for other foods—éclairs, Neapolitan pizza, dan dan noodles. But that all changed on a visit to Merroir, the tasting room attached to Rappahannock River Oyster Co., an oyster farm on the Chesapeake Bay in Topping, Virginia.
On the day I showed up in late February, it was cold, sleeting, and generally horrible outside. But that hadn't stopped a sizable crowd from forming on Merroir's enclosed deck, where people sat on heated benches, blankets nearby, happily slurping down plates of oysters and pints of beer.
Merroir calls itself a tasting room rather than a restaurant because they're serving a simpler sort of menu than you'll find in their fine dining spot in Richmond or their oyster bar at Union Market in D.C.; everything is either raw or cooked on a small outdoor deck, in a kitchen that somehow operates with little more than a grill and a camp stove. But that should impress rather than deter you, because the dishes they turn out here are rich, perfectly executed, and satisfying. This is the way oysters were meant to be eaten: in baseball caps and ugly sneakers, thirty feet from the water where they were harvested.
We started with piles of oysters on the half shell, of course. All of Rappahannock's oysters are the native Eastern variety, grown in about 400 acres throughout the Chesapeake Bay, mostly on the Rappahannock River. They range in flavor from sweet and mild to aggressively briny, depending on how far out towards the sea they are cultivated. We made quick work of them, washing them down with Revival Oyster Stout, a deep, toasty beer with a surprisingly pleasing briny character. We could have stopped there, but in true Virginia style, it was only a warm-up; a seemingly endless parade of plates then began to arrive as fast as we could devour them. A crunchy grilled romaine heart with anchovies and parmesan was followed by pan-fried shad roe (some of the first of the season) with bacon and caramelized onions; angels on horseback, baked oysters with crispy, thick pieces of Edwards ham; grilled whole croaker with salsa verde; and something called a "stuffin' muffin", which turned out to be a dense slab of oyster stuffing covered in gravy (it was supposed to be a one-time Thanksgiving special, but their regulars begged them not to take it off the menu, and so now it's available year-round). We ended this supremely gratifying, if disjointed, meal with coffee and a s'mores donut—as delightfully trashy as it sounds. I was dancing in my seat throughout.
Merroir
784 Locklies Creek Rd.
Topping, VA
804/758-2871