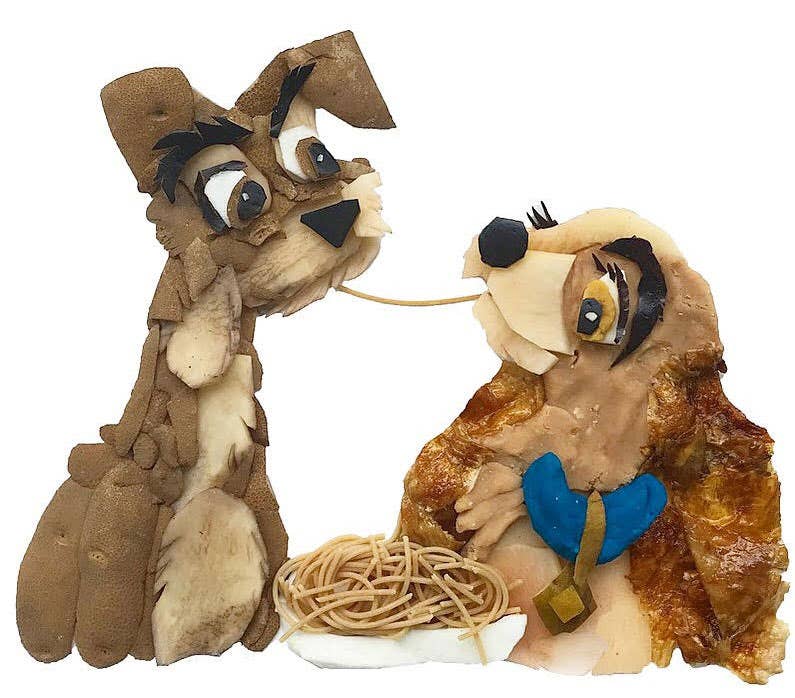 Culture
Meet the Food Artist Who Turns Fresh Produce into Pop Culture Icons
He makes everything from underwater tableaus to that famous Lady and the Tramp pasta scene, all out of food
This food artist has found a way to turn "playing with your food" into a weekend art business.
Harley Langberg, a Philadelphia-based food artist, recreates iconic scenes and characters, such as Disney princesses, the Grinch, and Harry Potter, from everyday ingredients before photographing them and selling the prints.
Although he dabbled in culinary training before working in restaurant kitchens and catering companies, Langberg never aspired to be a chef. In 2013, Langberg was working at an investment firm in New York when he visited a food art exhibit at Chelsea Market featuring "cute" photographs of animals, which inspired him to create his own side business.
He plated his first piece for Harley's Food Art that year (a recreation of Banksy's "Flower Thrower" from eggplants and rosemary). Since then he's created over 600 pieces, ranging from family portraits to "The Last Supper" in ketchup.
Along with selling prints (ranging from $150-$350 depending on size and customization), he's worked with over 40 brands.
For the U.S. Open, Langberg partnered with Wilson to construct their new racket for an ad campaign. He made Bed Bath & Beyond's new bed linen in miniature form out of candy on a plate, and twice he's partnered with Billboard, developing time lapses of the year's best album covers—all made from food you'd find in a Thanksgiving spread.
"Food is universal," Langberg said. "I can approach anyone and create anything in food and it will resonate with their audience."
Generally, he purchases his ingredients from farmer's markets or Whole Foods, and aside from the occasional candy or Oreo piece, he tries to use fresh produce. He also cuts waste by consuming the piece or using the leftover ingredients to cook dinner.
Mashed potatoes are one of Langberg's favorite ingredients, but not every food is meant for artwork. He's experimented with ketchup, but says its consistency makes it hard to mold.
"While it worked in one of my favorite pieces, which was where I created the Last Supper in ketchup—which was insane—it has also failed because ketchup tends to be really watery and you have to get the right consistency with the ketchup to really work it onto the paper," Langberg says. "If it's too watery, it just doesn't work at all."
Spices also challenge him, because with one movement, the masterpiece could be ruined. However, he's created beautiful pieces, like a Nelson Mandela replica made from chili powder.
But his biggest love-hate relationship is eggplant. If you don't work quickly enough, it turns brown and curls, which sometimes causes him to redo pieces before photographing them.
"I generally do the pieces at night and go back to them in the morning, having them sit in the fridge," Langberg says. "But sometimes they'll still turn, even in the fridge, and I'll have to redo a certain piece over in the morning."
Despite these challenges, Langberg says discovering how to play with food is half the fun.
"When someone is painting, it's just paint," Langberg said. "When you think of food, there are so many textures and colors, whether it's candy or produce or cereal. It never gets boring for me."
Langberg has many favorite pieces: there's the fish underwater scene he created from cauliflower, enoki mushrooms and naturally dyed mashed potatoes. Then there's the Martin Luther King Jr. silhouette made from zucchini, or the classic pasta scene from Lady and the Tramp.
For his next business venture, Langberg aspires to publish a book showcasing his art.
"You don't have to be creative to do this," Langberg said. "You don't even have to be a great cook. It's like a wine and painting class. Not everyone who goes there is Picasso, but you just have fun with it and you'll end up creating something you're proud of."