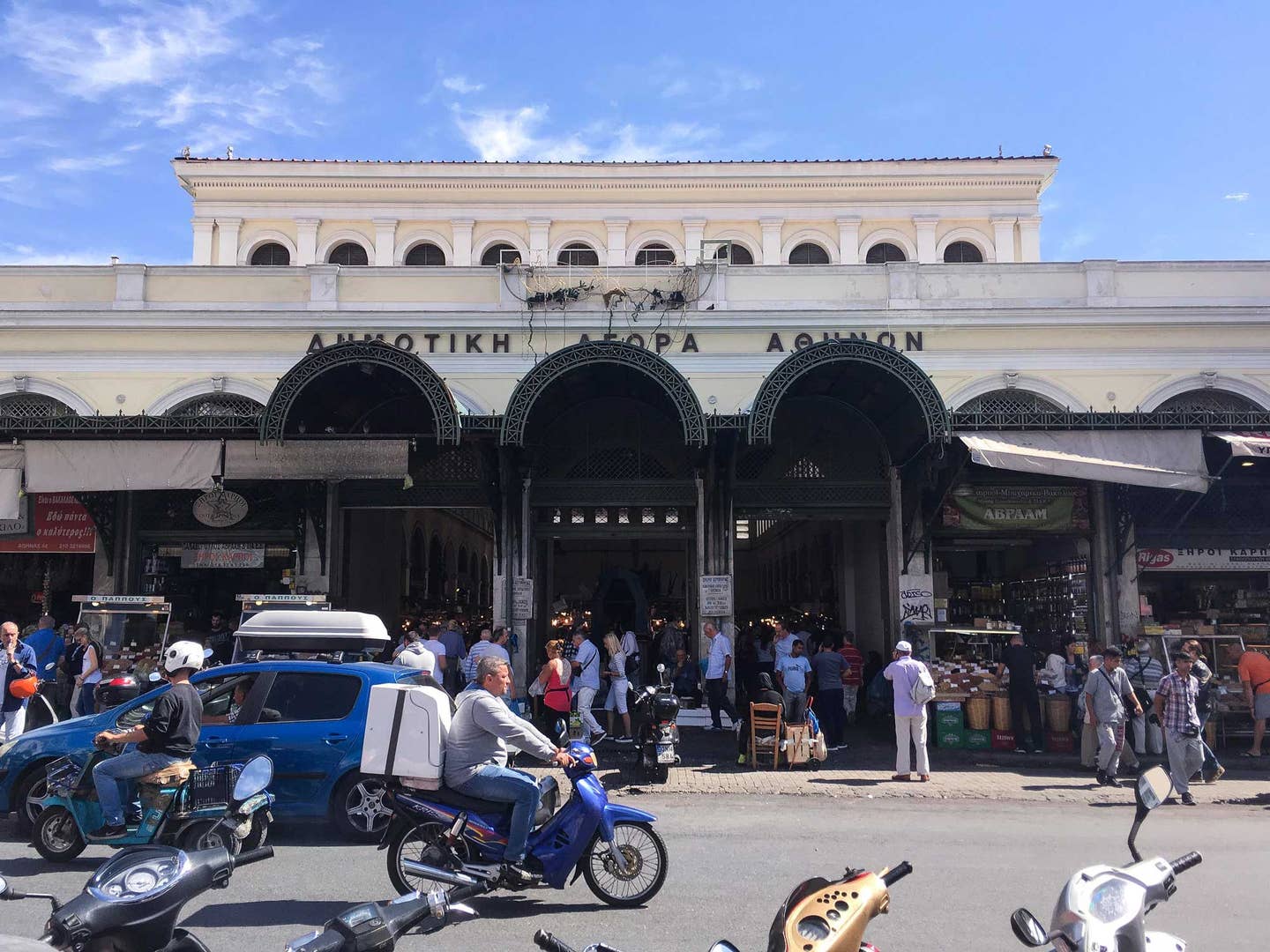 Travel
If You Want to Understand Greek Food, You Have to Visit Athens' Central Market
You could spend hours bouncing between vendors hawking some of the best produce, cheese, and cured meat of your life. This is how to make the most of it
If you want to understand life in Athens, you have to understand the Central Market. Walk down just about any major road downtown and you'll find your way to an entrance, where you'll see people from across the city tote their carts from one stand to the next, arguing in Greek over prices and quality. For a minute, it's possible to block out the various crises that Greece has become known for and find the essence of how the people here live and eat.
The actual market, which locals call the Dimotiki Agora or sometimes the Nea Agora, sits inside a glass-roofed building, installed two years after the original market burned down in 1884. And the action starts early. At 7 a.m., you'll find mostly Greeks pushing wheeled bags, stall owners holding frappes, and pigeons. By 9, I had more room to wander between the stalls, though that didn't stop me from slipping on some mysterious fish juice and bouncing like a pinball between the vendors.
The produce stalls make Greece's reputation for great food abundantly clear. The fruits and vegetables you find there—what seems like everything, though of course the stalls only stock what's in season—are just more vivid than you're used to. I saw some of the biggest, most beautiful pomegranates there, as well as figs, tomatoes, and peppers. I could smell how ripe everything was, ready to go directly into a Greek salad. The vegetable section somehow transitioned into a series of knick-knack filled stalls like the Big Bazaar, which shimmers with all of the mirrors, pots, and instruments hanging from the awning. It probably took me about 30 minutes to maneuver my way through precariously stacked mountains of treasure to the back, but the journey was worth it.
Then there are the spices. Bag after bag of oregano, lavender, dried basil, thyme, peppermint, and mixes with names like "Salad mix" were stacked high in storefront shelves. As I moved past that, under the glass ceiling, I started to get to the meats and fish. Whole animals hang upside down, all parts present except for an epidermis. In the fish aisle, glassy eyed tuna and anchovies stared at me as I walked past. I even spotted an aisle of the market that appeared to be home to several mesh bags of giant crabs. I barely resisted scoring a few bags of gorgeous anchovies—my favorite thing to fry up and eat one after another, like french fries.
If you want to take a break to eat something while you're in the market, most people at the market will recommend you stop at the Epirus Tavern, which sits inside the actual market building, hidden among the butchers. It's open early, so if you arrive before the market opens, you can still sit with a meal and wait for vendors to arrive and watch Athenians be Athenians.
Beyond the market building, go hunting for dairy, especially Στρούγκας του Μωριά (Strougkas tou Moria), a cheese shop that displays block after block of enticing briny feta. I tried a slice off a brick that was described to me by some Greek food-loving friends as the "most authentic feta," made with a mix of sheep and goat milk, instead of just sheep's milk or the cow's milk we're more accustomed to in the U.S. The brine tastes fresher, the texture is richer, and the goat character is unmistakable.
After cheese there's salami. The tiny shop Arapian has so many hunks of cured meat hanging from the ceiling that it's easy to get overwhelmed, but my Greek buddies suggest starting with pastourma. Thinly sliced, and lots of it.
Pastourma is an air-dried cured meat like bresaola that's spread throughout the Mediterranean and seems to have as many names as eaters. It used to be made with camel, and in some places it probably still is, but in Greece it's mostly beef. Hop back and forth between Arapian and Strougkas and you have a mobile meat and cheese platter than can entertain you for hours.
Later in the afternoon, I made my way back to the market for my final stop, and the one that I was looking forward to the most. Diporto sits in the basement of a building near the market, but you'd never know it was there if you weren't looking for it (or if you didn't hear the sound of Greek music floating up from the stairs). There are no signs and no windows—just rusty doors that open to steep staircases leading to what is some amazing food in a secret place. There's also no menu—you eat whatever the kitchen has made for the day. When I was there, that included rice in a tomato sauce with a giant hunk of tender meat in the middle, some fava, a salad, and lots of wine, all of which was fantastic.
But what's best about this place is the atmosphere. Barrels stacked two high line one of the walls, which may seem like an aesthetic choice until you realize those barrels are actually filled with the wine the restaurant serves. It's smoky and loud and full of Greeks. I sat at a table by myself, but this only lasted a few minutes before I was pulled to the table next to mine, where a group of 12 Greek men and women were singing loudly along with an accordion player. After telling them in broken (but wine-enhanced) Greek that I used to live in Thessaloniki, we belted out "Omorfi Thessaloniki" ("Beautiful Thessaloniki") over glasses of wine that seemed to magically fill after each song. This is the reason to live in a city like Athens in a country like Greece. Or at least to visit the main market.