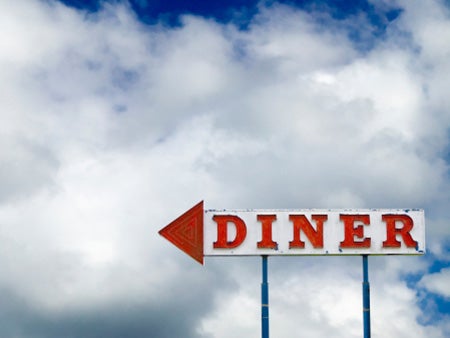 Back Where I'm From is an occasional series in which we explore the best food in the less-heralded parts of America.
I was a happy kid from New Jersey, land of dude-bros and diners, until I went to college and wished I were from somewhere else.
Teaneck (exit 18 on the New Jersey Turnpike, or just "The Turnpike") is where my love for food began, and my affection was indiscriminate. I liked hot dogs, deep-fried in the Jersey style until the casings ripped open, and Kraft Macaroni and Cheese spirals. My friends and I giddily blew our allowances at Pioneer Pizza and on Domino's Crunchy Thin Crust. We celebrated both an uncharacteristically short line at White Manna, the little-burger-on-a-potato-bun paradise in the next-door town of Hackensack, and the launch of the Arch Deluxe from Mickey D's with the same enthusiasm. And we frequented diners—so many diners—for Disco fries (fries topped with gravy and melted mozzarella) and egg-and-cheeses with the Jersey-famous processed meat known as Taylor ham.
I ate sophisticated food, too. For me that meant Red Lobster, which I considered the height of fine dining since so many things on the menu cost $17.95. And on special occasions, my parents took me to Chez Something a few towns over, where I always ordered the sweetbreads because I liked how it made the waiter say "Very good, sir" and look impressed.
Around the time I went to college, however, self-awareness struck. I made a friend from San Francisco, who had eaten every burrito in the burrito-filled city to determine her favorite. I met people from the South who had eaten real barbecue, not just Chili's Baby Back Ribs. Half of my classmates seemed to be from New York City and know everything about everything, including such important topics as bagels, pastrami, and lox. And what did I have? I had Disco fries, cargo shorts, and an Abercrombie hat with a distressed brim. I ditched them all.
In an effort to escape what I suddenly saw as my vulgar tendencies, I over-corrected, cultivating a taste for exclusively fancy food. On school breaks, I begged my dad to take me to the famous French restaurants in Manhattan that I had only recently become aware of. He suggested sweetly that instead we go to Chez Something, where we'd had such great times before. I scoffed, of course, and soon we were driving across the George Washington Bridge to eat tiny, elaborate dishes on giant plates, me wearing an oversize blue blazer with gold buttons purchased for the occasion at The Salvation Army.
I was on my way to becoming that guy, when I got a good look in the mirror. I had dragged my dad to yet another fancy restaurant that offered a lunch deal. My dad—dressed in a corduroy blazer and a new fanny pack, the Bob Goode equivalent of black-tie attire—asked our waiter what wines he had by the glass and the waiter recited a string of French words. My dad chose one of the French words and all was well, until the bill came. The glass of wine cost more than his meal. "Can this be right?" my dad asked the waiter. "Sir," the waiter said, affronted by my dad's ignorance. "You ordered a Meursault."
I felt anger rising inside me. Not sophisticated indignation, but pure, coarse Jersey rage. Because this mother@#$% had the #%$% nerve to make my dad feel bad for not knowing that a glass of rotten grape juice, which by the way tasted no better than Garden State tap water, should cost more than the whole $%$# overpriced meal. And come to think of it, not one thing I ate that day had half the soul of a White Manna double with cheese and onions or a ripper with relish from hot dog mecca Rutt's Hut, in Clifton, NJ. "Yo, dad," I said. "Let's go home."
JJ Goode is a food writer who helps chefs like April Bloomfied, Andy Ricker, and Roberto Santibañez write their cookbooks.