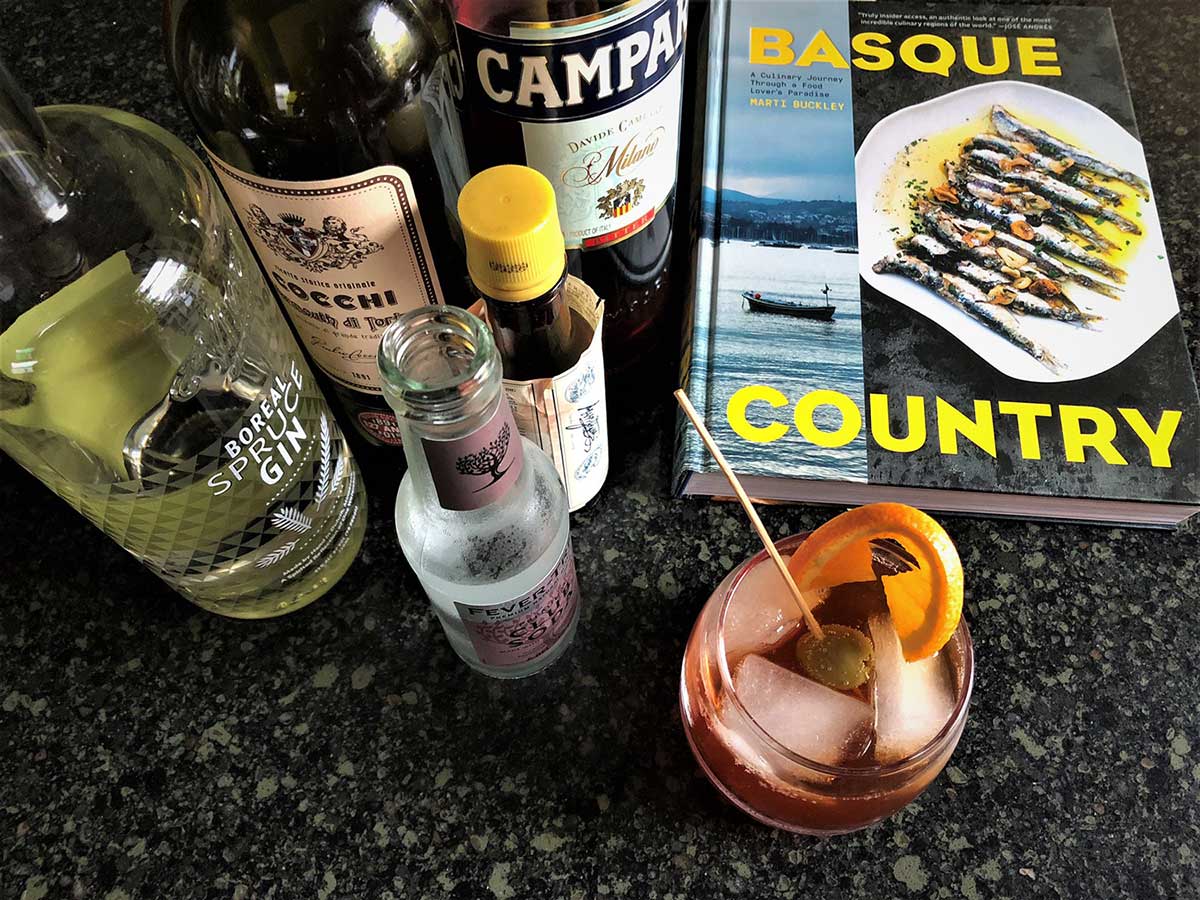 Culture
Dispatches from Basque Country, October's Cookbook Club Pick
This month, we're making lots (and lots) of pintxos
This month, the SAVEUR Cookbook Club has been traveling the Basque country, a region in the north of Spain and south of France. More so than almost any other region in the world, Basque Country is best discovered at the table. My new cookbook, Basque Country, delves deep into culture and cuisine from this region, where product and tradition are everything. I've gone through the #saveurcookbookclub hashtags and Facebook and have chosen five delicious photos to share for the dispatch. There are so many great recipes being made and photos being shared, so join in on the fun on the SAVEUR Cookbook Club Facebook page and tag your pintxos, gin-tonic, and everything in between to be featured. Here are the ones I loved the most.
I had to start with Sarah's photo. It comes from the first chapter of my cookbook, the chapter on pintxos. The small Basque bites are quite lovable, and Sarah's picture makes me so happy because the context is spot on. She has the anchovy, pepper, and olive skewers, potato salad, and the Spanish ham, goat cheese, and sun-dried tomato pintxos presented perfectly, in abundance, ready to be grabbed—just like in San Sebastián. I also embrace her methods: "I paired the pintxos with a bottle of Rioja and sat around like bum watching a movie while I snacked and sipped.... the perfect dinner in my opinion."
"The next dish is one of my favorite recipes in the book: Riojan potato-chorizo stew, or patatak errioxar erara. It's easy (the hardest thing is waiting for it to simmer) and economical, as it's not much more than potato and chorizo. It's also a lot more than the sum of its parts. The potato breaks down and thickens into a stew that enamors anyone and everyone.
And in this case, it was made by Holli with a LOT of love: "Spain—its culture, its people, its geography and landscape, its history, and especially its cuisine, pulls at my heartstrings and has seared itself in my heart like the crosshatch on a chuletón de buey grilled over sweet, Spanish oak in an asador."
Wendy says these croquettes were "worth the effort" and she is so right. Writing the croquette recipes in the book was quite challenge: it's a well-known fact that everyone's favorites are the ones their mothers made, so how does one compete? In this case, by upping the melt-in-your-mouth factor incorporating cream into the béchamel, thereby recreating the thick whole milk of the olden days. I also used the neat trick of infusing the béchamel mixture with the main ingredient, in this case, jamón ibérico. Crunchy, creamy goodness.
Gâteau Basque is the Basque dessert par excellence. Its Basque name, etxeko biskotxa, translates literally to 'cake of the house', and this ancient cake has lived several lives, beginning as a humble enriched bread and becoming a fine example of the French pastry tradition. Marcy Anderson Epperson made it with a cherry filling, which is quite traditional. The main recipe in the book incorporates pastry cream; however, it is worth noting there isn't really any need to decide, as you can lace the inside of this almondy tart with both, studding the pastry cream with cherry jam.
This picture is perfection: there is nothing I like more than prolonging the pre-lunch pleasure with a vermouth on the rocks. The Vermouth from my book is so simple, yet a revelation if you're used to dusty bottles of dry Martini. It's everything: sweet, bitter, aromatic, and slightly challenging yet oh-so-lovable. Jeremy seems to agree:
"Things I love:
Vermouth
Gin
Amari (Campari, Cynar, any really)
This Vermouth Coctail pg 302
Saturday nights
Oh, and this cookbook."