Culture
Omnivore Books' Celia Sack Wants to See More African Cookbooks
The food book obsessive behind San Francisco's essential cookbook store shares her essential reading list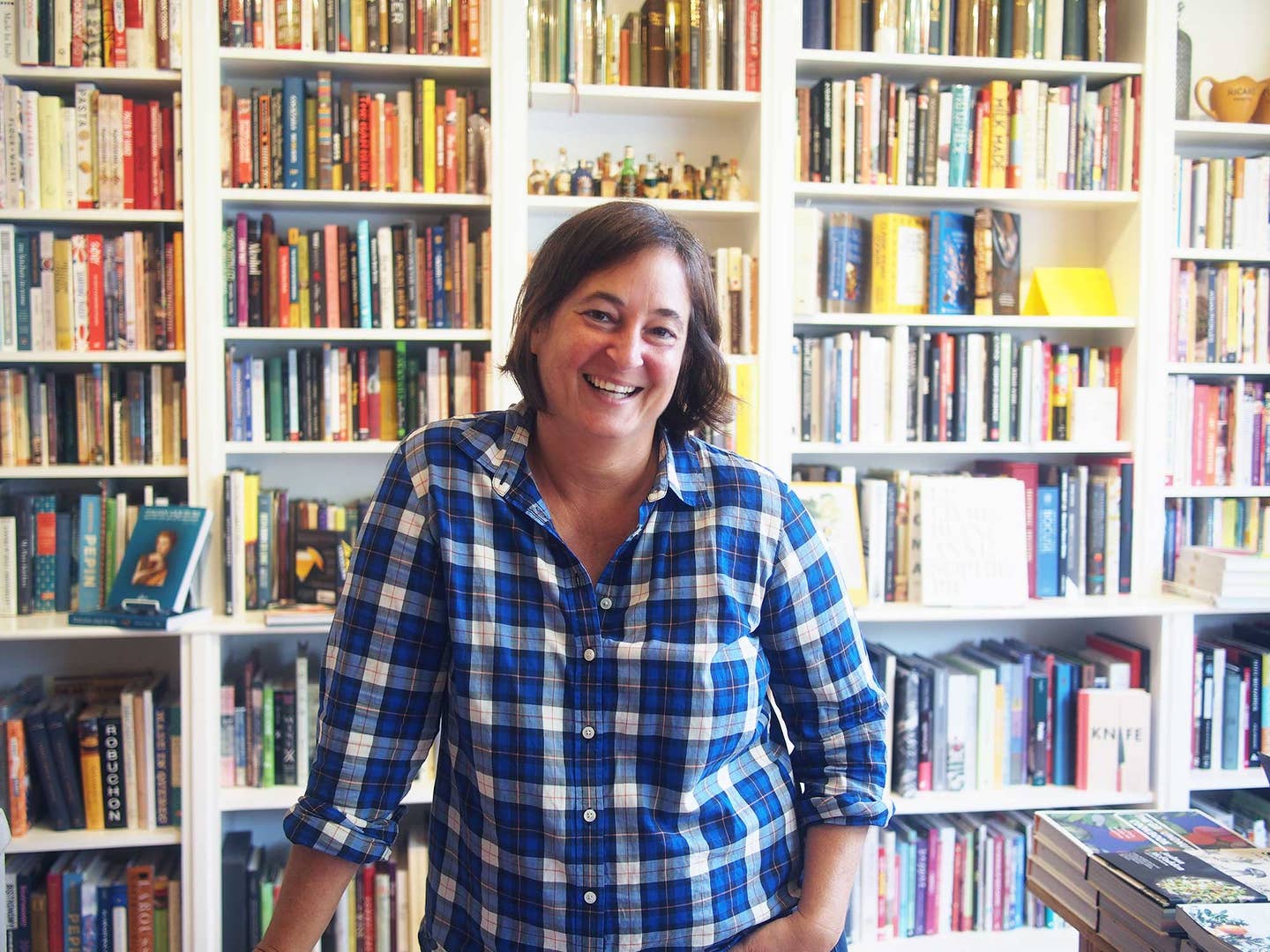 Celia Sack of Omnivore Books on Food in San Francisco generally uses her shop's Instagram account to share snapshots of vintage cookbooks and alert neighbors to visiting authors. But in January, when President Trump signed an executive order banning citizens from Iraq, Syria, Iran, Libya, Somalia, Sudan, and Yemen from entering the U.S., she didn't hold back.
"I was so mad, I was so upset," Sack recalls. "So I thought, I'm going to start by making the window of my store just books from all the banned countries. I had the Iraqi Family Cookbook from Kay Karim. I had Aromas of Aleppo, which is a wonderful book about Syrian Jewish food, and The Aleppo Cookbook. I put in Persiana. I made a sign that said: 'People from these countries are now banned from entering the U.S. Learn about them.'"
Sack has been thinking a lot about what cookbooks can offer us. "If you haven't gone and traveled to these places, at least with a cookbook, you can experience the food, and that can give you some sense of community. We can all be smelling these wonderful cooking smells and teaching each other how to cook, teaching each other the words for these ingredients." She took a picture of the window display and posted it on Instagram. "Every time I refreshed the browser, hundreds more people had liked it."
Sack got interested in cookbooks—particularly antique ones—while working at an auction house, but she's also come to believe that food books, both old and new, are valuable because they can "offer us a view into other people's worlds that everybody can agree on. Opening our palates often opens our minds to a place because we understand something about each other."
She pauses to admire the images in Pierre Thiam's Senegal. "This is one of my favorites," she purrs. "The photographs make you feel like you're there, experiencing what it feels like to walk through a market, or go down a river, and it has all these gorgeous portraits of people. It also describes all these ingredients in detail, and it really helps you understand what makes Senegal unique."
But Sack doesn't believe we're in the golden age of cookbook publishing today, particularly when it comes to international regional cuisines and single-subject books. "I think the best is yet to come." Last year, she says, she didn't have a single Georgian cookbook, while this year will yield two or three. "But there's way more to do. We're just starting to get into regional African food with Zoe's Ghana Kitchen, and Hibiscus by Lope Ariyo, which is about Nigerian cooking. But think about how little has been written about the foods of individual South American and Central American countries. There's so much blurring and generalizing. I want to see books on Indian breads, Indian sweets."
She's heartened that smaller publishers are game to explore international cuisines, namechecking Hippocrene Books, which has recently published titles on the traditional fare of Trinidad, Kerala, Estonia, and others. "Publishers respond to demand," she says, "and if those catch on, other publishers will get interested." She also notes that local editors often stop by the shop to keep tabs on what publishers in the UK and Australia are doing, both in terms of design and subject matter. "Australian publishers have done great books on Indonesian food, Thai cuisines, food from Singapore. The UK does a lot more African and Indian cuisine than we do." She points to a vegetarian cookbook from Meera Sodha, the author of Made in India. "I've been selling it like crazy, but it's not going to be produced in the U.S. for probably a year."
Many of Sack's favorite titles, though, have been available for years, if not decades. When asked what books every food lover should read, she starts with Bill Buford's Heat. "It's great writing, and sort of the anti-Anthony Bourdain book. It's not "I f*cked her in the walk-in," it's more like, 'I learned how to hear when something was ready just by the way that it was sizzling.'"
And while Sack tires of stories about discovering oneself in Bologna or Paris, she can't help but recommend Julia Child's My Life in France: "It's a love story, it's a journey, and it really shows how much you can get out of moving to another country, even just for a couple of years, and how much that can change your life and your outlook.
"I can't wait for more books that go further afield, though," she notes, describing how much Fuchsia Dunlop's Shark's Fin and Sichuan Pepper opened her eyes: "It's not just about learning to cook at this prestigious Sichuan cooking school; it brings to life the flavors and almost as importantly the textures that people in Sichuan Province love to eat."
Sack raves about the recipes in My Bombay Kitchen, which celebrates Parsi cuisine. The book digs into the history of the Zoroastrians who fled the Muslim conquest of Persia, and describes how their food brings together Persian and Indian traditions. "And the recipes really tell you why you're doing what you're doing, which I love," says Sack.
Sack also frequently recommends Shizhou Tsuji's Japanese Cooking: A Simple Art: "It has these amazing charts showing how to break down a fish and what parts are for what preparations," but more importantly, the book encourages a careful cooking mindset. "This book is not about throwing something basic together so you can rush to the table at six pm. It's about how to commit yourself to the art of Japanese cooking. These simple foods aren't ornate, there's not a lot added, but it has to be done right, you have to plan and think about everything that you're doing."
Sack speaks breathlessly about Paula Wolfert's The Food of Morocco, Diana Kennedy's From My Mexican Kitchen, and Shane Mitchell's Far Afield, but when pressed, she really wants to make sure everyone has read Edna Lewis's The Taste of Country Cooking, which awakened a reverence for Southern cooking, for African-American cooking, and for seasonal, regional American cooking overall.
"This is such an important, classic book, which really broke new ground," says Sack. "Lewis made us understand that Southern food isn't just fried chicken, isn't just fattening. There's this explosion of flavors of fresh and pickled vegetables and fruits, okra and beans and corn, sweet potatoes, persimmons. Readers got a taste of wild mushrooms and garden strawberries in spring, spicy baked tomatoes and fresh blackberry cobbler in summer, baked country ham and sausages at hog-butchering time. People started to understand that Southern food was fresh food, that it was centered on the earth, sky and sea, and not a one-note stereotype of 'soul food.'"