The 6 Kitchen Towels Chefs Can't Live Without
Including a compostable pick you can clean in the dishwasher.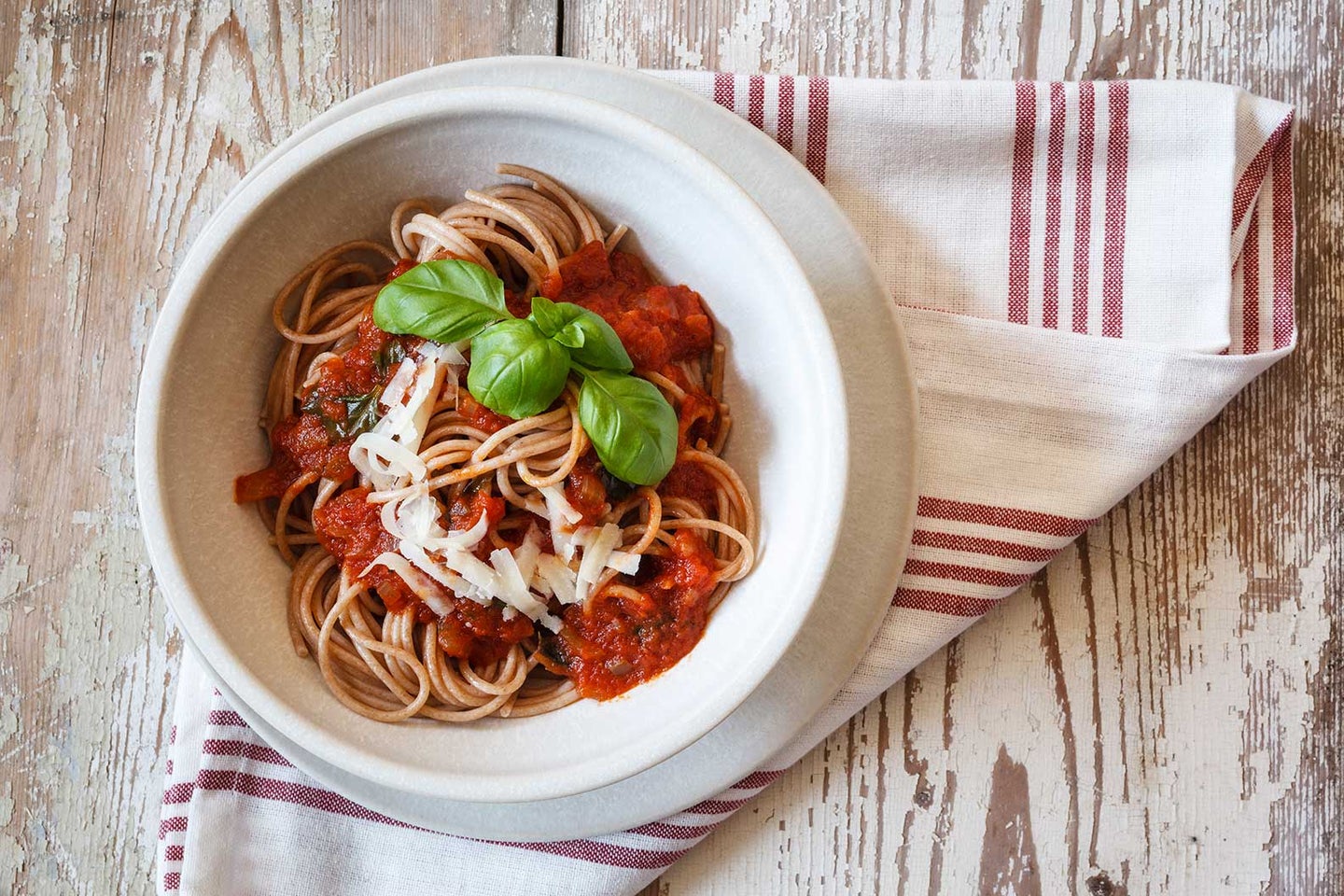 We may earn revenue from the products available on this page and participate in affiliate programs.
The humble kitchen towel: reliable, versatile, and a staple in every cook's arsenal. Sure, the piece of cloth may seem like an afterthought, but it serves a variety of important purposes, from absorbing spilled liquids to providing a barrier against hot surfaces.
Cooks, both professional and amateur, can be quite particular in selecting a product that will find a permanent home oven-side or even dangling from the front pocket of their apron, which is why we interviewed some of the most respected names in the industry to get a complete range of the best kitchen towels on the market.
If you're on the hunt, look no further. A detailed list of their recommendations can be found below, organized into categories to accommodate any particular need or void so you can ultimately spill in peace.
Chefs' Top Picks
"For me, the blue towels from Utopia are not just durable but are also easy to keep clean. They are lightweight and the perfect size to use as a potholder, making it easy to pull baking sheets out of the oven or move pans around the stovetop. In addition to being a workhorse, they are stylish enough to be used as napkins. These are worth buying in bulk." – Justin Chapple, chef, Food & Wine culinary director-at-large, and author of Just Cook It!
"I grew up with Swedish dishcloths, so using these [sponge cloths] from Oona takes me back to my childhood. They're plant-based, compostable, and when they're soiled, I pop them in the dishwasher to clean and sanitize them. Plus, the designs make me smile. I love the fruit pack and I have used a lot fewer paper towels since these beauties popped into my kitchen!" – Aarti Sequeira, chef, TV personality, and author of DaySpring's My Family Recipe Journal
"I love the color and the vibrancy and what I love about the company is that they are aiming to create ethically-sourced spices. The ingredients that go into the Diaspora Co. products are single-origin and come directly from the farmers. With this, I know the source of the ingredients and that the farmers are being treated fairly, which is why I like to support the brand and am a fan of the towels they produce." – Maneet Chauhan, chef, TV personality, restaurateur, and author of Flavors of My World
"I love Zakarian kitchen towels. They are luxurious yet extremely functional, with a waffle pattern that absorbs like a beast while giving you a good grip for when you're grabbing a hot pan out of the oven or sautéing with vigor . Plus, every time I use one, it drums up memories of Geoffrey [Zakarian] and I cracking each other up on set of The Kitchen." – Jeff Mauro, chef, TV personality, owner of Mauro Provisions, and author of Come On Over
"While this is not your traditional kitchen towel, I like how it's large, plush, and absorbent, making cleaning up wet items and messes in the kitchen easier. Plus, they look stylish and discreet, blending in with the landscape of my home kitchen." – Christine Ha, chef, TV personality, restaurateur, and author of Recipes from My Home Kitchen
"I'm not so picky when it comes to my kitchen towel, but there are two qualities that I prioritize for any rag in my kitchen. First, it has to be thick enough that it allows for easy and safe grabbing of things from the oven, since I hate oven mitts. Second, it has to be absorbent to clean wet dishes. I always have two kitchen towels hanging, one for each of those qualities!" – Jake Cohen, chef and author of Jew-ish
How Chefs Chose These Products
Our participating chefs come from a variety of culinary backgrounds in both experience and type of cuisine. We asked them to share their favorite products, taking into consideration characteristics like material quality, price, sustainability, and durability.
Features to Keep in Mind When Shopping for Kitchen Towels
Size
When shopping for the perfect kitchen towel, it's important to keep size into consideration. Larger kitchen towels can cover a ton of counter space, while smaller ones can really get into the nooks and crannies of cabinets, stemware, and appliances. It's best to diversify the sizes of your towels to accommodate any need at any time. That being said, oversized kitchen towels typically aren't the most glamorous when it comes to decor. Be sure to have enough storage space to store your clean ones or your space may start to look more like a gym locker room and less like a place to prepare and eat food.
Absorbency
It's no surprise that a difference in fabric yields a difference in thickness and cleaning capabilities. Not every kitchen towel is meant to withstand high temperatures and not every kitchen towel is meant to sop up liquids. Those hoping to dry dishes will want to look for labels that read "high-absorbency." If you're simply looking for something stylish to wipe down counters, you can opt for something a bit thinner, but keep thickness in mind if you want the kitchen towel to double as a potholder or oven mitt.
The four most popular types of kitchen towel fabrics include cotton, flour sack, microfiber, and terry cloth. Cotton is the most well-rounded — it's great for absorption and has a high heat tolerance. It's also durable and easy to clean. Flour sack is made from linen, which is great for polishing, but not great at absorbing liquids. Microfiber is the thickest of the bunch, meaning it can easily tackle any large spill. Unfortunately, its heat tolerance is low and it can't be used to remove baking sheets and pots from an oven or stovetop. Like standard cotton, terry cloth kitchen towels (which boast tightly-sewn loops) have excellent absorbency, but take quite a while to dry.
Our Take
No matter how you swing — err, wipe — it, towels are an essential component of any kitchen. You'll need some type of cloth to absorb liquids, hold hot handles, and clean dirty dishes, appliances, and work surfaces. Luckily, the best kitchen towels vary in price, style, and versatility, so there are options for everyone. While our chef's recommendations may differ, they all agree a clean kitchen is a happy kitchen.