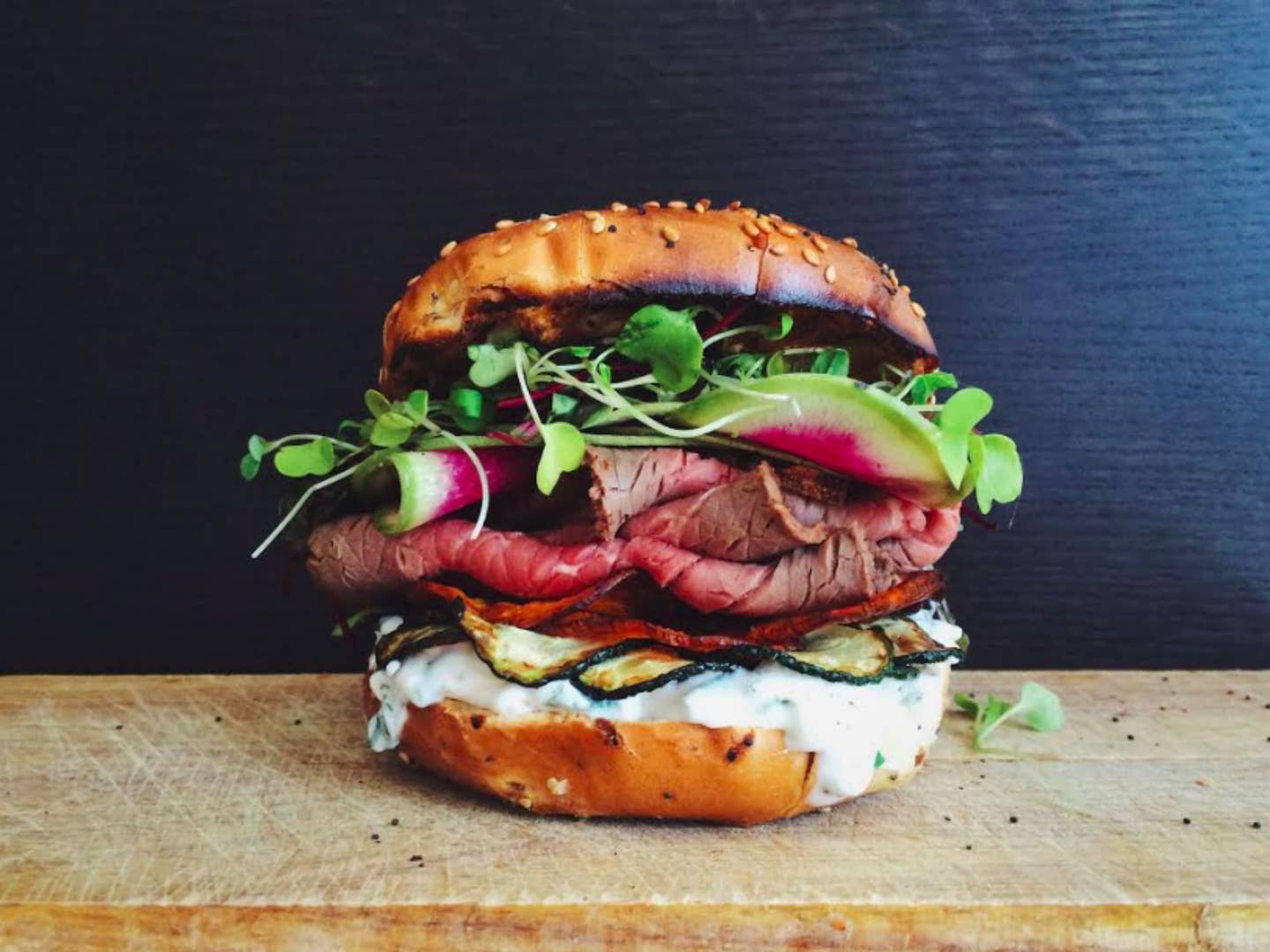 Culture
Meet the 2017 SAVEUR Blog Awards Finalists: 6 Food Bloggers That Always Know What You Want for Dinner Tonight
The best food blogs to answer the question, "what should I cook today?"
The SAVEUR Blog Awards are here, and from a pool of tens of thousands of reader nominations we've selected 72 finalists in 12 categories. Now it's your turn to vote for a winner. Cast your ballot here early and often; you can vote as many times as you like by September 6th. Today: meet the finalists for our Most Inspired Weeknight Dinners category, in their own words.
The Blog: Juls' Kitchen transports you to a Tuscan kitchen, showing you the honest and seasonal food of Tuscany in beautiful photography. Giulia tells you the stories that are often the inspiration behind a recipe. Rigorously tested, these recipes give you detailed and uncomplicated instructions to recreate a little bite of Tuscany at home. Giulia's mission is to inspire people to cook simple meals where the quality and freshness of the ingredients shine through in every recipe. She loves nothing more than to receive word from readers who successfully recreated her recipes. After all, Tuscan food is all about sharing and passing on knowledge.
The Blogger: Juls' Kitchen is written and shot by Giulia Scarpaleggia and Tommaso Galli, who are also partners in life. Both were born and bred in Tuscany. Giulia is a food writer and photographer and she teaches Tuscan cooking classes in her family house in the countryside. She started her blog in 2009 to collect family recipes and stories. Tommaso joined the team in 2015 when he moved in from Florence. He now loves the country life as much as he loves Giulia's food. He is the tech guy and the video maker, besides being the head tester at Juls' Kitchen.
The Blog: What To Cook Today was started in 2010 when Marvellina was a newlywed and just moved to Minnesota. She missed her mom's home cooking terribly and started learning how to cook. What To Cook Today is where she documented many Southeast Asian recipes that she grew up eating. She is hoping that with What To Cook Today, people are able to recreate those memories of Southeast Asian food they have been craving for at their very own kitchen and to inspire people who are new to Southeast Asian cuisine to try.
The Blogger: Marvellina was born in Indonesia and moved to Minnesota after she got married. She then decided to be a full-time stay-at-home mom after the birth of their two children. She can be found in the kitchen most of the time, tinkering. Throughout the years, what was just tinkering, has turned into a passion and she declares herself a food blogger. Through her cooking that she's also hoping to expose her children to the cultures they might otherwise not get to experience, to raise them to be more open-minded, and to see the beauty of every little thing through the eye of the lens.
The Blog: The mission of A Cozy Kitchen is to inspire creativity, comfort and fun in the kitchen. It is a space that celebrates the union of butter, corgis, pie, cake with a mix of South American recipes, inspired by Adrianna's upbringing.
The Bloggers: Adrianna Adarme is an author and recipe writer living in Los Angeles, California. She writes the blog A Cozy Kitchen, where she shares comforting, everyday recipes from her kitchen. She is the author of the book, The Year of Cozy: 125 Recipes, Crafts and Homemade Adventures, which was released in October 2015 (Rodale). She's a lover of breakfast, pie (and sometimes even pie for breakfast, corgis and cute things.
The Blog: The blog was created to share the joy of cooking with the online community. We wanted fun yet fairly simple recipes everyone would be able to recreate at home. We definitely think of A Simple Thyme as a reference in recipes that allow you to follow your cravings while exploring new flavour combinations. We try to keep the recipes original by reinventing classics and we are excited to see where this project takes us.
The Blogger: When Gabrielle posted a few innocent photos of her creations on Instagram, the community quickly welcomed her and cherished her with now over 11,000 followers. This recognition drove her to explore and create more than she had before and turned her hobby into a career. She and her sister Evelyne, who has a background in marketing, decided to team up to bring a new project to life, allowing them to share Gabrielle's incredible talent. They now get to combine their respective passions every week with A Simple Thyme.
The Blog: With his trademark curly afro, unique fashion style, and magnetic personality, Lazarus Lynch is a globally trained culinary artist, the host of Food Network's digital original series Comfort Nation, and the face behind the popular brand, Son of a Southern Chef. New York City born and raised, Lazarus stepped into the kitchen at an early age under the tutelage of his late father, Johnny Ray Lynch, a southern chef from Bessemer, Alabama. Together, they created a special bond in the kitchen that would soon launch into a successful media enterprise. Lazarus' online and YouTube presence created buzz in 2015 which led him to being casted as a co-host in the ABC Network digital series, Tastemade Get Cookin'. He is a featured host on the Webby-awarded mobile site and app, Tastemade, and appears regularly on the Tastemade Snapchat Discover Channel. He has been featured on many national television shows, including the Today Show for his expertise in millennial cooking and eating styles and modernized soul food cuisine. He holds a B.A. degree in Individualized Studies from the State University of New York College at Buffalo. He is working on his first cookbook and lives in New York City.
The Blogger: Native New Yorker, social media influencer, and host of Food Network's original digital series Comfort Nation, Lazarus Lynch grew to love food through the eyes of his late father, Johnny Ray Lynch, a chef from Bessemer, Alabama. While pursuing his passion to become a chef at Food and Finance High School, he debuted on the Cooking Channel, and he never slowed down. In 2014, he created the brand Son of a Southern Chef to share the recipes of his father with the world.
The Blog: TENDING the TABLE is where Sasha shares seasonal, plant based recipes, photographs and stories from her life. For Sasha, cooking and eating are powerful tools to support vibrant health, ethical and humane agricultural practices, and the people who grow our food. Her recipes are vegetarian and are centered around beautiful produce, thoughtfully sourced ingredients, unique flavors, and an appreciation for detail. Her hope is to inspire readers to eat better for themselves and the planet, one simple meal at a time.
The Blogger: Sasha grew up on a farm in Oregon where she learned to forage in the woods, ate carrots straight from the garden, and helped in the kitchen with the cooking and canning. Over the years she developed a deep appreciation for the way food connects us with other people and the world. When she's not in the kitchen she's most likely romping with her two dogs, Scarlet and Roux, practicing ashtanga yoga, or painting abstract watercolors. She wholeheartedly believes that honey and maple syrup make any desert guilt free.