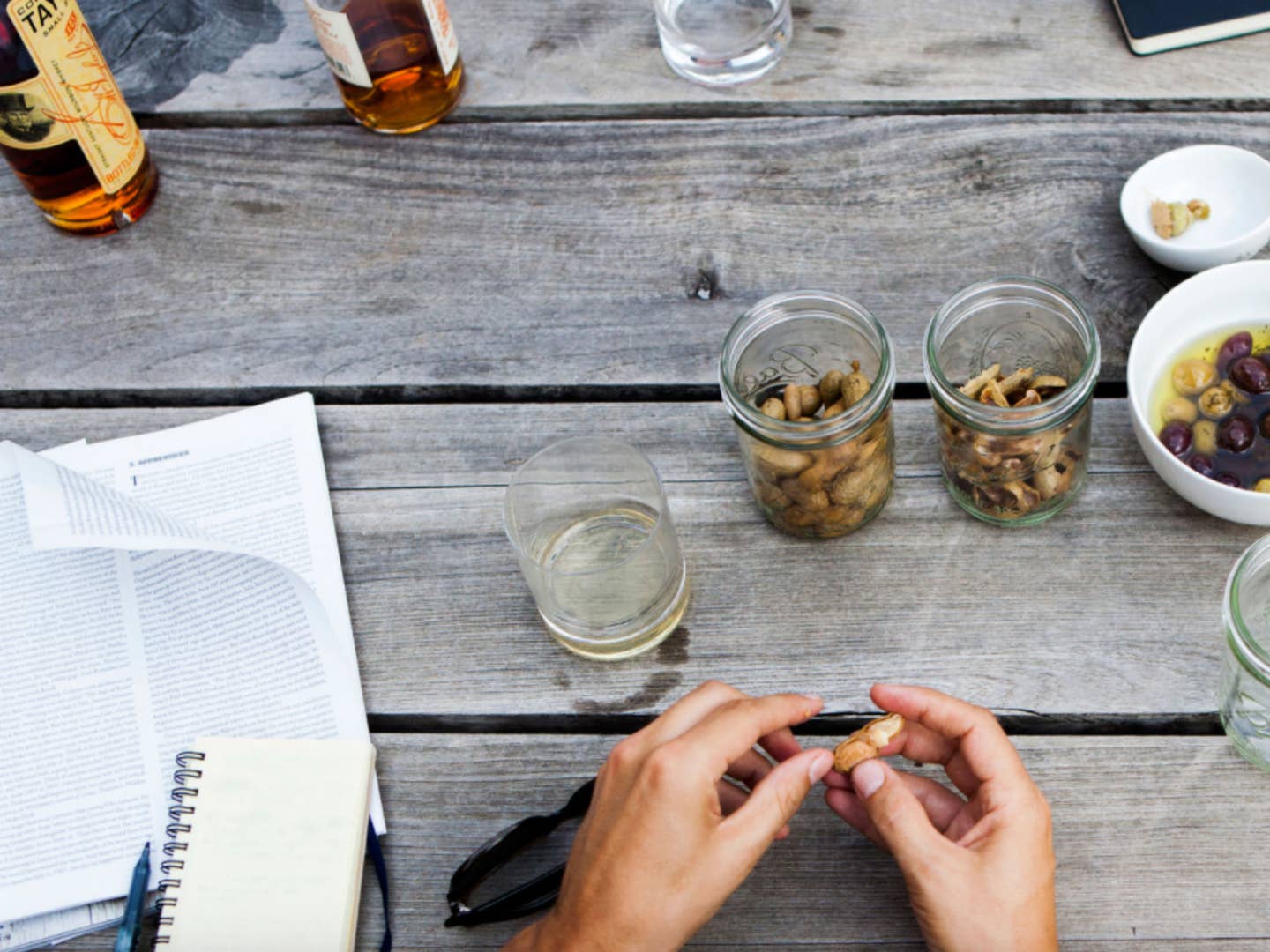 Culture
Meet the 2017 SAVEUR Blog Awards Finalists: 6 Food Stories, Essays, and Diatribes We Love
The top reads in our Food & Culture category
The SAVEUR Blog Awards are here, and from a pool of tens of thousands of reader nominations we've selected 72 finalists in 12 categories. Now it's your turn to vote for a winner. Cast your ballot here early and often; you can vote as many times as you like by September 6th. Today: meet the finalists for our Best Food and Culture Essay Blog category, in their own words.
These are the essays, reported stories, and diatribes from writers across the web that we couldn't stop reading, sharing, and reading again.
The Blog: The pretentious Latin title of George's blog was intended as a reminder that what he was doing was pretty self-centred and that he should therefore avoid taking himself too seriously. It has probably failed on that front, but he likes how it conveys that what he's doing is and has always been deeply personal. He likes being able to write about the things he find interesting: whether it's food, music, movies, wine, or how politics impacts on all of them.
The Blogger: He's a food writer living in Islington, North London—the part of the UK that didn't vote for Brexit. He has written for a few different publications—in particular, The Sunday Times, Noble Rot, and Eater London—and he's especially interested in how social media are changing the way we approach what we eat and drink. His favorite restaurant in American is Cotogna in San Francisco, although the Pig Mac at Cochon Butcher in New Orleans is pretty hard to beat.
The Blog: Hogwash started in 2006, when Jess Thomson stood next to Rachel, the big bronze pig that marks the entrance to Seattle's Pike Place Market, and decided to move to the Pacific Northwest. Since then, Hogwash has become more than a diary of Seattle food and life, evolving from a light-hearted recipe blog into a funny, touching chronicle of life in Seattle with her husband, a cranky dog, and a child with cerebral palsy. This spring brought the release of A Year Right Here: Adventures with Food and Family in the Great Nearby, which grew out of the blog's spirit.
The Blogger: Jess Thomson is an award-winning Seattle food and travel writer. Her recent memoir, A Year Right Here: Adventures with Food and Family in the Great Nearby chronicles her life with a child with cerebral palsy as they explore the Pacific Northwest. She is the author of 9 books, including A Boat, a Whale and a Walrus, co-authored with Renee Erickson, and coming soon, My Rice Bowl: Korean Cooking Outside the Lines, with Rachel Yang. Her work has appeared in Sunset, Food & Wine, TheKitchn.com, and she is a regular recipe tester for The New York Times.
The Blog: Hook & Blade was born out of a love of cooking and a lifelong interest in food. Brianna is passionate about food, eating, and cooking, and their relationship to the world around us, and she writes stories from the intersection of food and culture. Part commentary, part exploration, Hook & Blade is a place to explore, discuss, and learn more about the food and drink we eat and enjoy.
The Blogger: Brianna is originally from the west coast and is the founder and editor-in-chief at Hook & Blade. By day, she works as an email marketing manager at General Assembly. By night, she can be found crafting elaborate salads, teaching digital marketing classes, writing for Hook & Blade, and getting her fitness on. She writes and eats based out of New York City where she enjoys exploring new neighborhoods, trying unfamiliar foods, and people watching. She also loves to travel whenever she can (especially to go ski in Colorado).
The Blog: Food for the Thoughtless is the internet dumping ground for monthly essays by Michael Procopio in which he ponders his life, expresses his joys and disappointments, and then—by way of custom-tailored recipes—eats his feelings.
The Blogger: Michael Procopio is a two-time James Beard Award losing writer living in San Francisco. He enjoys cooking, reading, and creating vaguely upsetting cocktails. If you would like to know more about him, you should probably read his blog.
The Blog: Rambling Spoon: Our Food, Our Planet covers the cultures of eating and the health of our environment.
The Blogger: Author Karen Coates and photojournalist Jerry Redfern have spent a dozen years covering food, environment, health and social issues in developing countries. They are both Senior Fellows at the Schuster Institute for Investigative Journalism at Brandeis University. Karen spent the 2010-11 academic year studying climate change science and food security as a Ted Scripps Fellow in Environmental Journalism at the University of Colorado. Jerry is a member of OnAsia Images in Bangkok.
A grant from the Fund for Investigative Journalism is helping the two complete work on a book about unexploded ordnance in Laos, a critical threat to environment and food security.
The Blog: The Bitter Southerner envisions a South whose people are known for their creation, innovation and forward thinking as much as they are known for their grace, hospitality and conviviality. The Bitter Southerner exists to support anyone who yearns to claim their Southern identity proudly and without shame — regardless of their age, race, gender, ethnic background, place of origin, politics, sexual orientation, creed, religion, or lack of religion.
The Bloggers: For the full bio, check out their about me page.