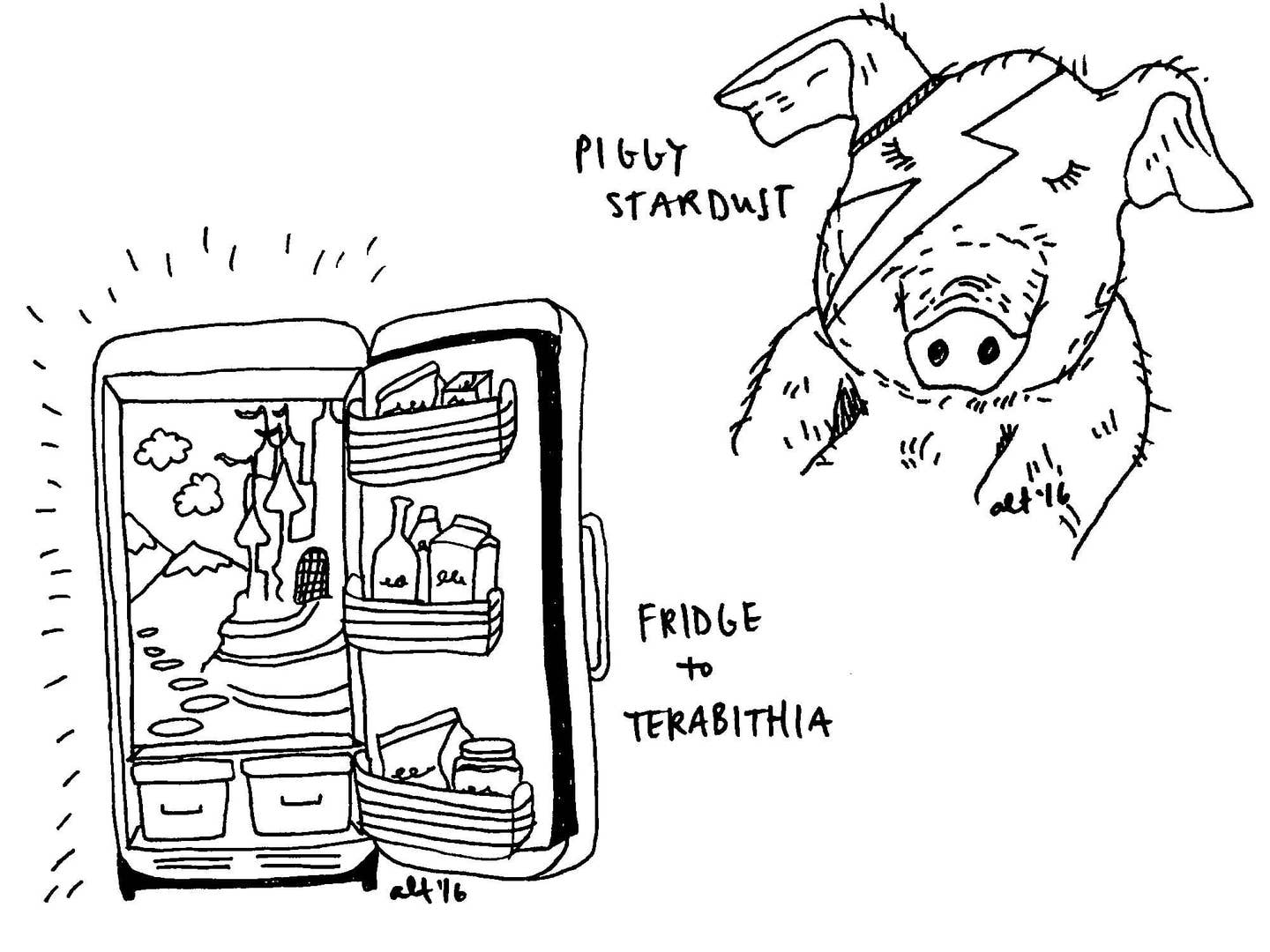 Culture
I Can't Stop Cry-Laughing at the Food Puns From This Minneapolis Twitter Genius
Meet @mandyapolis, a.k.a. Oreo Speedwagon, a.k.a. Weekend at Bearnaise, a.k.a. Udon Know Me
Quit your social media strategy now, because there is no greater Twitter account than @mandyapolis. Not just for the tweets themselves (excellent taste in pie and board games), or the ace shares from others (I mean), but really because most of my time spent on the site is now just twiddling my thumbs until she changes her display name to an unfailingly great food pun. Fridge to Terabithia. Biscotti Pippin. Blintz Eastwood.
I started following @mandyapolis (real name Mandy Lee in Minneapolis, Minnesota) about a year ago, when I noticed that my Good Tweets kept getting favorited by someone named Pablo Escolar or Piggy Stardust. What I didn't know, until I reached out recently, was that she's spent her whole life in the food business, building up her pun repertoire, and that said puns have played critical roles in her career in hospitality.
"I was actually poached from another restaurant because of my Twitter persona," she tells me, "which had led to a local Twitter-savvy food reviewer publishing a write-up about me and my service." Soon after, Heyday, where she works, started to receive national attention, and Twitter fans started specifically requesting her service when they came in. "The food business and Twitter are singlehandedly the two things I give thanks for every November."
Lee's been at the pun game for a few years now, ever since a friend texted her a link to the website of a now-defunct restaurant called Bon Rappetit. "I recall thinking," she says, "'OMG THERE ARE OTHERS LIKE ME.'" Her puns' origins and pace change with her whims. "Yesterday, I was oreo speedwagon. Today, I woke up feeling like biscotti pippen. You just never know."
Her coworkers not only support her pun habit, but get in on the game themselves. "The back of house relishes puns (hurr) and consistently label about 90% of the items in the walk-in with a pun. Sometimes I feel bad for our kitchen stages because they can't find anything in our cooler. They'll learn to speak the language...eventually."
And then there's the matter of her love life: she's dating a fellow hospitality industry professional who she met on Twitter—because, of course, of her puns.
The best way to fall in love with Lee's wordplay is on Twitter, in real time, when her display name suddenly changes without warning. But in the interest of Journalism and the Public Record, we asked her to put together a list of her favorites.
De la Sole
Sherry Seinfeld
Depeche a la Mode
Pablo Escolar
Skate Moss
Blintz Eastwood
Piggy Stardust
Tuna Turner
Nine Inch Quails
Beers for Fears
Oreo Speedwagon
Velouté Underground
Dillary Clinton
Feastie Boys
A Tribe Called Queso
Benicio del Taco
Banh Mi Grill OG
Lil' Kimchee
Fridge to Terabithia
Season Sarandon
Weekend at Béarnaise
Ramen Emmanuel
Gal Fieri
Mötley Crudité
Game of Chicharrones
Game of Scones
Hairy Trotter and the Sorcerer's Bone Broth
Boba Fettuccini
Kim Jong Grill
MSG Unit
Mignardeez Nuts
Oscar de la Soya
Hamuel L. Jackson
Robert Brownie Jr.