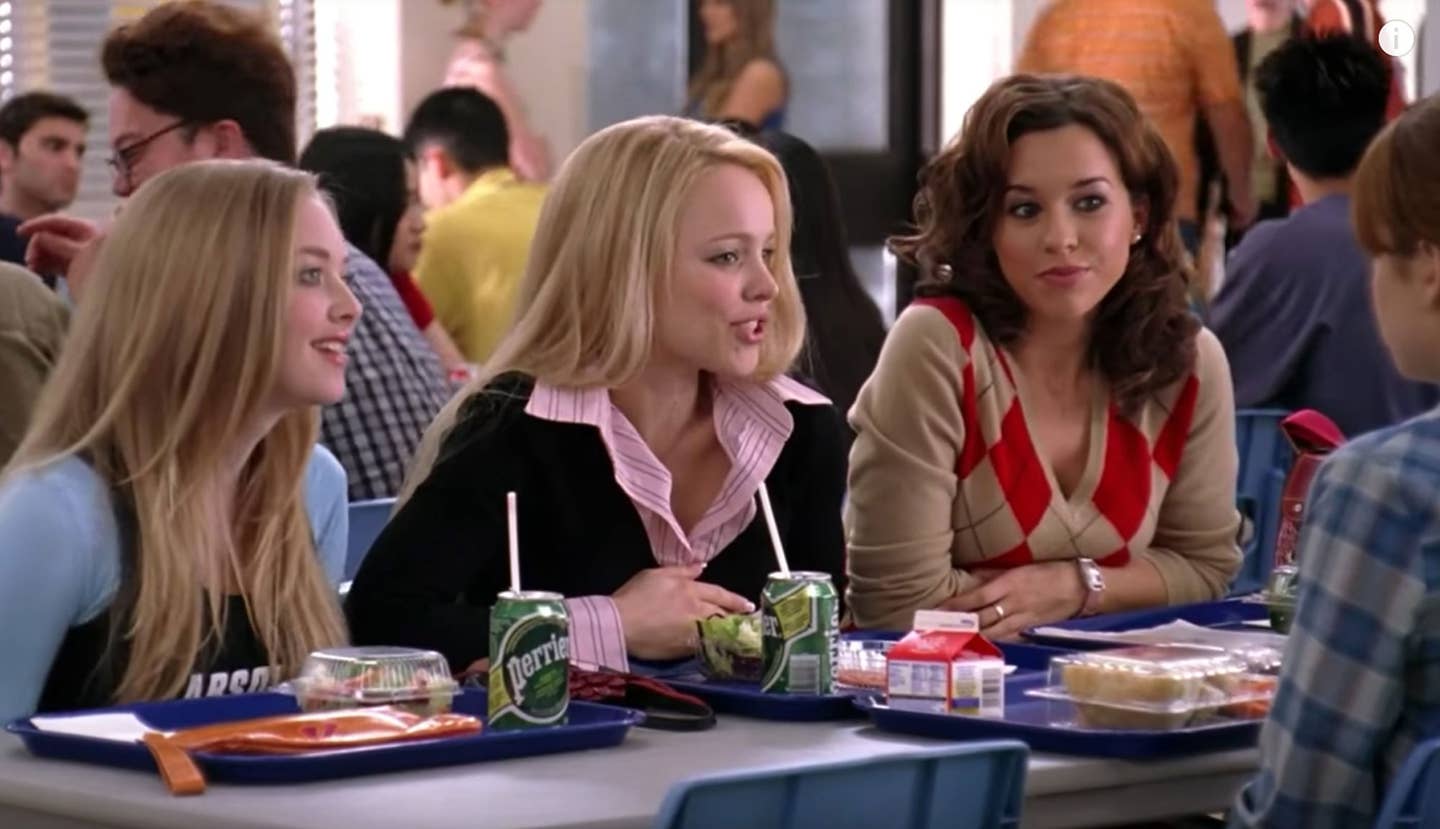 Culture
You Can't Sit with Us, and Other Great Lunch Moments in Movie History
Celebrating our favorite cinematic midday meals
Lunch serves as a bridge in the day, a break from monotony, both in real life and for movie characters on screen. Lunch sustains us. In films, lunch can be a bonding experience among friends or a tense standoff between enemies. Eaten alone, it can be a revealing glimpse into one's psyche. Heroes and villains alike need to eat. A tasty bite of something fresh and warm can be a necessary respite from the chaos around you.
Movie moments where the characters stop for lunch are bound to be memorable for this reason. The action pauses, dialogue is shared, and secrets are revealed: Sharing a meal often allows characters in movies to share a critical plot-developing anecdote or impart a piece of conveniently useful wisdom.
A great lunch scene can reveal a side to someone previously unseen ("so you agree, you think you're really pretty"), or they can strike a sinister sense of foreboding ("Blanche, ya know we got rats in the cellar?"). We may not exactly be what we eat, but what we eat or what we prepare for others says a lot about ourselves. Movies often ask not just what a character wants to eat, but what they are willing to eat, given the circumstances; not every meal is prepared lovingly, as seen by several entries on this list.
From the delicious and savory to the weird and scary, here are 13 of the most memorable movie lunch moments.
The Breakfast Club: Bagged Lunches
The five teenagers stuck in Saturday detention during John Hughes' 1985 classic embody many different aspects of the high school experience, right down to their bagged lunches. Sushi served in a bento box for Claire (Molly Ringwald), a quart of milk and several sandwiches for Andrew (Emilio Estevez), and a sugary cereal sandwich concocted by Allison (Ally Sheedy). Judd Nelson's troubled bully Bender, without a lunch from home of his own, resorts to making fun of his peers' meals. Each meal, or even the lack of one, teaches the audience a bit more about the teens. Buy The Breakfast Club DVD »
Animal House: Bluto's Buffet and Zit
The college dining hall is a classic place to gorge on food, and John Belushi's Bluto is not the type to pass up that opportunity. Casually sliding across the lunch buffet, Bluto starts sneaking bites of the pastries as he loads donuts on top of the sandwiches on his lunch tray. With a sly look over his shoulder and his famously cocked eyebrow, Belushi looks to make sure no one's watching as he slurps up a jello plate.
His voracious performance is only half of what makes this moment stand out among the many wild antics in 1978's Animal House. Across from some snobby Omega Theta Pi brothers, Bluto asks, "see if you can guess what I am now?" before performing one of the most famous spit takes in film history. Buy the Animal House DVD »
The Big Sick: Talk About 9/11
Hospital cafeterias make for a sad, stiff backdrop to conversations. The food is typically passable, at best, and everyone's thoughts aren't on the meal. Yet, in 2017's The Big Sick, Terry (Ray Romano) attempts to spark conversation with his daughter's new Muslim boyfriend Kumail (Kumail Nanjiani) while his daughter is in a coma. As they pick at food from pre-portioned plastic containers, the two recently acquainted men stammer through a discussion of 9/11. Buy The Big Sick DVD »
Jon Favreau collaborated with chef Roy Choi on 2014's Chef as a break from big-budget filmmaking. Carl (Favreau) rediscovers a love for Cuban cuisine in the back of a refurbished food truck and reconnects with his son through teaching him his chef's tricks. Preparing the delectable Cubano sandwiches for the lunch crowd in Miami is only the start of Carl's cross-country food truck expedition. Buy the Chef DVD »
eXistenZ: 'Special' Chinese dish
David Cronenberg is a master of body horror, but he also knows how to whip up a horrific meal. Ted Pikul (Jude Law) orders the special for lunch at a Chinese restaurant, only to receive a plate of what looks like gelatin and bones. Overcome with an irresistible urge to eat the dish, Pikul digs in with his hands, repulsed as he continues eating. Part of a twisted virtual reality game within the 1999 film, the dish's remains assemble into an "organic gun" required to complete the game. Buy the eXistenZ DVD »
Falling Down: I Don't Want Lunch, I Want Breakfast
Joel Schumacher's 1993 film pre-dates the advent of fast food joints' all-day breakfast, but there once was a time where no frustration seemed worse than arriving minutes too late to order off the morning menu. Bill "D-Fens" Foster (Michael Douglas) arrives at the fast food shop on his trek across town, only to be set off when the manager tells him, "You have to order something off the lunch menu." Buy the Falling Down DVD »
I Am Love: Extraordinary Prawns
Luca Guadagnino's 2009 Italian romance captures the experience of a meal so good it can momentarily transport your mind. As Emma (Tilda Swinton) closes her eyes to take a bite of the prawns with ratatouille and sweet-and-sour sauce, the lights dim and time slows. It's as if she and the prawns are alone in the subliminal glow of this elegant meal. Buy the I Am Love DVD »
Mean Girls: Meeting the Plastics
Navigating the social structure of the high school cafeteria is a complicated balance. The 2004 Tina Fey–written comedy breaks down the different cliques by table, from girls who eat their feelings to sexually active band geeks. At the center of the room sits the school's most popular clique, referred to by Lizzy Caplan's Janis as, "the Plastics." Buy the Mean Girls DVD »
Saturday Night Fever: Cheese Pizzas, Stacked
New Yorkers are familiar with having their lunch on the go. As John Travolta struts down 86th Street in bell-bottoms to the tune of "Staying Alive," he chows down on not one but two slices of cheese pizza. This pizza stacking method is non-traditional but effective: Tony (Travolta) can stuff his face without breaking his rhythmic stride. Buy the Saturday Night Fever DVD »
The Trip: Dueling Michael Caines
Originally released as a 6-episode series for BBC Two, 2010's The Trip features actors Steve Coogan and Rob Brydon as lightly fictionalized versions of themselves taking a restaurant tour of the north of England. In between glasses of wine and plates of gourmet cuisine, the comedians exchange not-so-light-hearted barbs. The height of their banter comes in their dueling Michael Caine impressions. Buy The Trip DVD »
Wall Street: Off the Menu
When young, hungry stockbroker Bud Fox (Charlie Sheen) meets Gordon Gekko out for lunch in 1987's Wall Street, Gekko immediately indulges Bud with the luxuries he has to offer. "Try the steak tartare, it's off the menu, Louis'll make it for you," Gekko commands before Bud has time to settle into his seat. But the real palate cleanser comes when Gekko reaches into his pocket to show off a check for one million dollars. Buy the Wall Street DVD »
Whatever Happened to Baby Jane?: Rats in the Cellar
Robert Aldrich's 1962 psychological thriller about a wheelchair-bound aging starlet (Joan Crawford) tormented and held captive by a jealous older sister (Bette Davis) played off of the Hollywood stars' real life rivalry to accentuate the tension. When Davis' Jane arrives with a plate for Crawford's Blanche, covered with a silver dome, you want to turn away from the reveal. Blanche lifts the lid to reveal a dead rat on her plate while Jane cackles madly from the hallway. Buy the Whatever Happened to Baby Jane? DVD »
When Harry Met Sally: I'll Have What She's Having
Billy Crystal and Meg Ryan break bread at Katz's Deli in the most iconic scene from their 1989 romantic comedy. Harry (Crystal) and Sally (Ryan) debate whether or not women can fake orgasms over their plates of pastrami on rye, an argument that Sally quickly settles through her noisy moans of pleasure. It's not hard to imagine having a similar reaction to the sky-high piles of meat from the NYC staple. Buy the When Harry Met Sally DVD »