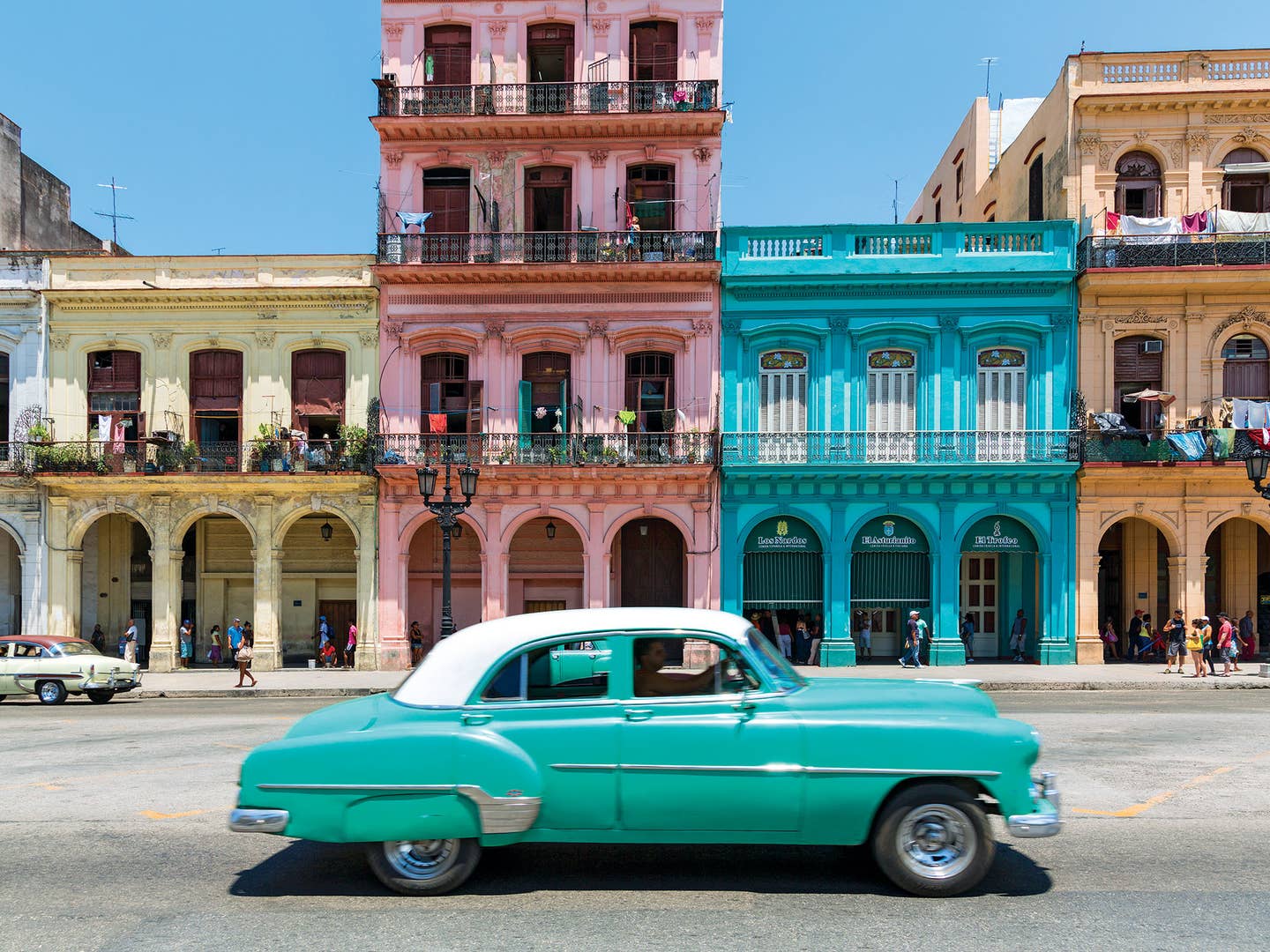 Travel
The New Way to Eat Cuba
Paladares—in-home restaurants—are proving to be incubators for culinary innovation
The only salt sold in Cuba is the iodized kind, packaged in plastic bags and parked on low grocery shelves. So when Niuris Higueras travels outside the country, she returns with suitcases stuffed with flaky sea salt.
"Twenty kilos of sea salt, yes," Higueras says, ticking off a list. "Sesame seeds, separated into black and white, because you only get a sort of mixed sesame here. Curry spices—not in their individual plastic containers, but in larger bags to save weight. Hand towels for the bathrooms…"
We're in the main dining room of her popular Havana restaurant, Atelier—a long, high-ceilinged, church-like space on the second floor of a Spanish colonial home, shot through with light and wind from the high open windows. The aesthetic is graceful grandma chic, all heavy, curved wood furniture, vintage tableware, 1950s radios, and modernist Murano glass ashtrays. Lunchtime guests, including a group of 30 tourists, clink glasses and laugh as white embroidered tablecloths puff in the breeze. While Higueras details her shopping list, an American diplomat and his wife, off to their next posting in a few weeks, eat dishes seasoned with the spices she brought from Miami a few weeks ago.
In Cuba, in-home restaurants like Atelier, known as paladares, were legalized in the 1990s but limited by idiosyncratically enforced regulations: a maximum of 12 seats, no beef or lobster, only ingredients purchased at state stores, at least two "family helpers" as staff. Those restaurants that survived despite the restrictions possessed a speakeasy ambiance and exclusively served Cuban food. In 2011, nationwide economic reforms loosened regulations, and in short order, paladares—some selling comparatively exotic Indian or Spanish food—outstripped state-run restaurants in both number and popularity.
The American Embassy in Havana has recently reopened, the streets are teeming with tourists, and the country is at an obvious inflection point. For Higueras and her fellow culinary entrepreneurs, things are changing too: A government-run restaurant-appliance store opened last year, the first of its kind, and while only one type of lettuce used to grace local green markets (agromercados), these days leafy greens proliferate, the result of newly organized farming co-ops. But there is still no wholesale market, and products disappear from government-run supermarket shelves with no advance notice. Running a restaurant presents unique challenges: Recipes refer to ideal ingredients; grocery lists still reflect wishful thinking.
"But at the same time, not having a stable marketplace in Cuba provides the opportunity to create," Higueras says. "You're always thinking, 'How am I going to substitute products to make new things?'"
Higueras' Atelier is just that: a workshop, where everything is always a work in progress. Higueras has, as she puts it, "the gift of persistence." She and chef Michael Calvo adjust their menu and tweak spices depending on what her husband, the purchaser-in-chief, finds on his morning round of the green markets and groceries. Calvo, a Cuban- and French-trained chef, employs cheap rum—which is never scarce—to tenderize octopus and combines mint, rosemary, and basil, hardly traditional to the Cuban palate, in his lamb stew.
What's perhaps most Cuban about Atelier's food is this deft adaptability and the aplomb with which Higueras and Calvo mix traditional with new and imported ingredients and flavors. The menu they've devised together isn't guided only by the whim of market shelves; it's also dictated by the season. A plump plume of that rum-tenderized octopus is drizzled with a balsamic reduction and served on julienned green apples, or placed atop a salad of chopped mango and pepper. In a lamb stew that structurally resembles the classic cumin-laced beef ropa vieja, the meat is braised until tender in red wine and tomatoes, and then served with rice and soupy black beans.
But there are a handful of truly classic Cuban dishes on the menu too, like crispy malanga fritters made from a starchy tropical root similar to taro, with moist, parsley-flecked interiors and crisp golden crusts. They're best accompanied by the fluffiest icy-tart daiquiri in town.
Atelier consistently runs at capacity, and Higueras plans to open a sandwich café downstairs later this autumn. Though foreign tourists provide the stable base for the paladar's bottom line, Higueras wants to run the sort of casual eatery that's accessible to the locals who are benefiting from the new entrepreneurial economy, too. She has big dreams for the future—entrepreneurship workshops, cooking classes, empowerment meet-ups—but countries don't change overnight. Despite the recent influx of foreign aid and nonprofit initiatives looking to help entrepreneurs, Higueras has worked long enough in Cuba to know her plans won't be easy to execute.
Then again, keeping her kitchen stocked with basics like salt and spices has never been simple. For now, she'll rely on what's taken her this far: grit.
"I insist on things working out," she says, "and they usually do."
Travel Guide: Havana's Top Paladares
Atelier
Niuris Higueras and her brother Herdys opened this restaurant in a mansion five years ago and serve a constantly changing Cuban-Continental menu to a packed house every night. Eat outside on the roof if you can.
Calle 5, #511, between Paseo and Calle 2, Vedado
Corte del Principe
When you arrive, ask owner Sergio which of that day's homemade pastas he recommends (his are the best in all of Havana) and then add some beef carpaccio or simply cooked fresh local fish to round out your meal.
Calle 9na at the corner of 74, Playa
El Cocinero
The people-watching can't be beat on this late-night rooftop tapas bar reached via three flights of spiral stairs. The menu includes everything from tuna tataki to grilled pork ribs.
Calle 26 between 11 and 13, Vedado
Ivan Chef Justo
Enjoy Spanish-Cuban fare—like paella and crisp suckling pig—at this lively, eclectically decorated spot in the old city.
Aguacate #9 at the corner of Chacón, Old Havana
La Guarida
Located in the majestic, decaying building where legendary Cuban director Tomás Gutiérrez Alea's Strawberry & Chocolate was filmed, La Guarida serves elegant Cuban food as stellar as the ambiance. Head upstairs to the new rooftop bar for a daiquiri and sweeping views of the city and ocean.
Concordia #418, Havana Centro
Le Chansonnier
Héctor Higueras, Niuris' brother, helms this chic townhouse restaurant known for its Italian-Cuban cuisine, like octopus in squid ink and tamarind-sauced chicken.
Calle J #257, Vedado
304 O'Reilly
Inventive small plates—like a light crab soup with miso broth or malanga with paprika and soy sauce—and creative gin cocktails ensure that tables are hard to snag at this tiny spot. Try anyway.
O'Reilly #304, Old Havana