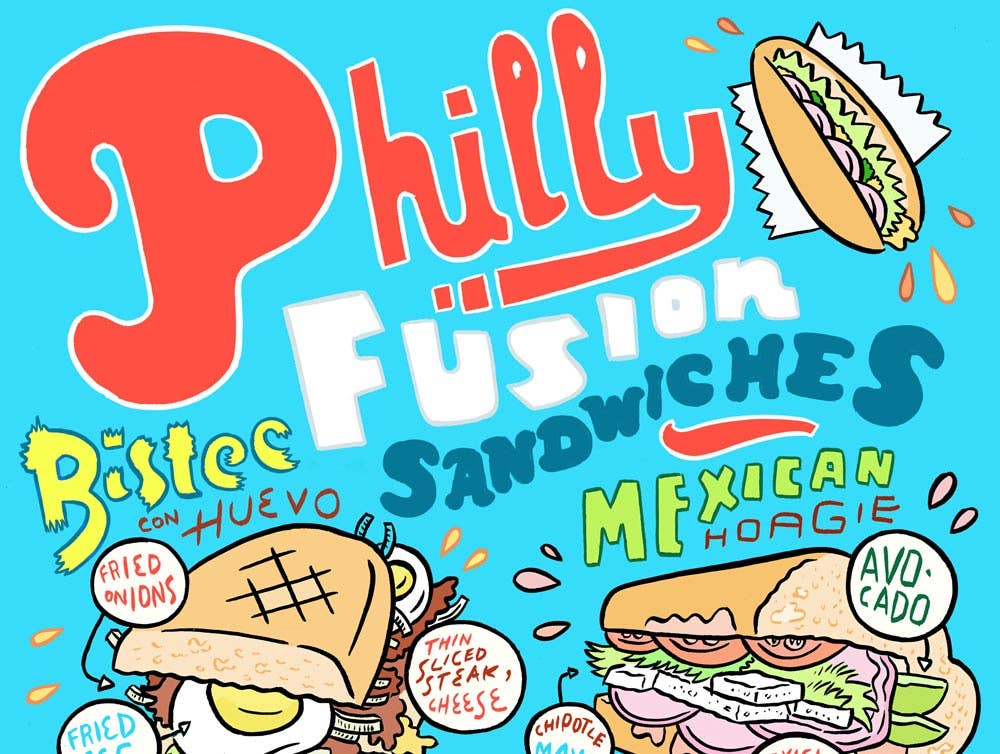 Travel
The Hunt for Philadelphia's Strangest, Most Delicious Mashup Sandwiches
In the city of cheesesteak and roast pork, a new breed of hoagie is drawing on the cuisines of immigrant populations to produce some utterly unique, shockingly good meals in the most unexpected of restaurants
Welcome to Hawk's Illustrated America, a monthly series following illustrator Hawk Krall's journeys through the back roads of the U.S. in search of our country's most obscure and delicious regional specialties.
When people talk about Philadelphia's most iconic foods, the first that comes to mind is the cheesesteak. Second is probably the classic roast pork with broccoli rabe and provolone, or any of the many other delicious, vaguely Italian sandwiches on long rolls that bless our city. Point being: Philly is about sandwiches to its core.
But cheesesteaks and Italian-style hoagies are only the beginning. Lesser known are the city's more globally-minded sandwiches, the natural results of Philly's iconic foods merged with the city's many immigrant cultures. Think Indian egg hoagies. Middle Eastern and Korean cheesesteaks. Puerto Rican-style Italian roast pork.
As a Philadelphia resident, I've become obsessed with tracking them down. Plenty of times I get close: a restaurant that serves cheesesteaks and beef rendang but won't mix one with the other. And some are more disappointing than inspiring. But the sandwiches that hit the mark are incredible—not just unexpected, but pure Philly, exemplifying our city's respect for quality sandwich bread and the proper balance of flavors you get in a roast pork and rabe sandwich. The best Philly Fusion Sandwiches are fairly simple, seamlessly fusing everything we love about classic Philly comfort food with the cuisines of the people cooking them today.
Here are six standouts to seek out.
El Punto: The Bistec Con Huevo
Way up in the Juniata Park section of Northeast Philadelphia, this late-night Dominican pressed-sandwich joint makes what may be the city's closest approximation of a proper Cuban sandwich. But the fusion draw here is the Dominican Cheesesteak. The "El Punto Whiz" is pretty much what it sounds like: your standard Philly cheesesteak setup of shaved beef, griddled onions, and cheese product, but instead of a plain Italian roll it's loaded onto Caribbean flatbread, slathered with butter, and pressed flat, criollo-style, like a Cuban.
For something bigger, get Punto's Bisteca Con Huevo: all the elements of the El Punto Whiz plus two fried eggs, lettuce, tomato, and a variety of sauces (be sure to order con todo to get everything). All the add-ons meld together in perfect harmony, familiar but also something completely new—think a well-made hamburger with an egg on top, crossed with a Philly cheesesteak, prepared like a Cuban. Fantastic.
El Punto makes plenty of other crazy sandwiches worth ordering if you're inebriated—a delicious myriad-meat Tripleta, double hamburgers topped with ham—but start with the Bisteca to kick things off the right direction.
El Punto
4460 Whitaker Avenue
(215) 329-2251
El Soto: The Mexican Hoagie
Philadelphia's Mexican population has boomed in the last couple years, resulting in a cornucopia of legit Mexican food options in a town that where real tacos were once fairly hard to find. One of the newer developments are hybrid Mexican pizzerias and corner stores that serve legit tacos and tortas alongside Philly staples like cheesesteaks and pizza. It's almost inevitable for some avocado or al pastor to make its way onto a slice of pizza or hoagie, either privately, for the employees in the back, or officially on the menu.
Over the years I've tried a multitude of Mexi-Philly fusion hoagies and "tortas bisteca con queso" (think steak, Oaxacan string cheese, jalapeños, and pineapple, on a seeded hoagie roll) from these sorts of places, but El Soto is hands down the best: more carefully put together, and built on Sarcone's beloved bread, crustier and sturdier than some of the cheap, no-name soft rolls used at the other spots.
My favorite sandwich, with Mexican jamon, mild slabs of half-crumbled queso fresco, creamy avocado, shaved iceberg lettuce, and chipotle mayo, is actually known as the Torta Enojada. It's sort of like a guilty-pleasure Wawa ham hoagie slathered in mayo, but on better bread and with better ingredients. The comfort-food bells of a classic Philadelphia hoagie still go off in your head, but the flavors are distinctly Mexican.
El Soto Grocery
1500 Tasker Street
(215) 278-7831
On the outskirts of Philadelphia's University City neighborhood, dorms and bars starts to co-mingle with the long-standing African, Middle Eastern, and Islamic communities of West Philadelphia, you'll find all of the above coming together at Saad's Halal. Saad's started out as lunch truck in University City, eventually expanding to the brick-and-mortar location that seems to be jam-packed around the clock with a unique (and very Philadelphia) mix of Muslim families in full garb, drunk college bros, and maybe a handful of vegetarian crust punks chowing down on falafel. Just as important: the food's fantastic.
Saad's halal cheesesteak is a serviceable rendition of the classic, but you're really here for the signature "Maroosh" sandwiches. The chicken sandwich is technically called Shish Tawook Maroosh Way, in homage to a restaurant in owner Saad's home country of Lebanon, but everyone just the sandwich orders by its street name: Chicken Maroosh. Chicken cheesesteaks in Philly are often a bottom-rung meat situation, but Saad's is juicy and delicious, marinated with Lebanese spices before cooking. It gets put in a lightly toasted hoagie roll and topped with white garlic sauce, tomato, curly parsley, and spears of Lebanese pickles for good measure.
Porky's Point: The Puerto Rican Roast Pork
A bit of an old classic of the Philadelphia Obscure Sandwich Circuit, Porky's Point has long been a favorite of the city's food writers, but it's probably unknown to most people outside of Philly, and just too damn good not to include on this list. It's pretty far outside of most Philadelphians' dining radius—far north of center city in a heavily Latino neighborhood blessed with a plethora of amazing Spanish and South American restaurants. There's a bootleg Porky Pig mascot, a parking lot filled with tricked-out cars blasting reggaeton, and nowhere to sit or eat save a narrow stainless steel ledge, but the pork sandwiches are on par with the best of the city—tender, juicy, perfect.
Porky Point started as your standard Italian-owned roast pork and cheesesteak stand a few decades ago, but as the neighborhood changed, the food (and clientele) slowly shifted to almost all Puerto Rican. The crispy bits of skin on the roast pork ("WE DO NOT SERVE LEAN PORK," proclaims a hand-written sign) are optional; get them. And get it all on a long Italian roll covered with a rich, spicy tomato gravy, more like Caribbean barbecue sauce than marinara.
Porky's Point
3824 North 5th Street
(215) 221-6243
Koja Grille: The Korean Cheesesteak
The idea of a Korean cheesesteak isn't unique to Philadelphia, but with a strong Korean community and food scene, Philly's game is strong. Koja is a Japanese-Korean-American fast food favorite up near Temple University that was a huge hit when it first opened five to six years ago, and it's still going strong. The griddled beef is especially tender, dripping with a gochujang-spiked marinade mixed with melted cheese. Koja's sandwich is also topped with sautéed onions and green peppers, and served with chopsticks, giving the whole thing a kitschy takeout vibe. Grab an order of kimchi on the side and add it to your sandwich to gild the lily. If I lived up here I would eat this twice a week.
Little Sicily Pizza II: The Egg Keema Hoagie
Little Sicily Pizza II is the crown jewel of the Philly Fusion Sandwich. It doesn't look like anything special: a late-night pizza joint with take-out beer in a gristly shopping center near the highway. So you need to know about the secret menu.
I don't mean "secret" like "wink wink, please spread this all over the internet." This is the real thing: something the restaurant's Indian cooks started making for themselves and family and friends. The only fusion sandwich that's actually printed on the menu is listed as Spicy Chicken Cheese Steak, Spices Of India, but the full off-menu roster includes at least five or six different sandwiches, all ridiculously delicious and devoid of any pretension.
The secret sandwiches start with fresh garlic and ginger, green chiles, lime juice, and Indian spices added to sandwich meats (or-non meats), then get topped with American cheese. There are beef and chicken tandoori cheesesteaks, a Bombay Club (a spicy vegetarian club sandwich), and the Egg Keema hoagie: eggs scrambled with American cheese, onions, spices, a hit of tomato, and a dusting of green onion and cilantro. The finished egg mixture is tucked into a soft hoagie roll and doesn't look like much at all. But it tastes like nothing you've ever eaten, and you'll want to down five in a sitting. Paired with a pile of masala fries and a cold beer from the cooler, it's Philly cheesesteak heaven for the modern world.
Little Sicily Pizza II
1608 South Christopher Columbus Boulevard
(215) 465-8787
Hawk Krall is an artist, illustrator, and former line cook with a lifelong obsession for unique regional cuisine, whose work can be seen in magazines, newspapers, galleries, and restaurants all over the world. He focuses on editorial illustration, streetscapes, and pop-art style food paintings.