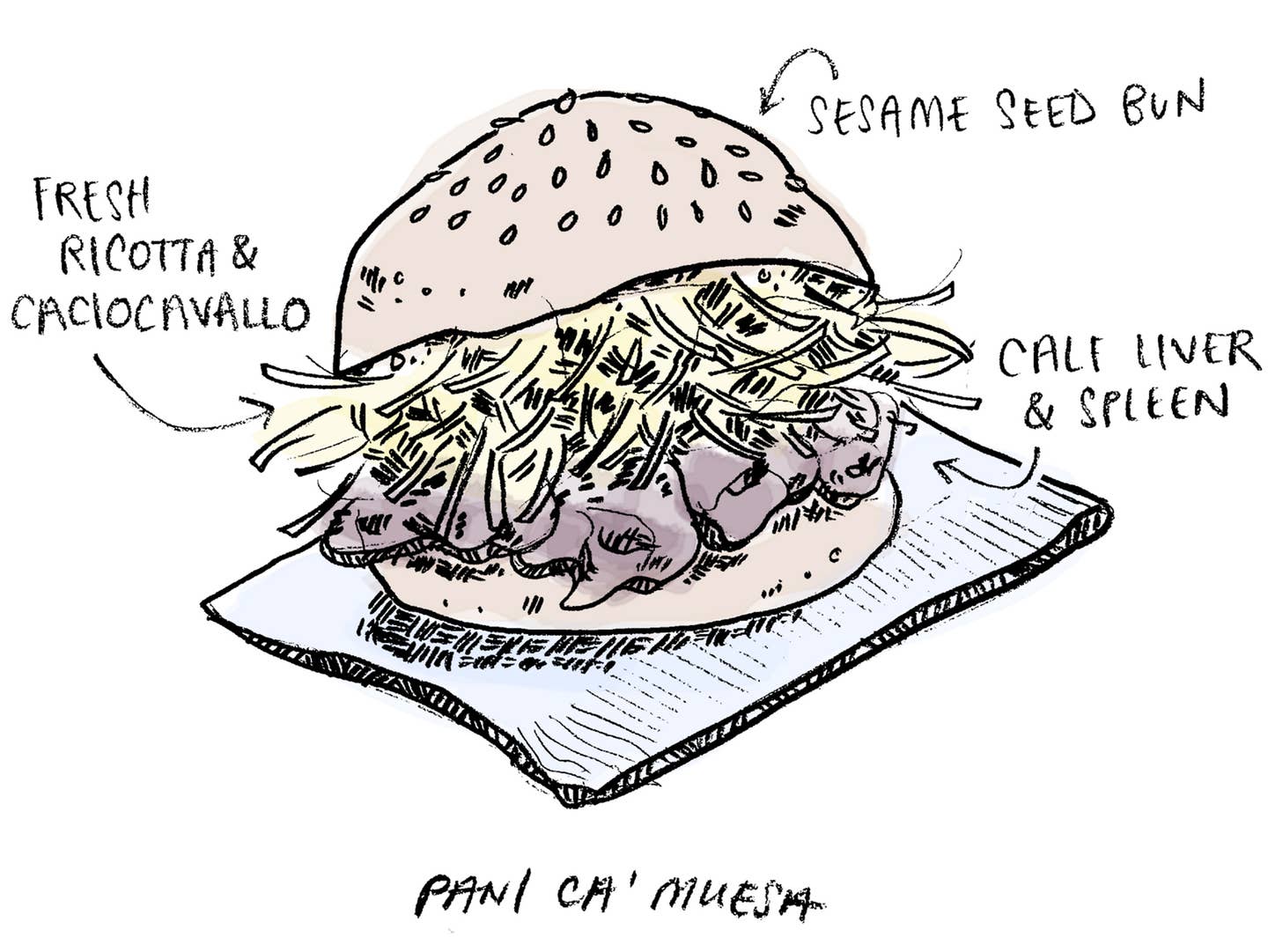 Travel
Chickpea Fritters and Spleen Sandwiches: Sicily's Essential Street Snacks
On an island rife with foreign influences, the local street food has guts
If you walk down the streets of Palermo, you'll smell and taste something a little bolder than the flavors that Sicily, the Mediterranean's largest island, is usually known for. Alongside the wild fennel, icy crystals of granita, and tomatoes so red they break your heart is a street food scene alive with almost brutish intensity: spleen, mixed offal, snails, octopus, and grilled intestines.
Squeamish? Don't be. Sicily is home to one of the world's most distinctive and delicious street food cultures, built on layers of foreign influences and powerful flavors from centuries of exchange with (and occupation by) Phoenicians, Greeks, Romans, Arabs, and Normans. It's original cooking you won't find anywhere else, and the street cooks here turn humble ingredients like chickpeas and organ meat into something destination-worthy.
On the weekend, get yourself to Palermo's Piazza Caracciolo, when it transforms into a night market filled with street food. Or just wander—through markets, down alleyways, and at street corners and stalls, to devour these unique Sicilian essentials.
A Palermo specialty, pani ca'meusa (above) this sandwich begins with a pillowy sesame seed roll. The vendor pulls out the bread's soft white guts and replaces them with slices of well-seasoned calf spleen, lung, and liver cooked gently in oil. You can have it maritata—married, with fresh ricotta and shreds of grated caciocavallo cheese, or schiettu—single, without. The sharp cheese adds contrast to the soft spleen, with a taste somewhere between boiled beef and liver. You will also find it referred to as pane con milza.
Repeat after me: one arancina, two arancine. Do not, whatever you do, make the mistake of calling them arancini (as they do in mainland Italy) instead of arancine (as they do in Sicily). Named for the oranges whose shape and color it resembles, this saffron-colored rice ball is wrapped around a savory filling, coated in bread crumbs, and deep-fried. Try one of three varieties: al ragù (with beef ragu and peas), al burro (with butter, ham, bechamel, and mozzarella); or alla Norma (with eggplant, tomato, and salted ricotta, a specialty of the city of Catania and named for Bellini's 1831 opera).
A dish of Arab origin, these creamy-centered, crisp-edged, slightly earthy chickpea fritters come with a topping of chopped parsley and deliver a hint of fragrant nutmeg. They're usually served inside a soft white roll, sometimes with the addition of melanzane (sliced eggplant ), and are often paired with crocché, fried potato croquettes with mint and served in a coppa with salt and a squeeze of lemon. The mint and lemon elevate these tiny crunchy-soft bites of potato into something sublime.
An elusive dish worth the hunt. Just as I'd given up hope of finding this robust-flavored Sicilian street food, I passed a highway underpass on the Palermo-Messina road and spotted a cluster of vendors fanning smoking grills. They were grilling veal or lamb intestines spiraled tightly around a skewer over charcoal for some spit-roasted innards. As the cooks turn the skewer, the intestines blister and spit. Once they've browned and turned crisp, the vendor pushes them off the skewer with a broad knife and chops them in pieces so they burst with juice. He then seasons the lot with salt and lemon juice and serves them with a delicate toothpick for eating. Each bite of these salty lamb chitterlings is by turns chewy, charred, and crispy.
Another specialty of Palermo, sfincione is more soft bread than pizza, about an inch thick and soaked with tomato, onion and sprinkled with breadcrumbs before firing. It may have anchovies or caciocavallo cheese and dried oregano added. Served from a tiny mobile van by a sfincuinaro, you can buy it by the piece—one euro will more than satisfy one person's hunger. The bread is soft and hot, with the sweetness of onions and tomato and the smokiness of the charred crust at its edges.
Technically not a street food, these dainty cakes are, however, the perfect sweet end to a street food meal. Layered inside are pan di spagna (sponge cake) and sweetened sheep's milk ricotta, covered in pistachio marzipan and topped with a sugar glaze and glâcé fruit and peel. (You can get the recipe for a full-sized version right here.)
It's hard to believe this passes for breakfast in Sicily, but it's also hard to complain. A brioche topped with a tuppu, or bread button, is filled with one or more flavors of fresh gelato for a soft ice cream sandwich, often with the addition of wafers, piccolo, and whipped cream for good measure. Try hazelnut (nocciola) with straciatella, strawberry (fragola) with chocolate (cioccolato) or mulberries with cream (gelsi con panna). Of course, you don't need to confine yourself to just two flavors, or even to breakfast hours, because it's available until the brioche sell out.