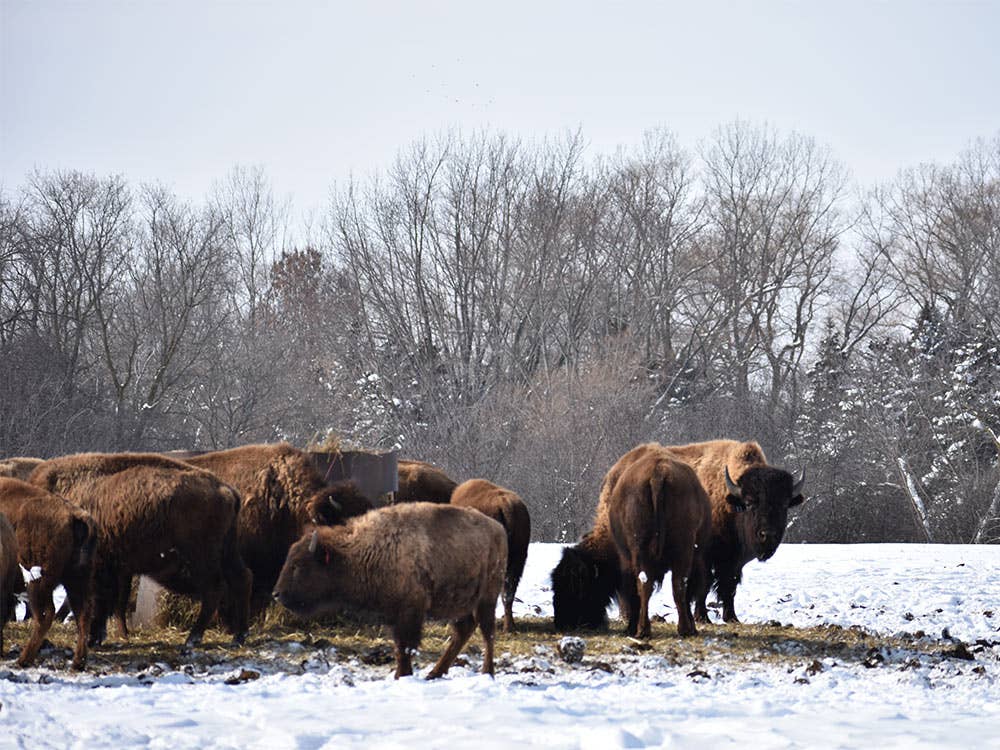 Culture
Bison Meat is Overtaking Cow's Milk in America's Dairyland
In Wisconsin, Bison are an increasingly common sight in a region better known for dairy cattle
A herd of bison is grazing in a field in southeast Wisconsin, and Pat Kummrow of Battle Creek Beef & Bison is warning me not to get too close. These animals are nearly six feet tall and can weigh up to 2,200 pounds. They're massive and shaggy, adorable and intimidating at once. Most of all, they're something of a rarity in the Dairy State, though that's changing.
Bison used to roam North America, especially the Great Plains, in the millions, but by 1883 there were fewer than 1,000 left. Thanks to conservation efforts in the early 1900s, today there are about 550,000 bison across North America, mostly concentrated in western states. In Wisconsin, America's Dairyland and home to 285,000 cattle, there are about 7,000.
"When I got involved in it they were an endangered species," says Ron Lester of Lester Farms in Salem, Wisconsin, who studied bison as a training tool for survival while in the Marines, then bought four when he retired from the military in 1972. "I had to sign paperwork you wouldn't use them for meat, but I just loved the animal and wanted to raise them," he says.
Bison were raised for breeding stock, but once the population started climbing, people started thinking about the meat. Initially they were crossbred with cattle in efforts to get a leaner product, but eventually farmers realized bison meat was marketable on its own.
Around this time, the dairy industry in Wisconsin took a hit. California surpassed Wisconsin in milk production in 1994, and it looked like trends were shifting toward large dairy operations rather than family dairy farms.
Waukesha, Wisconsin, where Battle Creek Beef & Bison is based, was once the dairy capital of the country. "Now there aren't a handful of farms left," says Greg Kummrow, who along with his wife Pat left dairy farming for bison in 1994.
"I started dairy farming the mid-70s and when we stopped in the 90s milk hadn't gone up much, but our expenses had increased tenfold," he says. "In last 20 years the price has gone up, but it always comes down to about same value, and the expenses never drop."
His family looked into ostrich, emu, and ginseng before settling on bison, which seemed like a good fit because they were already selling beef and could easily promote the leaner meat to their customers.
Battle Creek and Lester Farms sell bison and beef out of shops on their property. Ron Lester also sells to local shops and restaurants, as does Phil Hausler, President of the Wisconsin Bison Producers Association and owner of Lowland Bison Farms in Stevens Point, Wis..
"I knew I didn't want to milk cows anymore," he says, reflecting on growing up on a dairy farm. He thought bison were something new and interesting, so he bought six. Now he has 100.
In his four years as president of the WBA, he's seen the shift from dairy often. "Dairy is tough right now," he says. "A lot of people came to bison from dairy."
Kummrow, Lester, and Hausler all got into bison farming before the meat was trendy. "No one had figured out how to sell the meat yet and the public didn't really understand what it was and how to cook it. We spent a lot of years educating people through cooking shows, handing out samples, things to get them used to it and how it tastes, and tell them the health benefits," Hausler says.
Over the last decade, bison meat has become a darling of the health conscious, sustainable-minded crowd. It's high in protein, zinc, iron, and vitamin B12, and has only 2.4 grams of fat and 143 calories in 3.5 ounces cooked, compared to 8 grams of fat and 200 calories in a piece of "select" beef, according to the National Bison Association.
They're also said to be more sustainable, though that's a trickier statement. "They actually till the soil; their hoof is designed for that," says Lester, noting that they cause less erosion than cattle. A popular refrain promoted by the National Bison Association is that bison poop serves as a natural fertilizer, and because they're not domesticated and native to North America, they're naturally suited to the environment. Kummrow, who also sells beef, says there's more to it. He says the bigger issue is grain fed versus grass fed. Most bison are 100% grass fed, while many cattle are grain fed, which is not natural and has a higher environmental impact.
Whether bison are more sustainable or not, everyone seems to agree on the health benefits. "Bison is a very low fat, low cholesterol, high protein meat. It's healthier than skinless chicken," says Hausler. "I've got customers whose doctors tell them they've got heart problems and they need to cut out meat except for bison."
In Madison, a city that prides itself on promoting a farm-to-table ethos, bison has made its way onto menus in every form, from burgers at pubs to bison tartare at a fine-dining Harvest restaurant. Madison-based James Beard Award-winning chef Tory Miller recently beat Bobby Flay on Iron Chef Showdown with an array of bison dishes including a bison carrot roll, bison pho with bison meatballs, bison bibimbap, bison larb, and bison gnocchi with cheddar.
Now the question is whether bison farmers can keep up with demand. Getting young people into the industry is a challenge, mainly because it's expensive to start any sort of animal operation. Hausler thinks middle-aged farmers looking for something new could be the answer.
"It's hard to get young folks involved, especially when they can raise corn or soybeans and make more money," he says. "We can get more people into it that are closer to retirement age that are tired of milking cows and already have land. It's tough if you have to go out and purchase land and animals and fencing and everything."
Like bison, beef is a growing industry. The beef cattle herd in Wisconsin more than doubled in size during the last three decades, according to the Wisconsin Department of Agriculture, Trade and Consumer Protection. The beef industry contributes more than $2 billion in income to the state, and that doesn't even touch the dairy industry, which contributes $43 billion thanks to 1.275 million dairy cows. So despite the surge in popularity, it's hard to imagine bison farming taking over beef in Wisconsin.
"There's more beef killed every day than there are bison alive," Kummrow says. "That's not going to change anytime soon."
Still, for those looking for something different, leaner, and possibly more sustainable, Wisconsin's bison farmers have the perfect piece of meat for you.