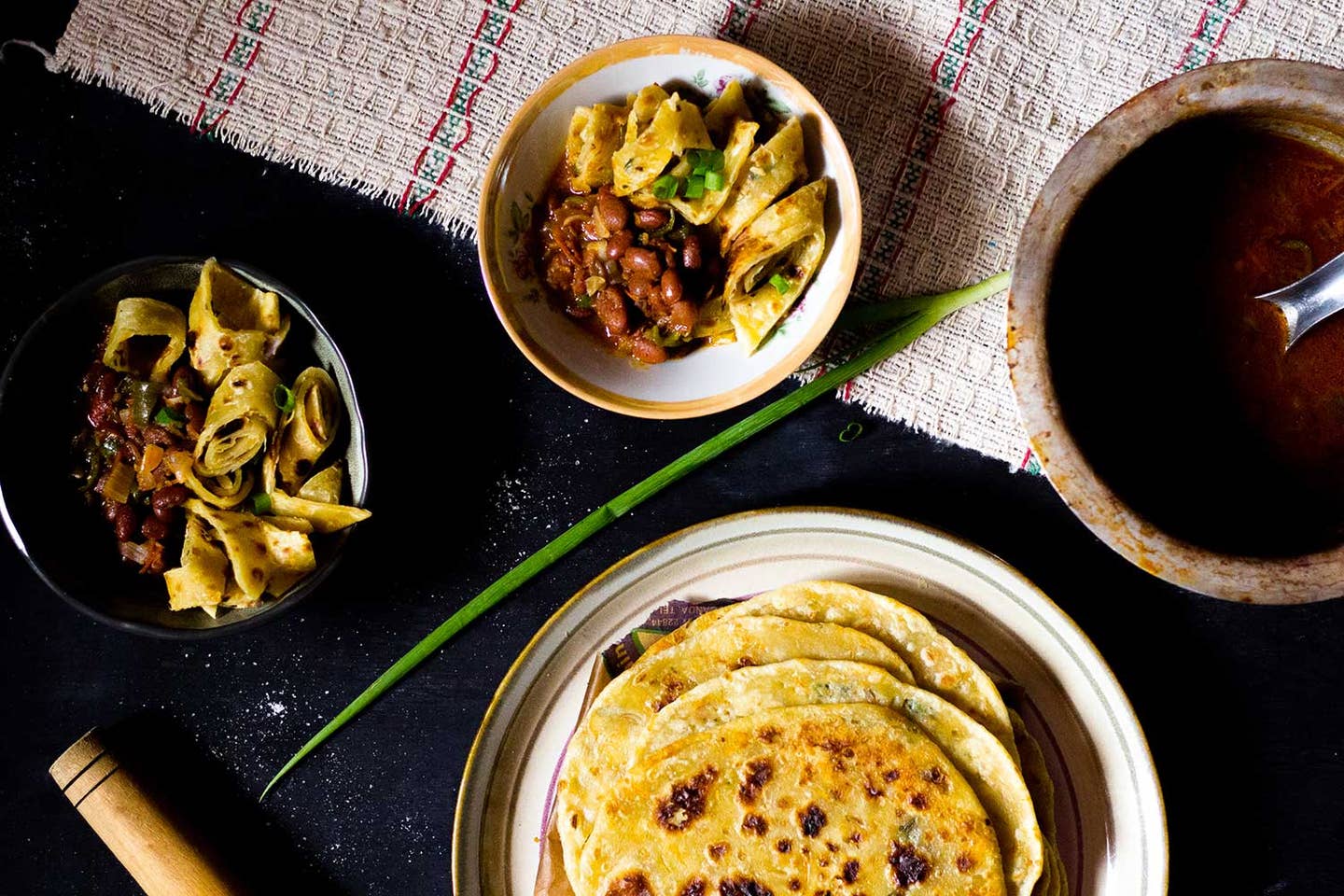 Culture
Meet the SAVEUR Blog Awards Finalists: 6 Blogs About Food and Culture
These bloggers are tackling every aspect of a culture, one dish at a time
The SAVEUR Blog Awards are here, and from a pool of tens of thousands of reader nominations we've selected 66 finalists in 11 categories. Now it's your turn to vote for a winner. Cast your ballot here early and often; you can vote as many times as you like by September 12th. Today: meet the finalists for our Best Culture Blog award.
When writing about food, it can be hard to do justice to the culture surrounding a certain dish. But our 6 Culture Blog finalists are covering every facet of culture in a city or country via its food, showing us what people there eat and why.
The Blog: A kitchen in Uganda is a food blog that aspires to highlight local produce, especially indigenous harvest, and turn it into scrumptious, enjoyable meals with a modern twist. The blog celebrates the art of preparing and fusing foods from different cultures across the globe with either Ugandan cuisine, or ingredients found in the country and the neighboring countries and regions. Its aim is to introduce Ugandan cuisine to the world while inspiring Ugandans to embrace their food and get creative with their meals.
The Blogger: Sophia Musoki is a 24-year-old Ugandan who is the voice behind A kitchen in Uganda. She is currently pursuing a master's degree in Business Administration with emphasis on Entrepreneurship Marketing. She is passionate about exploring food from an African perspective, and she believes food has the power to bring people of all walks together. She wrote two e-books, one of which won the Gourmand World Cookbook Awards from the African Region in 2016. In her free time, you can find her reading African food history (especially in East Africa), developing recipes, and polishing up her food photography skill.
The Blog: Assyrians are indigenous to Iraq, but live all over the Middle East and the world without a self-governed homeland. Assyrian cuisine is known for its unique specialties, like kadeh, a teatime roux-stuffed sesame brioche, booshala, a yogurt, rice, and swiss chard soup, and vegan stuffed grape leaves, which are made during fasting holidays like Lent. Cardamom and Tea celebrates classic Assyrian dishes, while also exploring the ways that different cuisines intersect and share a rich culinary history.
The Blogger: Kathryn Pauline writes about her favorite traditional Assyrian dishes, as well as recipes inspired by Middle Eastern flavors and techniques. Don't miss her dried mint labneh cheesecake, apricot pistachio salad, dreamy fig galette, chocolate chunk ghraybeh, kadeh star (pictured here), and tahini roast carrots and cauliflower. Kathryn was born in Chicago, her family comes from Iraq, Syria, and Lebanon, and she lives with her husband in Hong Kong. She's a fan of tiny kitchens and giant bags of basmati rice, and she is this close to finding a way to have it all.
The Blog: Curious Appetite is a blog fueled by cultural curiosity. It details food and drink in Italy with a focus on Florence and Bologna, and a few pit stops (i.e. San Sebastian, Istanbul, Iran, etc). Its mission is to detail food-driven travel and curated advice on where to eat, regional cuisine, and local trends, all peppered with observational food for thought. The blog started after blogger Coral Sisk graduated from University with a study abroad in Rome surveying Anthropology & Politics of Food. Since moving to Florence, it has been a space to share insight on life in Italy and Florentine food culture.
The Blogger: Coral is a Florence-based writer, certified Italian sommelier, and culinary travel professional. She majored in Italian Studies with a minor in Geography (i.e. food studies), and in 2012 moved to Italy to carve out a career in food and wine. Her heritage is rooted in Sicily and Iran, and she has long been obsessed with food and culture. Her writing appears on sites like Eater, The Guardian, Conde Nast, and Vice Munchies, and she is the creator of Curious Appetite Traveler, a provider of bespoke gourmet wine experiences around Italy such as cultural food tours in Florence & Bologna, cellar tours to small vignerons around Tuscany, and hands-on cooking classes led by women.
The Blog: Kitchen Butterfly celebrates ancient and modern Nigerian cuisine with the 'New Nigerian Kitchen' philosophy and practice. Blogger Ozoz Sokoh's mission is to share the diversity and deliciousness of Nigerian cuisine by documenting her finds—rare fruits, old and reimagined recipes, cookbooks, and everything in between. Her 'Around the world' series, for instance, explores the ties—love of fried dough, smoke, cooking techniques—that bind cuisines. Her most rewarding moments are in creating novel documents like Nigeria's only seasonal produce calendar, as well as guides to tastes, flavors, spices and more. She hopes KB is a beacon for exploring the world south of the Sahara.
The Blogger: Ozoz Sokoh is a food explorer who combines art and science in her study of Nigerian cuisine. She turned to food in 2009 after a quarter-life crisis while living in The Netherlands. Like a butterfly, her blog has transitioned from journal to explorer's notebook. She discovered that acaraje, a Brazilian fritter, is actually a descendant of Nigerian akara, and found that food is 'more than eating'—it is history and heritage too. Her home is Lagos, Nigeria, where she dreams of writing cookbooks on drizzly sun-streaked mornings, drinking pots of Lady Grey (in milk) in New York, Nairobi, Tokyo, Paris, or Edinburgh. Until then, she travels by plate. You'll also find her work on CNN's African Voices, Food52, and Parts Unknown.
The Blog: Launched in 2002, Viet World Kitchen is a recipe site dedicated to exploring and demystifying Asian foodways. The site's publisher, award-winning author Andrea Nguyen, was born in Vietnam. With over 1,000 posts and millions of visitors over the years, Viet World Kitchen has become a major hub for exploring Asian cooking and traditions. Join in the conversation and contribute your insights!
The Blogger: Andrea Nguyen, M.A., is a bank examiner gone astray who's living her dream of writing impactful books and teaching others how to cook well. She recently authored The Pho Cookbook, a 2018 James Beard Award winner and Wall Street Journal best seller, and edited Unforgettable, the biography cookbook about Paula Wolfert that won a 2018 International Association of Culinary Professionals award. Her sixth book, Vietnamese Food Any Day, will release in February 2019. Andrea has contributed to publications such as the Washington Post, Wall Street Journal, Lucky Peach, SAVEUR, and Cooking Light, where she is currently a monthly columnist.
The Blog: Pakistan Eats is a tribute to a cuisine that can tell the story of South and Central Asia's rich and vibrant history. Maryam started the blog in 2016 when she realized that not enough people were writing about Pakistani food, specifically its regional cuisines. Over the years, in people's minds, Pakistani food has been reduced to a handful of Punjabi dishes that do not tell a complete story of the country's varied history and migrant influences. By sourcing and testing recipes from diverse Pakistani kitchens, Maryam hopes to capture and present a more complete picture of Pakistani and South Asian cuisine. Pakistan Eats was a SAVEUR Blog Awards Finalist for Best New Voice in 2017.
The Blogger: Maryam Jillani is an international educator and food writer who loves to learn about a place and its people through food. Maryam grew up in Pakistan, immigrated to the United States and most recently, lived in Ciudad Juarez, Mexico. While she was not much of a cook growing up, homesickness forced her into the kitchen, where she learned how food could serve as a bridge between her old and adopted homes. She served as TASTE's first Cook In Residence where she wrote about Pakistani food and culture. You can follow her travels and culinary adventures @maryamincolor.