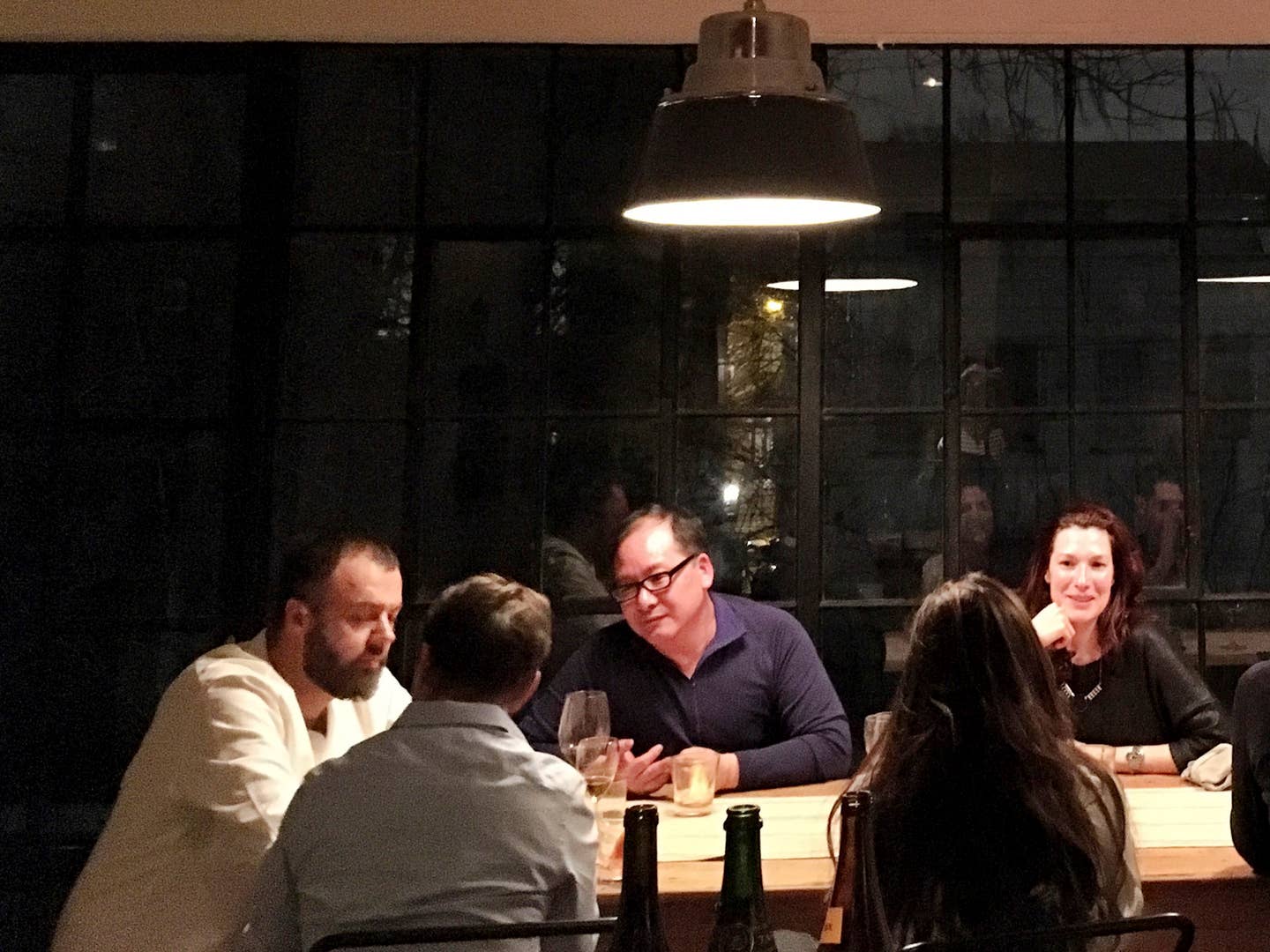 Culture
Our Night Hosting a Pop-Up You Only Hear About the Morning of Your Meal
Copenhagen's Bo Bech is taking impromptu dining to a whole other level
One thing you should know about our editor-in-chief, Adam Sachs: you cannot, I repeat CANNOT, say no to this man. From simple requests to more far-fetched asks, I find myself sometimes doing the impossible to please him or make things work for the magazine.
This is not a bad thing, so don't take what I'm saying like that. We end up doing some really crazy and creative things together, and I dig it.
His friend Bo Bech is a similar kind of guy. Bech is the chef and owner of Copenhagen's Geist, and he's recently started a slew of pop-ups not quite like any other. The difference? He doesn't tell people where or when they will occur until the day of the dinner. People email him if interested, and the morning-of he calls them up to see if they are available. If they're not, he moves on to another person on the list.
Bech was in town to do a couple pop-ups in New York. The eighth dinner in his Bride of the Fox series was in the kitchen of Eleven Madison Park, but for the ninth, he swapped porcelain and crystal for Adam's son's Legos at his Clinton Hill home last Thursday night. And then came Adam's ask: Can you help out in the kitchen? Why not? It's not as if I could have said no to Sachs.
What transpired was an evening full of magic and energy in a home I knew (we frequently do photo shoots at Adam's house) with a room full of strangers. For Bech, these evenings are personal and emotional, and he sets out to make dishes he's never tried before. He plans a menu, but upon arriving on location, things change. Adam's house has an indoor grill, so Bech planned the menu around that element: fire.
He smoked some ingredients to pair in his courses (the first involved smoked banana and caviar). He threw whole onions on the grill and let them slow-cook all day, peeling apart the layers for service and spooning a sauce of coffee, tamari, and brown butter into them. One of my favorite dishes involved potatoes that cooked all day in butter, which he then whipped until smooth, spooned onto a plate, and topped with a simple purée of chilled uni. The hot and cold dynamics went through to the last course, a dish of candied blood oranges served alongside caramelized apples.
Bech's goal is to create a living, one-of-a-kind moment. Masa Takayama, the Michelin-starred chef and one of the guests at the dinner, spoke at the end of the evening, describing the air in the room. Ichi-go ichi-e, he called it, a Japanese expression that translates to "one encounter, one chance," with the idea that every encounter should be treated as if it were a once-in-a-lifetime experience.
A meal like this, which only happens by chance, last-minute, and perfectly executed, among strangers now connected forever—it really only comes around once.