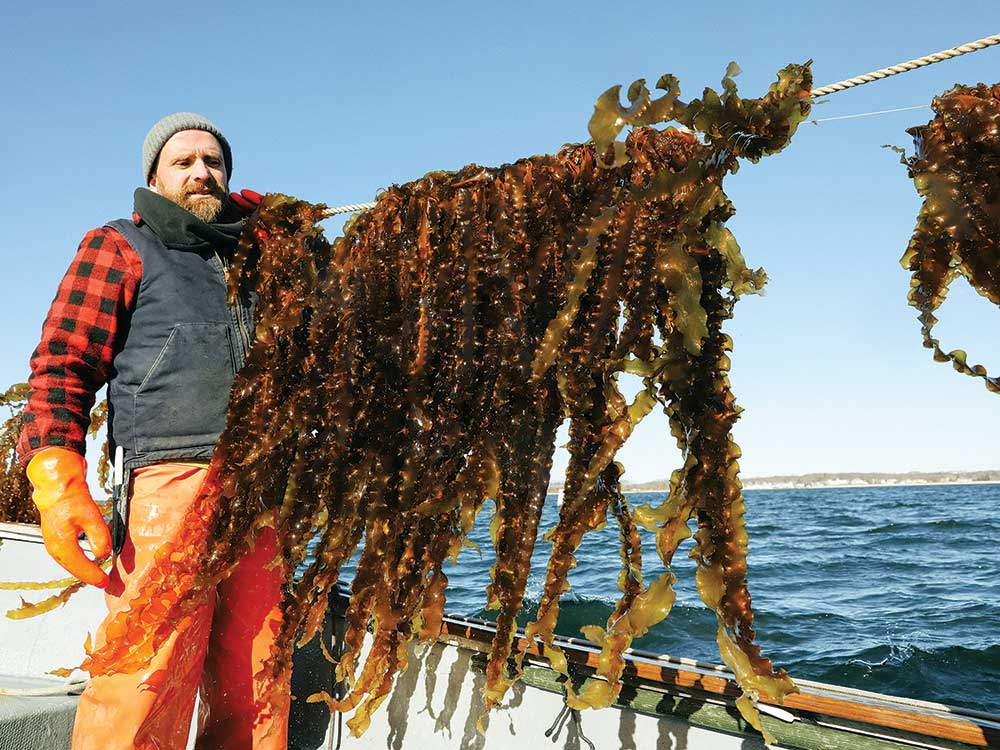 Culture
This Farmer Thinks Kelp Will Help Save the World
Seaweed is delicious. To Bren Smith, that's just the start
Bren Smith is strikingly humble for a man I've often heard referred to as the savior of our food system. Wearing a rubber jumpsuit and sipping weak coffee from a Styrofoam cup, he moves around his dinged-up boat instinctually. Smith is a former industrial fisherman turned kelp farmer and educator, and we're headed out today to visit the farm of one of his mentees. As we glide between a handful of bobbing buoys off the shore of Groton, Connecticut, there's no sign yet of the great marvel of ocean sustainability I've come to visit. The entire farm is below us, hidden beneath the waves.
"Our food system is changing radically due to climate change," Smith says. "It'll get pushed out to sea within the next 30 years," he adds without a trace of hyperbole. Casually joking about the perils of ocean degradation is a common topic with Smith, who, after dropping out of high school at 14, joined a commercial-fishing operation that trawled the ocean floor and, he realized, destroyed marine ecosystems and killed tens of thousands of pounds of bycatch. Searching for something less destructive to do, he made his way to New England, where, after a brief stint as an oyster farmer, he has spent the past 15 years developing a farming system that revitalizes the waters using both seaweed and bivalves. He holds two distinguished climate fellowships, and was recently granted the Buckminster Fuller Prize for ecological design—a $100,000 award that usually goes to architects or designers. But his farming solution is, at first glance, laughably simple in its ingenuity.
Smith plunges his hand into the water and pulls up a giant rope that supports hundreds of rippling strands of kelp. The kelp are the farm's scaffolding, sitting just below the water's surface, each growing 15 feet downward into the water. Mussels and scallops are grown alongside the seaweed in floating lines, and oysters beneath them in cages. (Bivalves act as tiny filtration systems, helping to increase the health of the water, and are another sustainable food source.)
Unlike land-based agriculture, which on an industrial scale can be a powerfully destructive force—greedy for water and land resources, plaguing waterways with waste runoff, and contributing up to one-third of the planet's greenhouse-gas emissions—Smith's ocean-farming model is actually restorative. Seaweed is able to absorb five times as much CO2 as land plants, and it can sequester nitrogen buildup in the water, as well as the harmful runoff from farming or human waste. It helps rebuild coastal ecosystems by creating a sanctuary for other types of marine life, and acts as a natural buffer to protect the coastline against storm surges (a more likely occurrence in the age of climate change). For all its benefits, it requires very little from its cultivators—no fertilizer, fresh water, or land—and grows quickly and cheaply.
Smith skims over much of this, however, when he talks about his work. For most people, it's just too unbelievable and, frankly, overwhelming. (He admits that he used to get laughed off the docks when talking to traditional fishermen.) Instead, he focuses on the aspect of kelp farming that, as he says, "has a soul"—the part where he is able to provide a uniquely rewarding and viable livelihood for independent farmers. "People from all walks of life are interested," Smith says, "and I think it's because it gives them agency." Startup costs for kelp farming are remarkably low, and Smith can't keep up with the growing demand for kelp as food and fertilizer, and as an additive for cosmetics, and even biofuel. The small cult of farmers he's trained so far are an eclectic bunch—a young Iraq War veteran, a book publisher from Jersey City, a former New England shrimp trawler, and an environmental scientist from Yale. It seems as if everyone who encounters Smith becomes his disciple. Speak to him long enough, and you sense a fanaticism for his vision, despite his laid-back demeanor. I can't help but become an advocate myself. The only question remaining was one of taste.
Of course, seaweed has been an ingredient in Japanese, Korean, and Chinese cuisine for centuries, and coastal peoples in Europe and even the Americas have been eating seaweed since prehistoric times. We unwittingly consume it daily, as a thickener in some ice creams, yogurts, and almond milks, and it's even in some deli meats.
Smith hoists the rope of kelp up over one shoulder, chops off a ­handful, and hands it to me. It is brown, undulating in the wind, and doesn't much look like food. I take a modest bite, and the experience is nothing like what I expected. It's delicate, paper-thin, and incredibly mild, only faintly tasting of brine. I rattle off a line of questions: "Can you roast this? Can you add it to pizza? It probably makes a good pickle, right?" He nods at my assumptions. "All of that," he says, adding that big players like Google Food have used kelp in burgers; chef Avi Szapiro in New Haven has used it in salads, pasta, and cannelloni; and in Maine, yes, they put it on pizza.
Suddenly Smith's vision doesn't seem so far-fetched. He wants the world to buy kelp and incorporate it into our shopping lists and daily cooking with the same fervor with which we adopted kale. He wants chefs to create an entirely new vernacular for seaweed cookery, sourcing specific varietals from farmers the same way we do oysters. He wants thousands of independent kelp farmers to help build a new ocean farming industry, one for which Smith has already laid the groundwork. Maybe then he can duck away from the camera flashes and awards, and go back to doing the one thing he set out to do: just be out on the water.