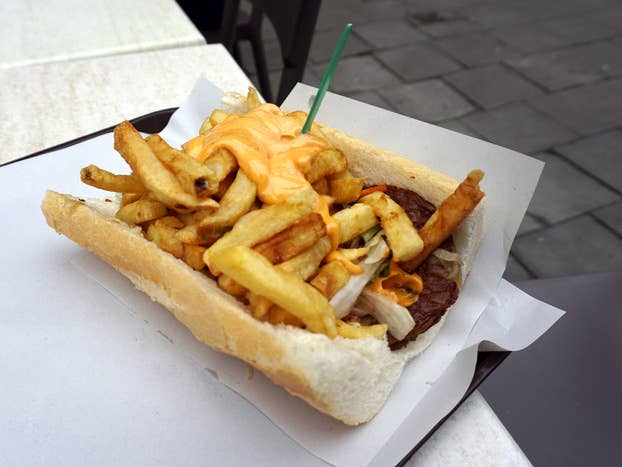 Travel
This Belgian Sandwich Is Named after a Machine Gun
The Mitraillette is a gut-bomb worth seeking out
"I want that right now!" My father yelled, pointing to a photo on the menu at a Brussels food stand. It depicted a mitraillette, a foot-long baguette sandwich bursting with fries, mayonnaise, and mystery meat. My parents had recently arrived in Belgium, and I was leading them through the narrow cobblestone streets around the city's famous Grand Place. I planned to introduce them to all the local delicacies—steamed mussels, handmade chocolates, warm waffles dusted with powdered sugar, and expertly-brewed Trappist beers.
The mitraillette, by contrast, isn't exactly refined. (Its name means "submachine gun" in French.) Stopping for the sandwich was a detour on my itinerary, but I had to admit it incorporated one of the local food obsessions. There's practically nothing more Belgian than fries: the country claims to have invented them. Every community, no matter how small or whether they speak Dutch or French, has at least one fry stand.
One of these institutions is Fritland, a Brussels friterie in operation since 1978. It stands out as one of the few in Belgium that still makes fries the old-fashioned way: by peeling fresh, whole potatoes (never frozen), slicing them, and frying them twice. If you're committed to trying the gut bomb that is the mitraillette, then this is the place to do it.
The exact origin of the sandwich is unclear, according to Fritland owner Scender Laci. Although it's now a favorite menu item at friteries across Brussels, Fritland didn't start selling them until the mid-1980's. It likely hails from Wallonia, the French-speaking region of Belgium near the French border, perhaps coincidentally also home to arms manufacturer FN Herstal. It's said that the thick and chewy baguette represents the barrel of the gun, while the still-warm fries stand in for the bullets. The finishing touch is always a few generous globs of mayonnaise atop the batons of fried potatoes. They always arrive speared with a tiny plastic fork, as is the custom in Belgium. Use the fork to eat enough of the fries to be able to close the entire sandwich. Then you'll be able to take a bite and taste all the diverse components together, which can sometimes include a crunchy mix of shredded iceberg lettuce, cabbage, and carrots, and maybe even sweet caramelized onions.
View More Sandwich Recipes
The protein component is typically sliced boulet—a type of giant Belgian meatball—but a mitraillette made with hamburger isn't unknown. You'll find it as a menu option at Villa de Frit in the Flemish university town of Leuven, for example. There's also a type of marinated mystery meat called Mexicano. Villa de Frit owner Robin Flamey says boulet is followed closely in popularity by frikandel, a kind of Dutch hot dog. Doner kebab are also known to offer the sandwich stuffed with shawarma meat. Sauces come in a range of flavors with head-scratching names, but the most popular topping for the mitraillette is samurai sauce (mayonnaise flavored with spicy chili).
Villa de Frit sells lots of lunchtime mitraillettes to frugal students with big appetites. No matter when you eat it, pairing it with one of the country's strong Abbey ales is probably overkill. Most fry stands don't stock anything stronger than Jupiler, the country's answer to Budweiser, so take the hint. It is, however, the ideal late night snack to order after drinking, especially at Fritland, located near some of the best nightlife in Brussels. "Customers order it all the time now, but most of the time after they drink," explains Laci. "It fixes everything!"