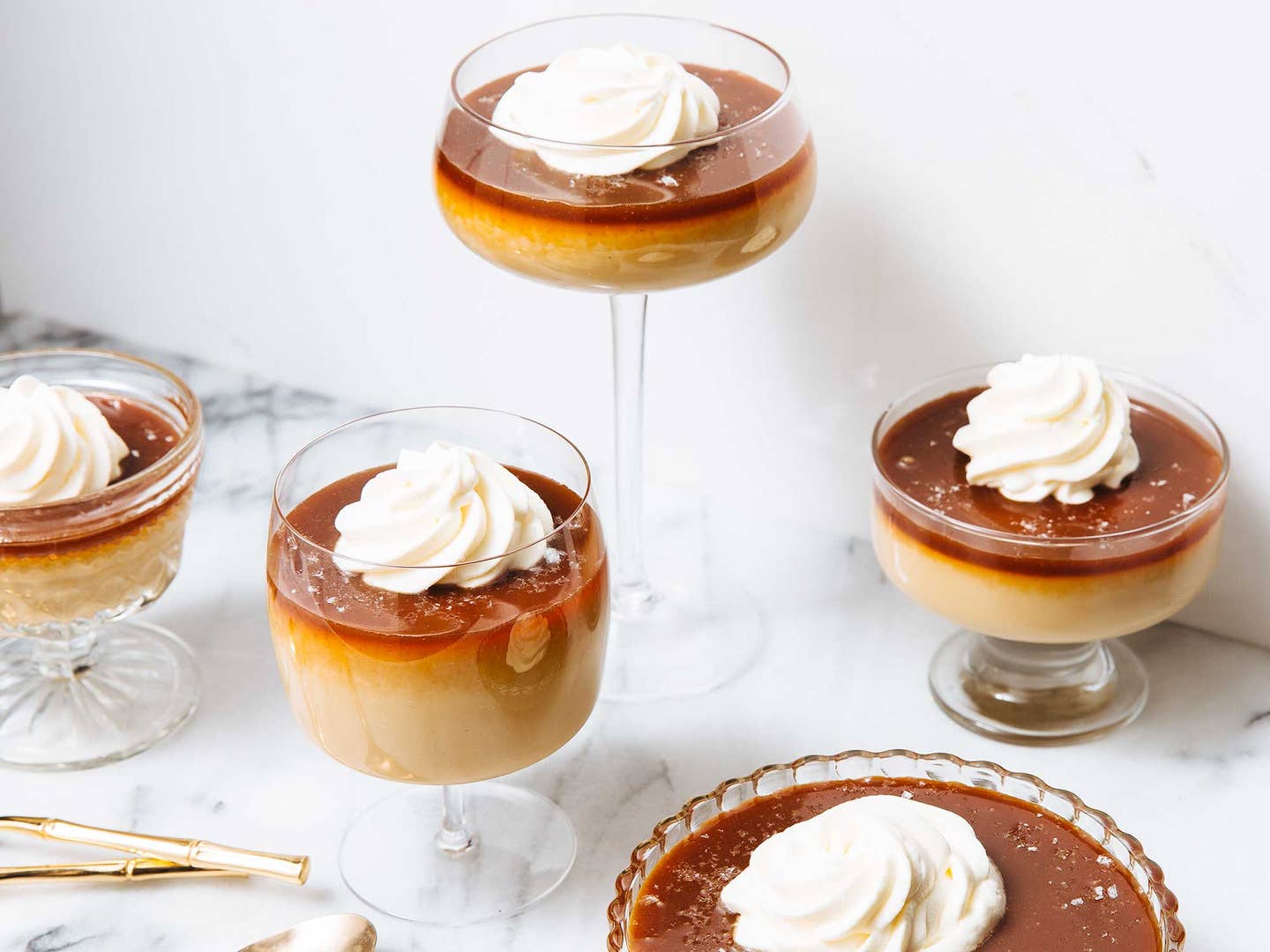 Travel
Budino is the Dessert of Los Angeles
How a simple Italian pudding became a restaurant essential with a big following
There's something about Los Angeles and budino.
On other cities' menus, where you might find pot de crème or straight-up pudding, in L.A. that jar of creamy chocolate (or butterscotch, or salted caramel) greatness is often called budino, a word whose fat, tactile syllables conjure the way the dessert feels in your mouth, smooth and round and creamy and rich.
There's the chocolate budino at Angelini Osteria a bustling but elegant pasta-focused restaurant on Beverly. There's the caramel, sea salt, and olive oil–topped budino at Jon & Vinny's, Jon Shook and Vinny Dotolo's ode to Italian-American cuisine on Fairfax. There's pastry chef Genevieve Gurgis' bittersweet chocolate budino tart with salted caramel at Bestia, the modern Italian Arts District powerhouse that's perhaps the hardest reservation in town.
Then, of course, there's the butterscotch budino at Pizzeria Mozza. Most people's first guess is that Mozza co-owner and chef Nancy Silverton is to blame for L.A.'s budino preoccupation, and they're partially right: Mozza's version has become one of L.A.'s most iconic desserts. But Silverton takes very little credit for its creation. "The history, at least from my perspective, goes back before Mozza," Silverton says. While she was preparing to open the pizzeria in 2006, their pastry chef Dahlia Narvaez was biding her time and honing her skills at Jar, a restaurant owned by Silverton's friend Suzanne Tracht. Jar had a butterscotch pudding on the menu, and, according to Silverton, "Dahlia turbocharged that," by adding a layer of caramel and a sprinkling of sea salt. "My main contribution was the pine nut rosemary cookie that accompanies Pizzeria Mozza's—and also now Chi Spacca's—butterscotch budino."
The first mention of budino I was able to find in an American newspaper appeared in San Fernando Valley Living in 1963, in an article describing the 32nd dinner of the Wine and Food Society of the San Fernando Valley. Seven Iberian wines were paired with dishes from "six foreign lands," culminating in Budino Maltais, a dessert, reportedly, from Malta.
But in the modern culinary era, budino may have been introduced to Angelenos by Evan Kleiman, chef and host of KCRW's "Good Food." A 1990 Los Angeles Times profile of Kleiman and her longtime cookbook collaborator Viana la Place includes a recipe for ricotta budino from their third cookbook, Cucina Rustica. The profile was written by none other than Ruth Reichl, and her lede tracks the relationship between Californian and Italian cooking: "California cuisine started in France and began a gradual glide towards Italy."
Kleiman also served budino regularly at her restaurant Angeli, which opened in 1984. "We were the [budino] pioneers no one remembers," Kleiman says.
When I wrote to a pastry chef friend in San Fransisco to ask about the budino factor there, she replied: "Budino is just pudding! People use the word on their menus to make them sound more Italian." She's right, of course—budino is literally and simply the Italian word for "pudding," and can refer to anything that might fall into that category, from thick custards to pudding-like cakes. Even Nancy Silverton admits there's really no difference between budino and its less lovely-sounding American counterpart.
"I was probably about four years old, maybe even younger, when I had had my first budino," Silverton says. "It was chocolate, and back then, in the San Fernando Valley, we called it pudding. And just for the record, my mom made it like every other mom in the '50s and '60s: out of a package."