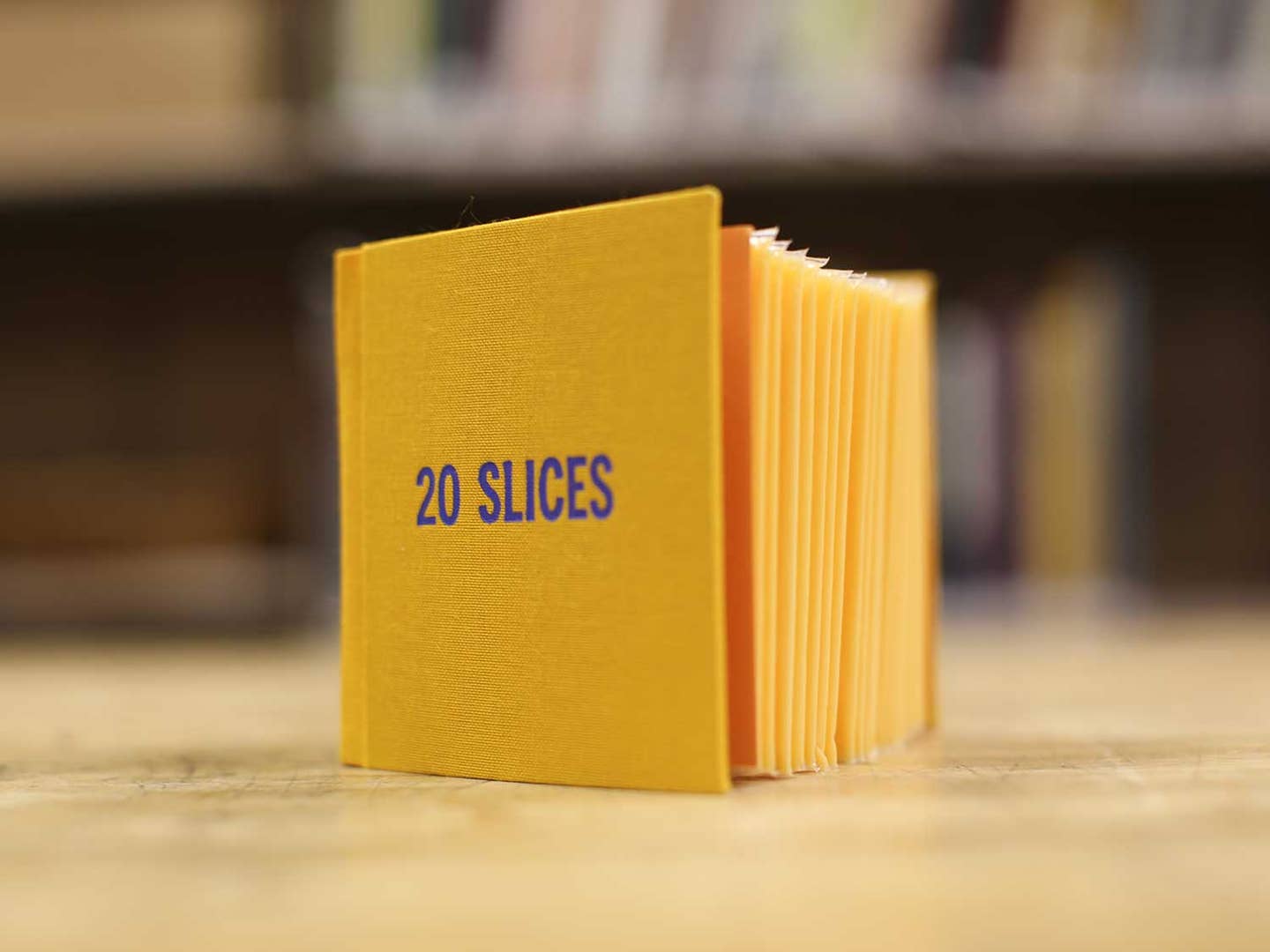 Culture
You Can Check Out an Actual Cheese Book at this Michigan Library
Cheese lovers, this book is for you
I'm lactose intolerant. I have been my whole life: When I was in elementary school, if a visit to an ice cream stand was part of a field trip, I had to eat the cone by itself.
Fortunately, the world has changed, and now I'm never without a handful of lactase caplets in single serving packets. I drink cappuccinos and order the ice cream along with the cone. And this summer, I spent $200 on a book made of cheese.
The cheese book is a squat creation; 20 slices of individually wrapped American singles bound like an old-fashioned library book with a bright yellow fabric cover.
I'm the Librarian for Art & Design at the University of Michigan, where I've worked for ten years. I have degrees in art history and information, and I help people do research, buy books, and curate the University's collection of artists' books, which are different than art books. Artists' books are works of art in book form. We have a book that folds up into a chrysalis and a book that's meant to be read in the dark. Altogether, there are about 1,000 artists' books in our collection.
American Cheese, 20 Slices, by Ben Denzer, is part of an edition of 10. Our copy is number 9, and, as of now, it is the only copy held by a library. This summer, I received an email from Denzer, who runs Catalog Press. He described a few of his most recent publications and offered to send me a free inflatable book jacket so that I could read while in the water. Catalog Press's other publications include 200 one-dollar bills arranged in serial number order, and a tiny volume of Chinese restaurant fortunes. Nothing struck me as quite as wild and weird as the cheese book, however, so I had to get it.
Part of my job is to create a strong connection between the students and faculty and the library. Artists' books are perfect for this because they represent a sweet spot between the things the students and faculty make (art, design) and the things the library has (books, information).
Some people—especially librarians, particularly book catalogers at other institutions—were mad when I bought the cheese book. This surprised me. I thought that people would laugh, or crinkle up their faces in bewilderment. Their anger reminded me of reactions to color field paintings; people seemed divided between "I could do that," and "that's an insult to books!"
All of this gave me a deep sense of satisfaction. If my job is to engender interest and even passion for the library and its collections, a book made of cheese was really getting people excited. Suddenly they had opinions! Even among my coworkers there were arguments about things we take for granted in other books. Is someone the author of the cheese book? What is its subject? Is it about cheese if it is cheese?
We won't be storing the cheese book in the fridge; according to our head of conservation, American singles are basically shelf stable. Instead, when it isn't sitting in special collections in its plastic sandwich container, it will travel to classes, filling people with wonder, disgust, and possibly even anger.