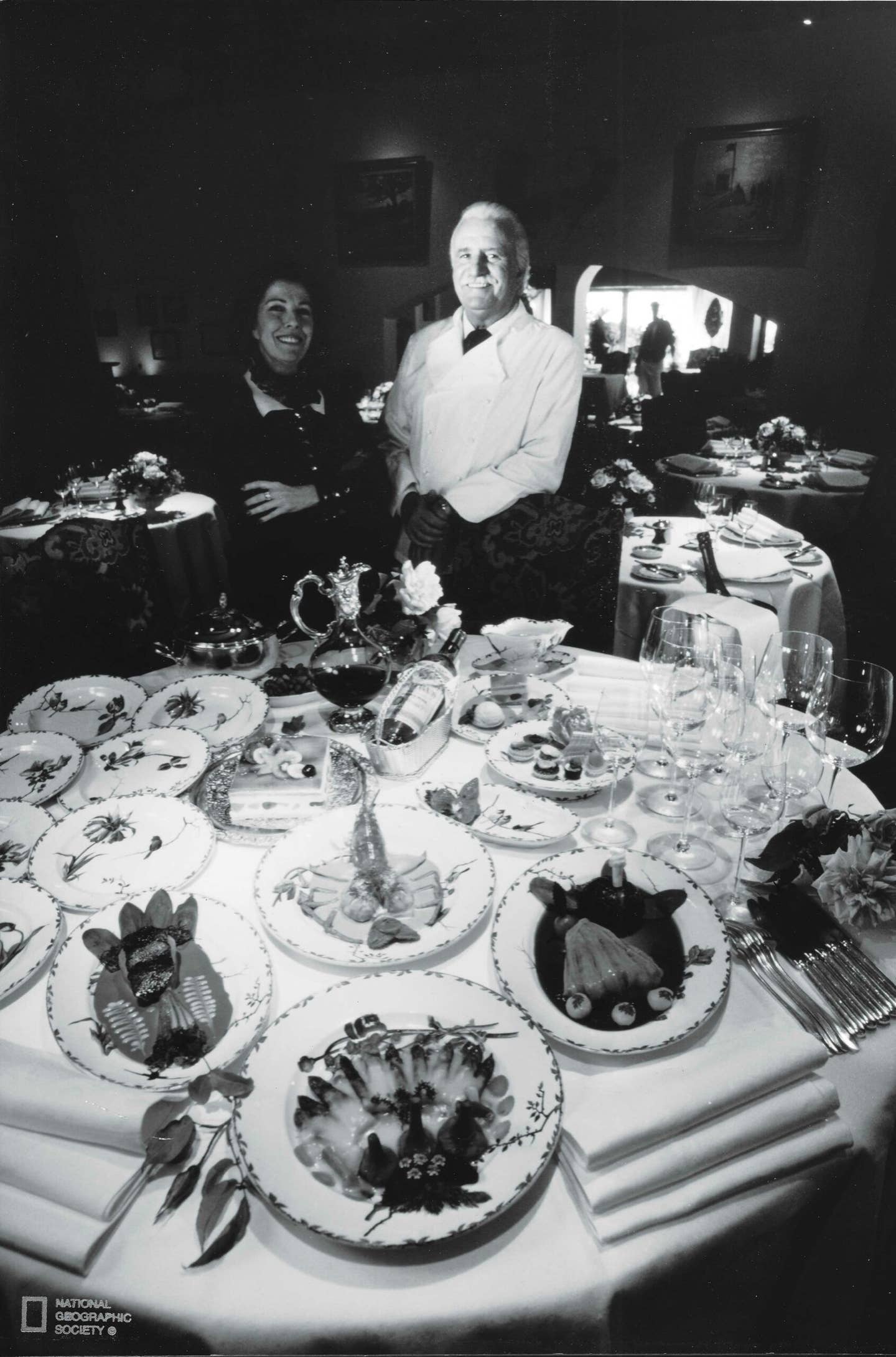 Culture
The O.G. of Nouvelle Cuisine
Remembering Roger Vergé, the chef who could turn eggplant into gold
One night in September, in the kitchen of a Manhattan event space called the Lighthouse, David Bouley sliced into a black mission fig. Nearby, Daniel Boulud and Emeril Lagasse fussed over a tray of subrics d'epinards, a spinach dish that split the difference between a soufflé and a croquette. Le Cirque's Mauro Maccioni agitated a porcini risotto with rosemary, poached figs, and squab confit, while Argentine chef Francis Mallmann rolled back the skin on a salt-roasted striped bass with a serving fork, peering at the enormous fish over a pair of owlish reading glasses. It was a peculiar scene. About a dozen renowned chefs cooked side by side; the windowless kitchen was crowded with more multimillionaires in white than a summer wedding in Sag Harbor.
The dishes were part of a long, sentimental menu celebrating the life and cooking of Roger Vergé (pronounced ro-JAY vair-JAY), the vastly influential pioneer of nouvelle cuisine, who died in 2015. He named his culinary philosophy "cuisine of the sun." Many chefs in attendance apprenticed at Vergé's storied restaurant in Provence, Le Moulin de Mougins, and at times the kitchen took on an air of a class reunion. "He was a knight," Mallmann told me. "The most gentle, happy cook I've ever met." The rotund, grinning Patrice Boely, a sous-chef at Le Moulin for more than 10 years, lately of Nashville, recalled a dinner he and his boss cooked in Zaire for the dictator Mobutu Sese Seko. Bouley related one of his mentor's favorite stories: Sometime in the late 1960s, Vergé gave his neighbor Pablo Picasso a lift to Avignon. While he drove, the chef complained about his creative struggles with a new menu; he wanted it to be perfect. "Who do you think you are?" Picasso interrupted. "Creativity only comes from making mistakes."
The dinner at the Lighthouse was impressive if muddled (imagine a novel written by 20 bestselling authors), but the admiration for the late chef appeared genuine. Film producer Shep Gordon, who described himself as a Vergé "groupie," said that he first visited Le Moulin "after I won the Cannes Film Festival." He was drawn to Vergé because he seemed to be the happiest person he'd ever met. What was Vergé's secret? "He lived to serve others…" Gordon started to tell me, his eyes skittering across the room, before exclaiming, "there's Mike Myers!" and walking briskly away.
The dining room looked out onto megayachts bobbing in the Hudson; video screens cycled images of Vergé posing with Sylvester Stallone and Liza Minnelli. An auctioneer called out bids for getaways to Napa Valley, reminding guests that the $995-per-ticket event was intended to endow a scholarship at the Culinary Institute of America. While Michael Douglas took the stage to tell a rambling story about models, I wondered whether Vergé's legacy had anything left to teach us. Gastronomy, after all, tends to absorb its influences and soldier on, ever in search of the new.
Vergé's place in fine dining history is secure: Like the Troisgros brothers, Paul Bocuse, and Michel Guérard, he relied on vegetables and broths in place of cream and butter to create a lighter style of cooking. He used Mediterranean and North African influences to cast traditional ingredients in novel roles and lend his dishes a more colorful palette. Today's parsnip purées and celery-root reductions can be traced back to Vergé's kitchen.
Yet his most enduring idea might have been cuisine heureuse—happy cooking. In his first cookbook, he wrote that this style was meant to be "the antithesis of cooking to impress." Vergé often criticized what he saw as the extremes of late-period nouvelle cuisine: small portions, high cost, mild flavors, and pretentious plating. Today, when many chef-driven restaurants depend on technique, expense, and self-congratulatory sourcing to build reputations, the notion of prioritizing deliciousness and harmony sounds almost radical. It is instructive to remember that "happy" in Vergé's formulation referred to his diners.
Lagasse, who worked with Vergé in Provence and Paris, reminded me of this as he put the finishing touches on canard au poivre vert. "Sure, he was influential, but what made Mr. Vergé special was his devotion to people," Lagasse said. "This man could take an eggplant and turn it into gold."