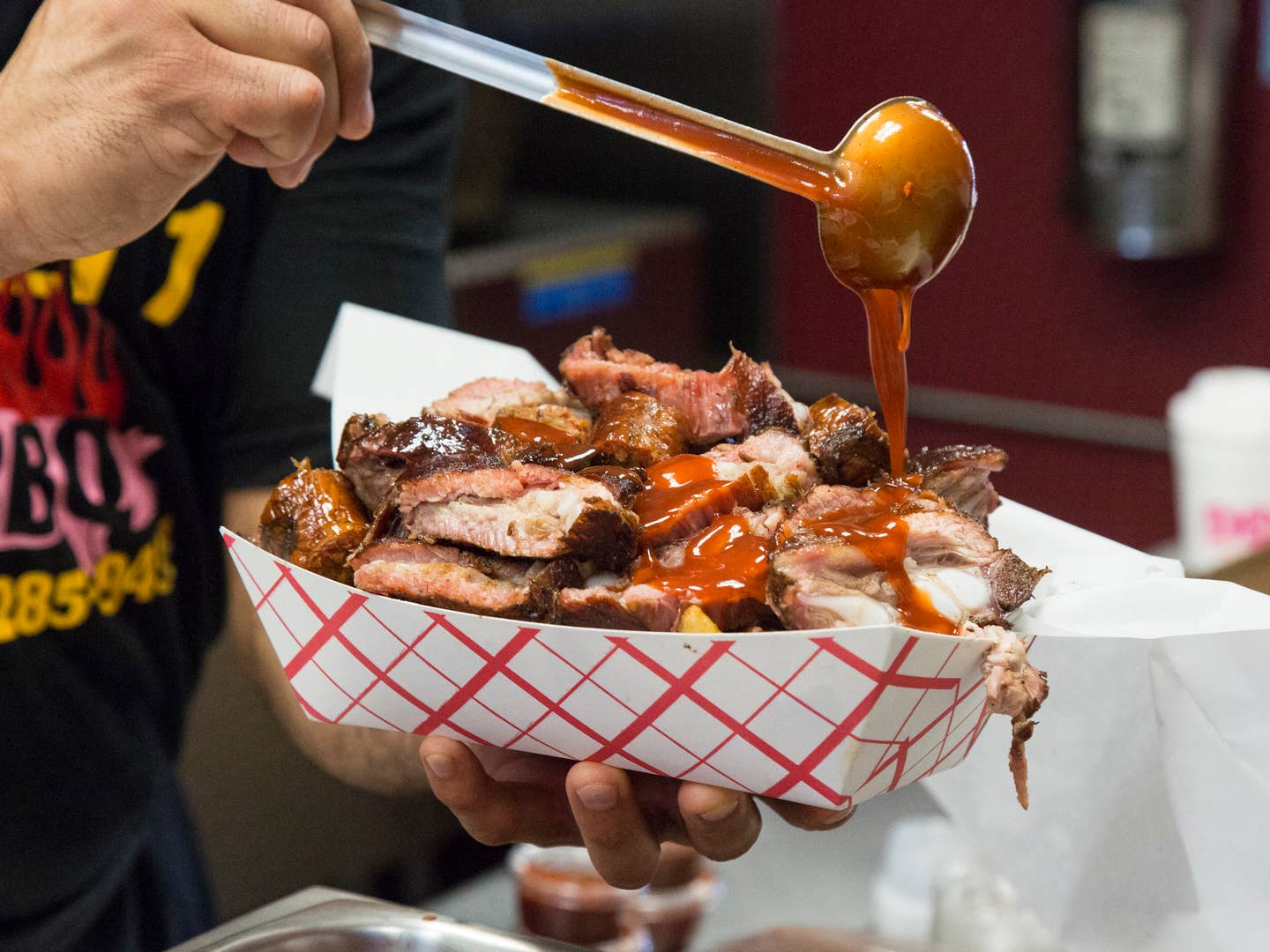 Travel
Welcome to America's Unsung Barbecue City: Chicago
Smoked meat in the Windy City is unlike anything else. Hunter Owens shows how one of the country's largest urban centers became a barbecue capital—and why the tradition is disappearing
Robert Adams Sr. of Bronzeville's Honey 1 BBQ is the last of a dying breed. Born in Marianna, Arkansas, he is the last Chicago pitmaster to migrate from the Delta South to Chicago to practice the barbecue trade. Although Adams has moved his restaurant three times now, he has never veered from two constants: a real wood fire and his famous chair, the throne of Chicago barbecue.
Barbecue is a proud Chicago tradition, one that exists at the intersection of two urban realities that have profoundly impacted the Windy City: a growing black population during the second wave of the Great Migration and the abundance of cheap off-cuts from the city's meatpacking houses. Chicago barbecue's defining fixture, the equivalent of burnt ends in Kansas City or brisket in Texas, is a combination of hot links (coarsely ground spicy pork sausage) and rib tips (the fatty, cartilaginous sides of rib meat that are perfect for gnawing), cooked in a unique glass-walled pit called an aquarium smoker, and served on top of a pile of fries with a slice of white bread to soak up every drop of sauce. Each bite is a balance of smoke, fat, and meat, as craveable as the best pulled pork or sliced brisket.
Chicago isn't usually mentioned in the great American barbecue pantheon. You don't hear it sitting next to Kansas City, Memphis, or Austin. It doesn't appear regularly in Food Network shows, and most visitors to Chicago don't even know it exists. But it's an undeniably important element of American barbecue, one born from 20th century urbanism—and now slowly disappearing.
The Great Barbecue Migration
Men like Robert Adams moved to Chicago during the 40's, 50's and 60's, in the second wave of the Great Migration following the Supreme Court striking down laws that prevented blacks from moving to parts of Chicago. With the post-war era's urban job boom, millions of African Americans relocated from the South to the Windy City and its suburbs. But as the city's fast food and franchising opportunities expanded, so too did the discriminatory practice of retail redlining, in which many of the country's most iconic chain restaurants conspiculously avoided Chicago's new black neighborhoods.
Sensing a void, black entrepreneurs turned to restaurants to make a living. Local fried chicken favorite Harold's Chicken Shack was one such tradition that lives on today. The famous Leon's opened in 1940. The Lemons Brothers of Indianola, Mississippi, another group of Chicago barbecue pioneers, opened three locations of Lem's BBQ starting in 1950. (Today, only one remains on 75th Street.) Adams came relatively late, opening the first iteration of Honey 1 (then Honey One's) in 90's.
The Migration explains how barbecue arrived in Chicago, but to understand why it took the form that it did, you need to look to the city's meatpacking history.
The Union Stockyards turned Chicago into America's hog butcher, which left plenty of cheap off-cuts for the local market that couldn't be sold at a premium elsewhere. The rib tip—the remaining bit of meat after a pork rib has been divided into a St. Louis and Baby Back rib—isn't prime meat, but as James Lemon of Lem's noted in a 2011 documentary about Chicago barbecue, barbecuers could buy it for nearly nothing. The hot link joined the mix as an artifact of the city's many sausage-making traditions. With a large German population across the city, locally made sausage was easy to come by.
Lem's BBQ claims to be the first place in town to serve the rib tip and hot link combo, beginning in 1951. In 1958, Toni's Jazz Lounge was advertising "Rib Tips, Chicken, and Choice Steaks" from the "Chicago Bar B Que" Man in the Chicago Defender, catering to the recently constructed nearby Wentworth Gardens housing development. But Chicago barbecue isn't just about the combo; it's also about how the meat is cooked.
The Rise of the Aquarium Smoker
For small cuts like rib tips and hot links, Chicago barbecuers didn't need massive smokers like you'll find in Texas and the Carolinas—and their small urban restaurants wouldn't have had room for them anyway. Enter the aquarium smoker, and indoor cooker designed to comply with the city's fire code. Depending on who you ask, it was invented at Belvin Metal or Aquarium Metals, both local metalworking shops.
The smoker is made of a metal firebox topped with a glass-walled grill area and a smoke exhaust pipe, giving it a distinctive aquarium-like look that could be viewed from the street—an important visual element for marketing. Unlike the smoke box or trailer-sized smokers of the South, the aquarium situates the heat source (ideally smoldering wood) directly below the meat, which means a rack of ribs conceivably can be finished in about an hour.
Low and slow cooking this is not, but the direct wood fire adds a pronounced smoky bark to the meat that is worth crowing over. Add in fries, a mild tomato-based sauce or a spicier vinegar sauce, and a single piece of white bread, and you've got a Chicago classic: designed as fast food to eat on the run, with short cooking times ensuring restaurants can stay open all day. At Southern barbecue restaurants where larger quantities of meat cook for longer times, once you run out, you're out. Chicago barbecue restaurants don't have that problem.
The Modern Barbecue Landscape
The product of a unique set of circumstances at a single point in history, Chicago barbecue is now starting to disappear. A reversal in migration flows, the rising popularity of national fast food chains in black neighborhoods, and skyrocketing ingredient costs and rent have all made it harder for the old guard to stay on. But it still thrives in a few camps.
There is the Robert Adams' Texarkana school, his itinerant Honey 1 BBQ, which has on the West, North, and now South sides. The offspring of Mack Sevier (Chicago's king of the hot link) hold court at Bronzeville's Uncle J's and the South Suburbs' Uncle John's. Despite the recent passing of James Lemons, his Lem's BBQ still sends smoke out onto 75th like a carnival barker. And Ben's remains the stalwart option on the West Side.
But Robert Adams Sr. is the last of the original Southern-born pitmasters, and given that more blacks are moving to the South from Chicago today than the reverse, it's likely to stay that way. Maybe Atlanta will get an aquarium smoker joint soon.
Chicago-style barbecue may be on the decline, but barbecue in Chicago is growing in new ways, as restaurants specializing in regional Southern styles like Green Street Smoked Meats, Lillie's Q, and Smoque proliferate across the city. That innovation is a good thing, but it would be a shame to overlook the city's smoked meat roots, one of the North's only native forms of barbecue.
Hunter Owens is an opinionated person based in Chicago, IL. You can follow him on Twitter @hunter_owens.