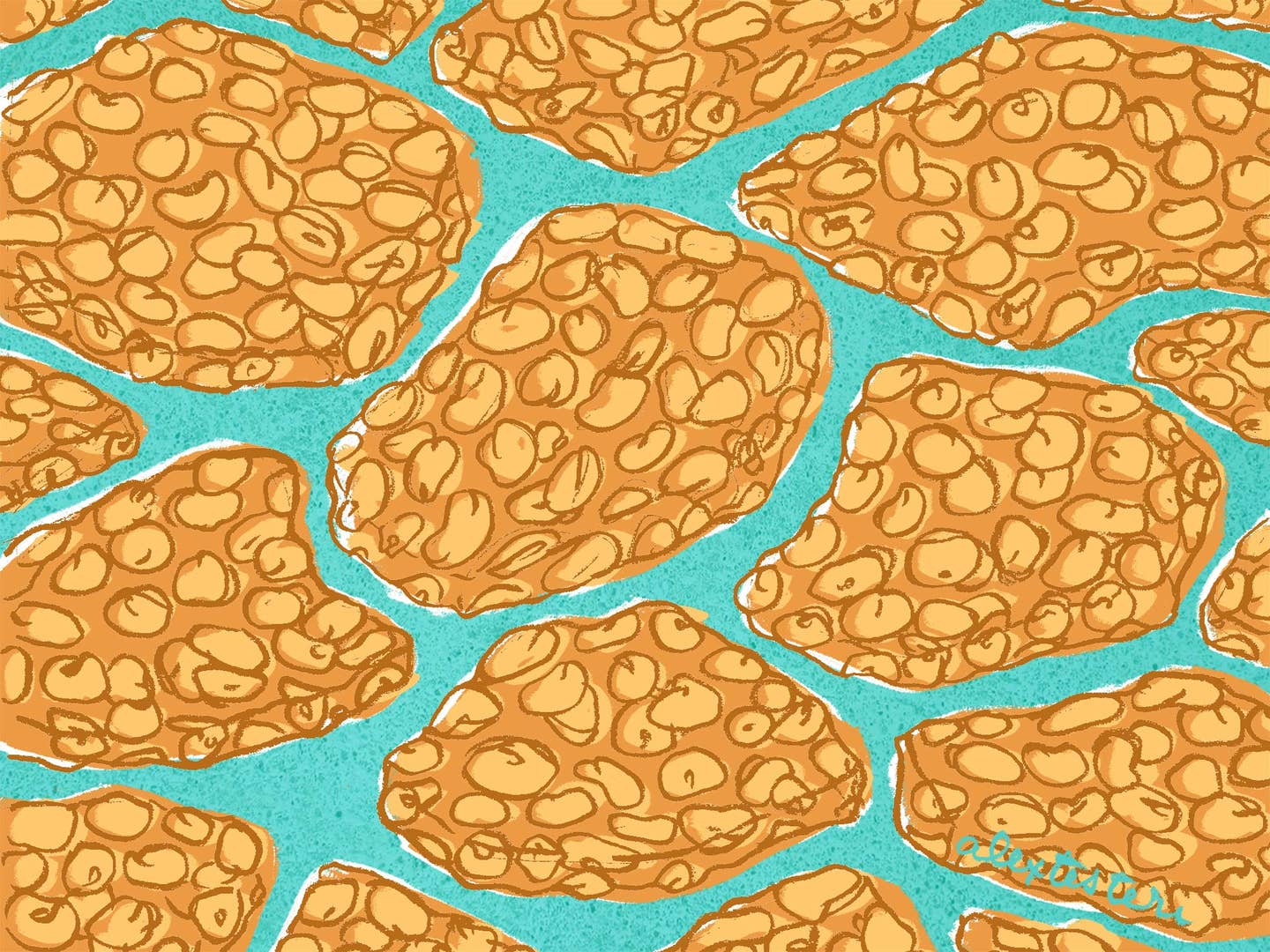 Travel
India's Chikkis Are the Best Peanut Brittle You'll Ever Eat
Part of a balanced national sweet tooth
On a drizzly weekend afternoon, I was at the supermarket and frazzled as I shopped for the week ahead, leapfrogging over numbers, lists, and this-week-only deals, when, without warning, a woman standing behind me dropped a bag of powdered jaggery.
It fell to the floor and burst open, releasing a billowing cloud of brown sugar that fluttered into my hair, my skin, down my throat. I vaguely recall some consternation, but I was already gone, yanked back to my childhood and my grandmother's cavernous stone kitchen, back to standing on a little wooden stool next to my mother as she melted jaggery in a pot over the stove to make chikki, the peanut candy that is as much a part of my life as everything else that ever shaped me.
Chikki has been compared to peanut brittle in the past, but no brittle in the world could ever compare. While brittle uses plain peanuts and dissolved refined sugar, chikki calls for jaggery—a heady marriage of earthy molasses and spicy golden caramel—boiled down into lava, which is then quickly combined with roasted peanuts. The molten mixture is then rolled into submission between two sheets of greaseproof paper.
In The Oxford Companion to Sugar and Sweets, we learn that "brittle-type candies are so widespread, and the ingredients so widely available—especially in Southwest Asia and the Mediterranean—that the confection must be an ancient one."
This is certainly true of other candies, but chikkis likely originated in 19th century Lonavla, a hill station near Mumbai, when an enterprising candy shop owner named Maganlal Agarwal invented a sweet named gud dani, a combination of jaggery, peanuts, and ghee. In the early 20th century, a train service began operating between Lonavala and Mumbai. Passengers so frequently snacked on the sweet treat during the ride that the Indian Railways commissioned Agarwal to manufacture the candy on a large scale to be sold directly on the trains.
It's less clear when exactly gud dani lost its ghee to become the modern chikki, but we do know that as the railroad spread, so did the candy, which eventually made its way across the country.
The Indian sweet tooth is notoriously strong and multifaceted, with many desserts found only in specific regions. But nothing quite characterizes the breadth and depth of Indian sweets like the chikki. They're everyday candies and treats for special occasions, and while the particulars vary from place to place, nearly everyone on the subcontinent snacks on some kind of chikki.
Although chikkis typically feature peanuts in the starring role, they can also be made with other nuts such as cashews, pistachios, dried coconut, roasted chickpeas, sesame, or puffed rice, to name a few. During Diwali, a neighbor of mine used to share trays of chikki slabs studded with cashews and almonds and tinged with threads of saffron.
In the south, where I live, they are called kadalai mittai (peanut candy), and are made with a combination of different varieties of jaggery, such as sugarcane, palm, and date palm; they are also usually shaped into balls, as opposed to the slabs in the north.
At least they usually are. But that's not how my mum made hers, or how she taught me to make mine.
When I got home from the supermarket that afternoon, I only had one thing on my mind: chikkis. After a quick shower to clear my hair of sugar, I emptied a packet of peanuts into my wok and set them to roast, stirring once in a while. I could hear my mum's voice from years ago, telling me that when the air began to smell like peanuts, I should take them off the stove.
After whipping the peanuts off the stove, I combined powdered jaggery and water in the same wok; I watched the jaggery dissolve, pushing the mixture around with a spatula, stirring it constantly as the mixture began to bubble like a sugary lava flow. Mum never used a candy thermometer, and instinctively knew the right time to take the mix off the stove. It usually happens when the syrup is thick and molten, blooping in the wok like some sort of primordial life form. (I used a candy thermometer, keeping an eye for the hard ball stage between 250 and 265 degrees Fahrenheit.)
This is when the roasted peanuts go in, and a blissful union is achieved. It's always satisfying watching the nuts get enveloped by the jaggery syrup. I wish it could last longer, but this is when you must work quickly. I tipped the enrobed peanuts out onto a marble slab that I'd buttered in readiness, and spread the mixture out slightly, watching the threads of sugar hold the peanuts together, glinting slightly in the pale sunlight of my kitchen. I pressed a sheet of butter paper on the peanut mixture, then rolled the mixture down, pressing hard, trying to get the chikki as even as possible. When I was satisfied, I lifted the paper off the mixture and scored the candy with a buttered knife.
By the time the chikki had cooled and was ready to break apart, it was raining again, one of those deafening monsoon rains that you can only experience in the tropics. I dreamily snapped the pieces where I'd scored them and divided them between two tins. I'd keep one, and the other I'd send to my mum's house the next day. A thank-you for sharing her candy skills with me as a child.
My chikkis are nowhere near as good as hers, of course, but she'll generously say they are, and maybe someday my children will stand on a little wooden stool next to me as I make chikkis, watching me push amber-coloured jaggery around in a wok, and things will come full circle, as they usually do.