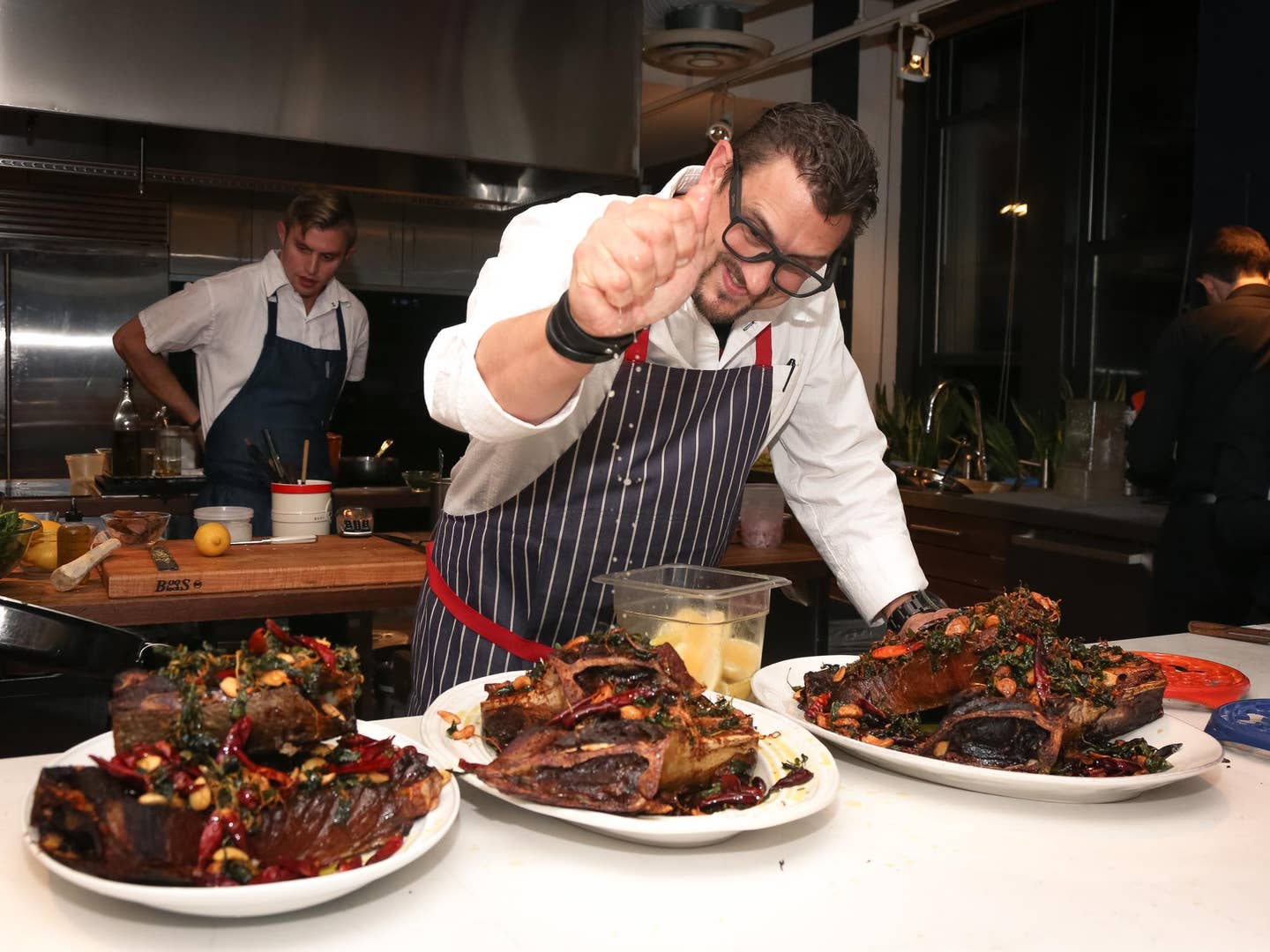 Culture
Chris Cosentino's Crusade to Make Every Animal Part Delicious
At our latest SAVEUR supper, the Lauded Cockscomb chef filled our plates with bluefin tuna collar and pâté en croûte
"I'm not doing anything new in this book. Nothing avant garde. Everything in this book rides on the tails of thousands of grandmas before me," said chef Chris Cosentino while we feasted on tuna collars a la matanza at our latest SAVEUR supper. Still: how many grandmothers do you know cooking goose intestines and lamb spleen?
Cosentino, currently serves as chef-owner of the Lauded Cockscomb in San Francisco, and is a partner in a number of other restaurants along the west coast. He's made a living (and a new cookbook) cooking with offal—the entrails and off-cuts of animals generally skipped over by those who can afford to do so.
But as Cosentino puts it, Americans are one of the few cultures that don't view gutsy dishes as kinds of delicacies. His goal is to change people's mindsets toward cooking these somewhat intimidating foods.
We started the evening with light bites of ham and sea urchin burritos, along with fried tripe and caviar. As a child, Cosentino explained he had a strong aversion to caviar, and it wasn't until he started cooking offal that he decided to give it a second chance. We washed down our appetizers with Cosentino's own batch of specialty cider. Next, we devoured a beautiful pâté en croûte, structured by antique molds he purchased in France.
In Cosentino's new cookbook, Offal Good: Cooking from the Heart, with Guts, he first explains the different cuts with photos, and describes their textures, how to clean them, and finally, tips for cooking with them. As Cosentino described during our supper, he never had anyone teaching him how to cook offal. He learned on the fly through years of practice and researching books from other cultures. The book begins with off-cuts people may be somewhat familiar with, like chicken feet, pig heads, and kidneys, and moves on to stranger parts he's perfected, like cow's udders, testicles, and cockscomb.
Cosentino experimented with cockscombs chiccarones for two years before finally settling on the version he served at our supper: braised, dehydrated, and deep fried in duck fat accompanied by a poule au pot with vegetables and black truffles.
Not only has Cosentino fine-tuned his skills in cooking rare delicacies, but he also uses unique spices to flavor his meat, like the warm, fall spice rub on a variety of smoked meats. Cosentino didn't skimp on the portions either, serving heaping plates of salads and vegetables topped with truffles. "If you leave here hungry, that's your own fault," he said.
To top off the night, Cosentino served two sweet treats: a chocolate averna cake with fennel pollen crème fraîche, and a persimmon upside down cake.
Cosentino's cookbook is available for purchase here