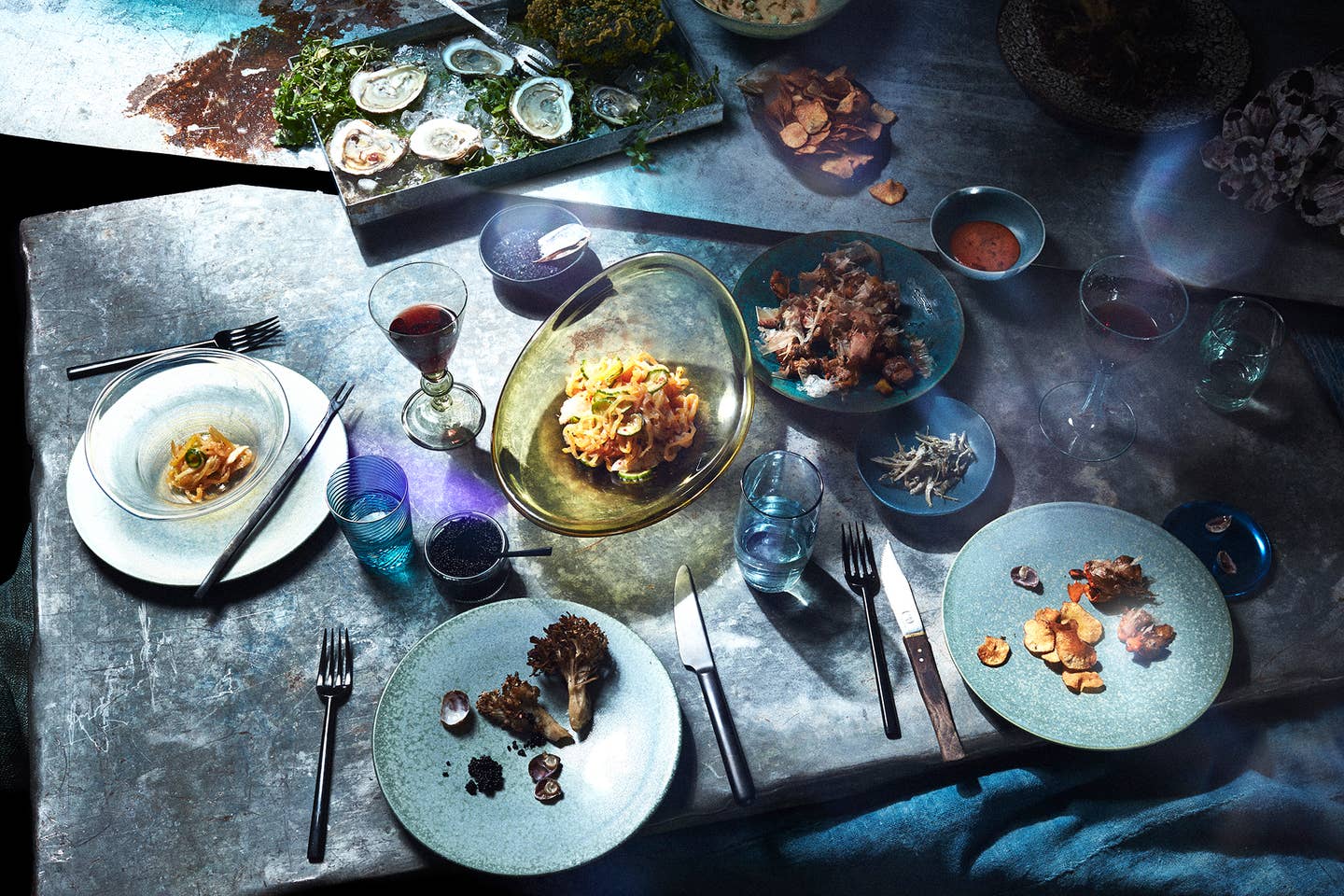 Culture
What Dinner Might Look Like in a Future of Global Warming and Rising Sea Levels
Recipes for a flooded future
For most of us in temperate regions, climate change is still abstract phenomenon, an issue for lonely polar bears on melting glaciers. But it does—and will continue to, at an accelerated pace—impact one of our most fundamental routines: eating. A warming planet, acidulated seas, and flooded coastlines affect every level of our food system, from the fish in our oceans to the fertilizer we add to our crops.
To envision what the future of eating will look like in our flooded future, I collaborated with photographer Heami Lee, food stylist C.C. Buckley, and prop stylist Rebecca Bartoshesky to create scenes from a near-future dinner party, with ingredients and recipes that will be shaped by climate change phenomena. In a world where tuna are extinct, meat is unsustainable, and agriculture is forced to be nearly completely reinvented, what ingredients become central to debating how we will eat in the future?
To turn this vision into a dinner, we compiled the latest research on climate change and food: seaweed farming that could provide a substantial sustainable source of protein; bivalves that could be used to detoxify our oceans; mushrooms that could reduce the effects of climate change; and Buckley's own research on coastal New England ingredients, like mustard greens and burdock root. I worked with fellow artist Eddie Shumard to envision a dinner party narrative that included foraging, coastal ingredient sourcing, and future creativity in adaptation.
We chose ingredients that reflected scientists' work on sustainable foods—giant mycelium and reishi mushrooms, oysters and clams, and giant sheets of edible seaweeds like kombu and kelp—which Buckley developed into recipes that evoked familiar dishes but with gestures toward the future. The goal was to imagine how these ingredients could act as substitutes for our current unsustainable mainstay foods while suggesting the limitations we'll soon find ourselves under.
To project a watery, flood-inspired landscape, we thought about the glints of light that reflect off of water in the sun. Lee used flares and light leaks to mimic that effect, where light would bounce from the surrounding water and objects. "I wanted to create a world," Lee says. Her stunning photography creates a portrait of food anchored in a watery environment.
The textures, dishware, and even food itself conjure imagery of the ocean. The final dinner party photographs that follow reveal our vision for a creative, adaptive type of dining in light of our rising seas.
Recipes for a Flooded Future
The Flooded dinner scene (top photo) features a jellyfish salad in the center. Climate change and pollution have wreaked havoc on many ocean species, depleting their populations and decreasing marine biodiversity. But jellyfish are thriving—and even swelling to problematic numbers. Which is why some researchers suggest embracing them as food to curtail their swelling numbers.
Lee remembered jellyfish as a Korean ingredient she came across growing up, and it is used most commonly in cold salads. Buckley dressed her salad with mustard, chile, and pickled cucumbers.
Other dishes include a whole roasted hen of the woods mushroom; fried potatoes with chipotle vegan mayo and bonito flakes; salted anchovies; and oysters with slippers.
The dish to the right, a carob agar agar pudding with whipped cream, reflects how we'll have to get creative in the future to capture traditional flavors. Carob is often used as a substitute for chocolate, the supply of which is in danger as temperatures in chocolate-producing regions in West Africa may rise 2°C—too hot and dry for cocoa bean production.
Agar agar, an algae-based gelatin, makes for an especially stiff and brittle pudding, which is why Buckley chose it. "As far as dessert goes, an agar agar and carbo combo is not ideal, but I think that's kind of the point," Buckley says. "I'd rather have pudding or mousse; I'd rather not be headed in the direction of this entire meal to be honest. But faced with the reality of climate change, dessert made from carob and agar agar might be a realistic choice."
The image on the right features oysters with slippers, plated with aquaculture greens and romanesco.
A burdock and dandelion root hummus is served with sunchoke chips (shown above). "I wanted to include food sources that are often overlooked," says Buckley. "There's not really any data in food waste research that addresses waste in regard to wild edibles, but I can only imagine the pounds of edible plants that go by way of lawn compost bags every year, in particular dandelion. But it's a nose-to-tail plant: the roots and aerial parts are all edible and provide unique nutrition. Its presence here, paired with equally nutritive and enduring plants like burdock and sunchoke, is meant to suggest that making more alliances with wild plants in which the relationship is truly synergistic might be our greatest hope for the future of food."
The image on the right features edible mushrooms, which could be an important weapon against climate change. In a recent study in Nature, scientists have cited fungi as a way to substantially reduce the amount of greenhouse gasses emitted by decaying matter. They identify carbon emitted from soil as a major contributor to climate change, and thus, mushrooms as a potential aid in reducing the effects of climate change.
Buckley chose a reishi mushroom grown in mycelium (center); a large maitake (left); and various types of oyster mushrooms. "Humans have worked with reishi over time and all over the world," Buckley says. "In herbalism, reishi is a kind of panacea, and it would be preferable to continue to work with it 100 years from now. Maitake, or Hen of the Woods, is common in forests in our region—I've foraged it myself and it's an excellent meat replacement."
In addition to being a more sustainable choice than meat, Mycelium mushrooms in particular may also help us fight climate change directly. They have incredible potential since they can absorb enormous amounts of carbon dioxide and toxins. Paul Stamets, an expert on mycelium and fungi, envisions mushrooms being used in the future for everything from removing E. Coli from the soil, curbing climate change, removing harmful pharmaceutical residue from waterways, and cleaning floodwaters.
To the left is an ingredient shot of a basket of bivalves. As mentioned previously, bivalves actually filter the water as they feed, making them an important potential asset to climate change. "We want people to see the serious undertone of beautiful photos," Lee says.
The image on the left is of mollusks in broth with mustard greens. Mustard greens are a hearty vegetable that we envision being able to grow despite climate fluctuations. "Mustard greens have the ability to reseed themselves," Buckley says, "making them a reliable green source in the event that farming resources might be better allocated elsewhere. They also stand up to other strong flavors, like preserved lemon for instance, which is also in this recipe."
The seaweed in the photo on the right includes kombu, dulse, and kelp. Bren Smith of Thimble Island Oyster Company is already growing edible kelp as part of a system that helps to mitigate overfishing and climate change.
Clockwise from top: Clam stock; seaweed and sea kale caesar salad; mollusk with mustard greens. We felt that cooking economically and sustainably would be important in our narrative. "A version of 'nose-to-tail eating' (which is just a fancy phrase for how humans fed themselves and still feed themselves in places where being thrifty and nutrition-focused never went out of fashion) will persist in the future," Buckley says. If environmental threats cause food scarcities or shortages, we will have to adopt a better ethos of economy in cooking.
Wine pairings in this image are also included. As the global temperature rises, traditional wine grape-growing regions like California, France, and South America have become too hot for ideal wines, or have had to shift to different varietals. We may be looking to new wine regions, or different grapes from existing regions. For these dishes, we envisioned a future Chardonnay from Canada or a Grenache from Bordeaux.
This image actually depicts a method for desalinating salty ocean water. Rising sea levels cause salt water floods and contaminate fresh drinking water sources, and extreme weather events may damage the infrastructure to transport and deliver fresh water. Using a large and small bowl, plastic wrap, and a heavy object like a rock, you can turn salty ocean water into something we can drink and cook with.
As climate change data accumulates, and new research evolves, we think it is important to continue this project and show the complexity of environmental concerns through food. We hope to develop the photo essay into a book, looking at drought landscapes as well.