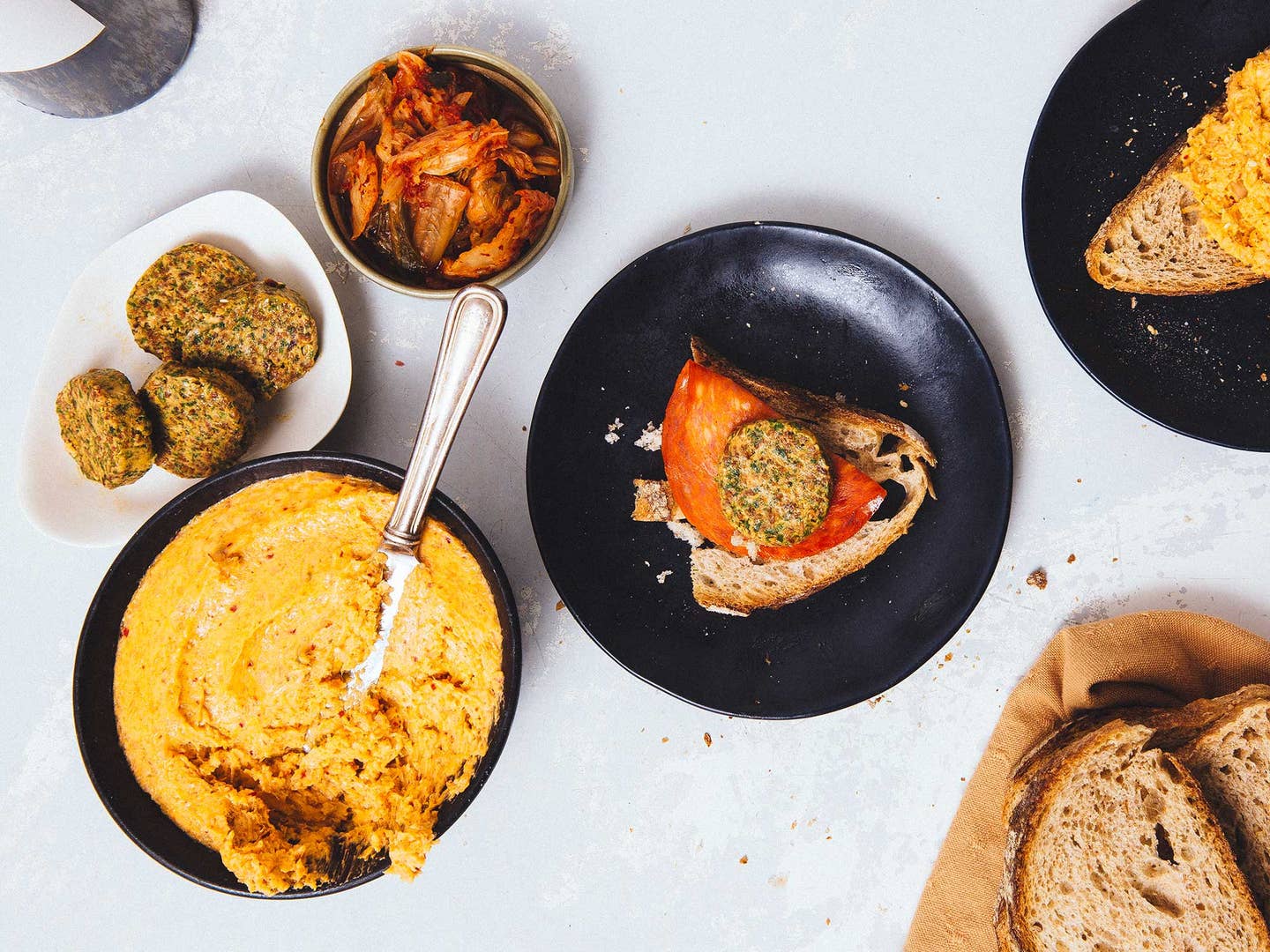 Culture
Behold the Magic of Compound Butter
How to add an instant flavor boost to just about everything
Chef Tony Messina has a pretty good reason for using compound butters.
"I like butter," he says. "It's delicious." He then combines it with ingredients like kimchee puree, wasabi, grated black lime, yellow chives, and Chinese sausage to create powerful finishing touches for the steamed percebes, Korean rice cakes, Japanese milk bread, and other items that make up the eclectic menu at Uni, Ken Oringer's izakaya-style Boston restaurant, where Messina is executive chef and partner.
Uni began in 2002 as a tiny sashimi bar annex to the French-inflected restaurant Clio, which enjoyed a 19-year run in Boston's Eliot Hotel. Messina, a Boston native, became Uni's sashimi chef in 2012.
"Uni had started to cannibalize tables from Clio, so we began looking for a location to expand the Uni concept, then we realized we already had it, with Clio," said Messina. "It was a matter of recognizing what people wanted. The tasting menu format and that general style of eating was phasing out, so we added a sushi bar and some fun, funky small plates based off of street food." The expanded version of Uni opened in early January 2016; the larger menu of hot and cold items has given Messina an opportunity to develop a number of new compound butters.
He starts with unsalted butter (he's a Cabot brand loyalist, though he'll occasionally make his own), which he and his cooks season themselves in the process of creating a compound. Compound butter is a great platform for experiments, as few flavors are not enhanced by the presence of dairy fat, but when they're devising a new one, Messina expects his cooks to consider a few basic principles.
"I tell them to really think about the finished dish—is it going to be a spread for bread, like our Chinese sausage and yellow chive butter? If it's going to be a glaze, like our kimchee butter, will it look presentable? You can definitely use a protein, like shrimp, to make a compound butter, but if you're cooking it at the end, you've got to be careful not to overcook it, because it will get grainy," he says.
Messina also cites what he calls "the sheen factor," which you can lose by adding certain ingredients to the fat. "If you're just using kimchi liquid or puree, it's not going to glaze whatever you're applying it to in the same way that butter does. It's all about the finished product—first and most importantly what it's going to taste like, but also what it's going to look like on the table."