Culture
The Ducksoup Cookbook Got Me to Fall in Love With Following Recipes Again
Our new Cookbook Club pick is all about unfussy cooking—and brilliantly written recipes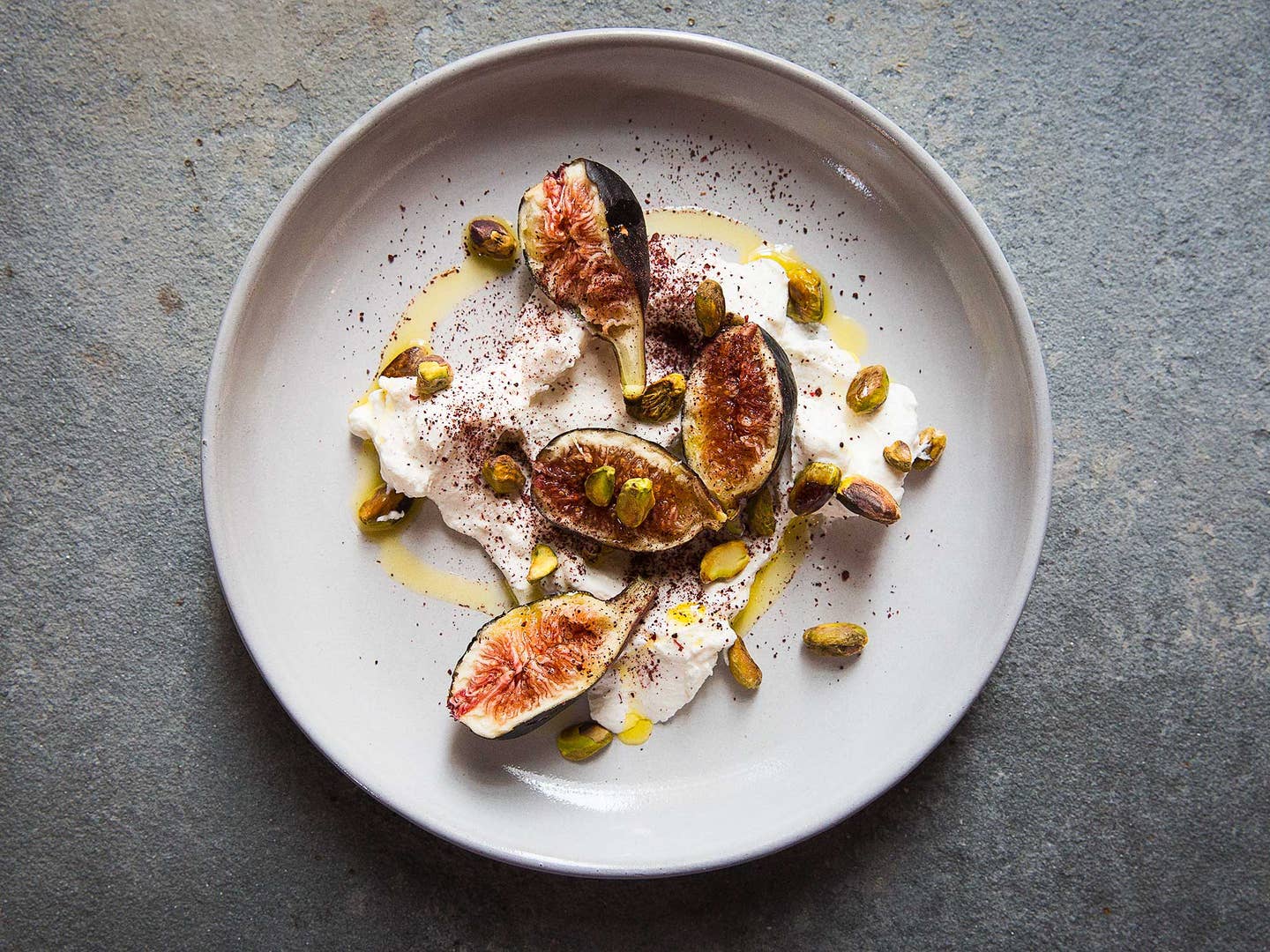 Each month, our Cookbook Club digs deep into a cookbook and shares our progress online. Cook along with us and share your results—and questions—with #saveurcookbookclub.
I love cookbooks, and I own lots of them. But rarely do I actually pick one up to follow a recipe; they tend to be more for inspiration than actual instruction.
Part of this is laziness. As a recipe tester, I follow lots of recipes with painstaking precision for work, so when I'm cooking for fun, I want my freedom. The other part is hubris. I know how to cook, and I know how to pick up a recipe's general idea and then go my own way. Usually it turns out pretty well. But something about Ducksoup has me following the rules again.
Ducksoup is a restaurant and natural wine bar in London. It's a comfy, casual place with a menu that changes weekly, and the kitchen follows the seasons closely. Their food is simple: squid with blistered padron peppers, eggplant with lentils and a soft-cooked egg. (In the introduction, co-author and restaurant co-owner Clare Lattin calls it humble cooking.) They use minimal ingredients and pay the utmost attention to where they come from. Their flavor pairings are inspired by her and executive chef Tom Hill's travels, so their influences range from Italian to Middle Eastern to Nordic. I haven't actually been to the restaurant, but the book has me itching for a trip to London.
There's no shortage of cookbooks about simple, seasonal food these days, and they usually contain exactly the kind of recipes you can follow-without-really-following. But when Ducksoup landed on my desk back in March, my first slip through resulted in at least 15 recipes I earmarked to cook right away. To the letter. For fun.
I really like the way these recipes are written. In one, Lattin says, "you don't need to be too neat about this," which I take as a nice reminder to chill a little. Her instruction is to-the point and friendly, like you're in the kitchen with a friend who's skilled and confident and laid back, and who's full of confidence in your cooking abilities.
"No fuss" is a big theme in Ducksoup, a permission to be imprecise and the encouragement to follow your instincts, which paradoxically makes me pay all the more attention. Lattin's introduction talks about how the restaurant came to be: of her travels across the world seeing how different cultures set the table, and her desire to share good food without too much fuss or ceremony.
Call it fangirling, but after spending some time with Ducksoup, I feel like I can really trust Lattin. If we were friends, I'd ask her advice on which farmers grow the sweetest peas. I'd want to cook with some of her favorite ingredients and get invited to all her super-casual dinner parties.
Beyond recipes like blistered tomatoes with marjoram and ricotta and charred fennel with peas and prosciutto, there's a whole chapter dedicated to quick, no-cook dishes that you could put together five minutes after coming home from the market. I'll be spotlighting some of them this month for our #saveurcookbookclub.
This isn't a new concept—at its core, Ducksoup is about getting great ingredients and doing just enough to them—but Lattin's approach is so inviting, refreshing, and doable that I keep coming back to it months later. All this food feels good to eat, and to make, and so far, every dish I've made from the book has elicited extra smiles, a little shimmy, or some kind of "mmm" noise from the friends I've shared them with. Which is the whole point, after all.