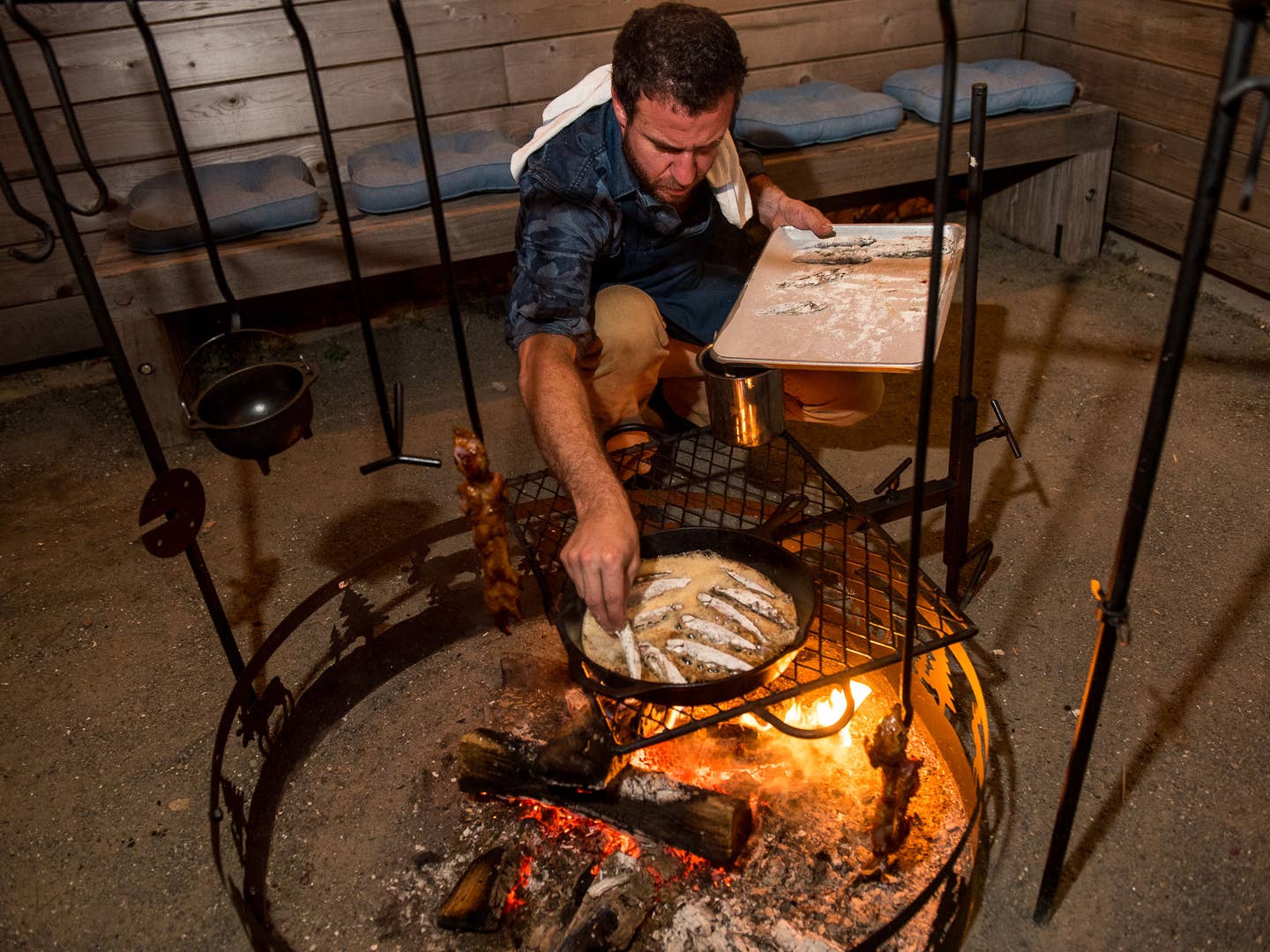 Culture
What's it Like Eating Grilled Beaver Tail?
A gooey Canadian country specialty comes to life in Queens
Luckily my wife was already asleep when I drunkenly stumbled in the front door soaking wet, smelling like I'd cleaned chimneys all night, sporting a cheesy denim jacket with a flaming "Aaron" airbrushed on the back of it. I was glad I wouldn't have to explain what had transpired over the previous four hours.
I'd spent the drizzly evening at M. Wells Steakhouse in Long Island City, ostensibly celebrating the stateside launch of Forty Creek Whisky, an emerging Canadian brand. I should have known it wouldn't be your typical, closely-managed PR event when I arrived at the restaurant's unmarked garage door entrance. I could already smell searing meat the second my Uber turned onto Crescent Street, still two blocks from M. Wells. By the time I made my way to the restaurant's patio I was engulfed in the potent smell. And finally aware what was causing it.
Beaver tail roasting over a massive fire pit set up right next to a bar where bartenders wore comical, oversized Mountie hats.
The party invite had specified a preferred attire of "Canadian tuxedos." Though I'm not exactly one to follow dress codes, I'd nonetheless arrived in a pair of jeans and a blue chambray shirt. Inside the restaurant—closed to the public this Tuesday—was a table where guests could select an '80s-style denim jacket to get airbrushed with any number of "Canadian" images, from a maple leaf to a moose to, well, flames. Canadian music played on the sound system. Barenaked Ladies, Tegan and Sara, and, of course, Rush.
Luckily—so you don't think we were being insensitive bigots—we had the blessing of actual Canadians, including M. Wells owner and chef Hugue Dufour. Hugue is Canadian—Quebecois no less!—but he's also a gastronomic mad man. A mad man who actually thought it would be a good idea to serve a bunch of city slicker New Yorkers grilled beaver tail.
"You eat it just like bone marrow," he explained to me as we stood near the fire, watching it sizzle. "Slice it open, then dip the bread in the goo." Most guests faced the tail with a mixture of repulsion and curiosity—but we'd have a couple hours before deciding whether to munch on beaver or not.
Before then, we would be served a Bacchanalian feast, family-style. It proved much better than my previous Canadian meals of poutine and Labatt Blues. Canapés of saucissons and chicken liver mousse-smeared rye bread. Appetizers like trouts meuniere, herring with potatoes, and, my favorite, Coquilles St. Hugue, crab bordered by pastry and pureed potato and smothered in cheese. Later courses included a deliciously dressing-drenched chef's salad ("I am the chef. I made a salad. Chef's salad!" smirked Hugue), duck and foie gras served inside a roasted pumpkin, a pork tagine made with massive hunks of blood sausage and cotechino, and a truly spectacular pâté chinois.
Of course, since this was a whisky launch party, there was enough booze to go around, too. Four expressions of Forty Creek whiskies were offered neat, or lovingly turned into cocktails by Karin Stanley, a bartender at Queens' best cocktail bar Dutch Kills...and another Canadian to boot. They were even good enough to make you rethink your attitude toward Canadian whiskey—packed with a dark fruitiness and rich cakey qualities.
But enough dawdling. It was time to dig into the tail.
It had been cooked skin on, just barely above the flames. Sometimes Hugue even cooks it directly on the coals, so the skin turns as black as the coals themselves. Once you peel away the blistered skin, you encounter fat. Lots of it. There's also some tendons, a few muscles, and a single bone right down the middle.
Almost completely devoid of actual meat, the white tail fat was delicate and creamy, quite rich, and, gooey like brains.
"This used to be a native Canadian thing," Hugue explained, "But it is not something people commonly eat these days."
Like barbecue squirrel, which hit the table next, just as the skies began falling. As the rain pounded down we nibbled on tiny squirrel legs, like buffalo chicken wings but with less meat and more teensy bones getting in the way of every bite.
"Did you catch these suckers in Central Park?" some wiseguy cracked.
"Oh no. They're actually expensive as fuck!" Hugue retorted, grabbing a bottle of whisky and a blow torch, ready to flambé our Canadian dessert.