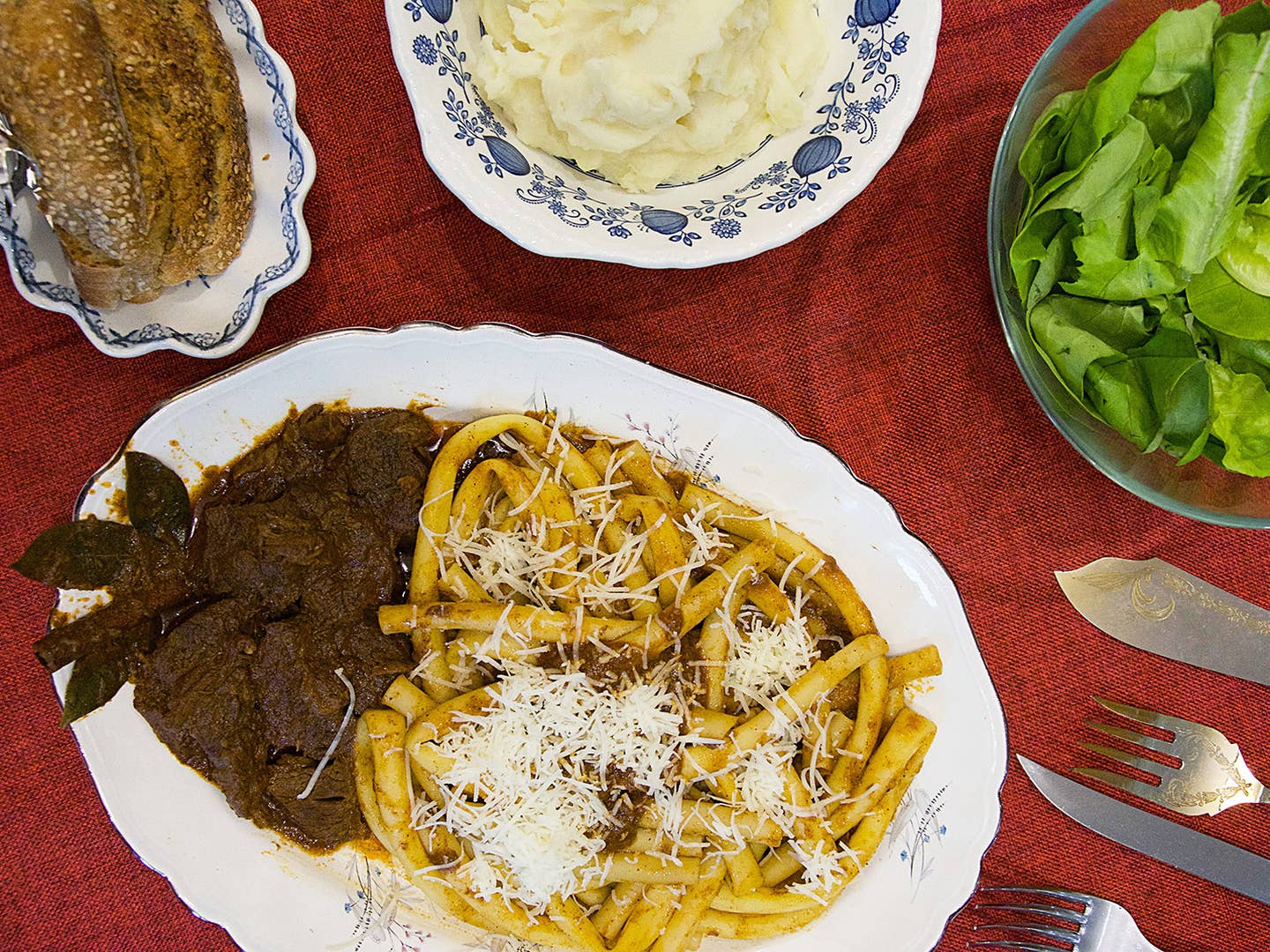 Travel
How a Greek Island Became Known for Its Italian Meat Sauce
Corfu's pastitsada is the product of centuries of Italian influence
"There's only one difference between Venice and Corfu," says my taxi driver, while slipping down narrow streets lined with multistory stone houses and arched colonnades, church towers with Venetian belfries and buildings stamped with the Venetian Lion of St. Mark. "Can you guess it?" Racking my brain for a piece of historical data I may have missed in my research, the driver puts forth the obvious answer: "The canals."
The white-walled, blue-roofed houses of other parts of Greece give way to the oranges and yellows, the scrubby greens and brick reds of the Italian coast. A mix of British, French, and, most prominently, Venetian architecture covers the island, which sits off the northwestern coast of Greece, just shy of the Albanian border, and about 60 miles from Puglia, the very tip of the heel of Italy's boot.
The Lion of St. Mark, one of the most iconic symbols of Venice, is an emblem of Corfu, too, another present-day reminder of the island's Venetian history. In 1386, the Venetians, seeking a strategic entry point into the Adriatic for naval interests, annexed Corfu, exerting their influence over the island's culture, architecture, language, and most notably, its food.
In the words of a local, Corfiot cuisine is "bourgeois cuisine"—satisfying, inexpensive family cooking. During the Renaissance, the Venetians monopolized the spice trade, distributing valuable spices from the East throughout Europe, including Corfu. But these heavily spiced dishes and recipes stayed mainly within the aristocracy, who could afford skilled chefs and expensive ingredients. Most people in Corfu, poor farmers and tradesmen, ate the chickens and eggs they raised; cows and sheep from their villages; and horta, the wild greens and herbs they collected when they couldn't afford oil or bread.
It wasn't until the late 19th and early 20th centuries, when roads were built crossing the island, that this disparity in how people ate changed. As industry expanded and trade increased, the two class cuisines of Corfu coalesced into the Corfiot cuisine of today, in which lesser cuts of meat are enhanced with long, slow cooking and a rich assortment of spices.
One such dish is pastitsada, a distinctly Corfiot preparation of what could only be described as an Italian pasta dish. "There is no such thing as 100% Corfiot food," says Marithea Amarantou, chef of the Vocational Training Institute of Corfu. Even Greek olive oil and the * lianolia,* a popular Corfiot olive, is attributed to the Venetians, who were responsible for the widespread planting of olive trees around the island. She says there are a lot of traditional recipes Corfu has lost to history, but pastitsada is certainly not one of them.
Pastitsada—meat slow-cooked in a heavily spiced tomato sauce and served over pasta—is one of the island's most famous dishes, along with three other Italian-influenced plates: bourdeto, a spicy tomato and fish stew, bianco, a garlicky fish stew, and sofrito, veal slow-cooked in a sauce of white wine, garlic, and herbs. Pastitsada was originally known in Italian as pastissáda de cavál, a Veronese recipe traditionally made with horse meat, due to a grim fifth-century battle in which the starving population was able to survive on the meat from the dead horses that littered the battlefield. The Venetians ultimately adapted the recipe to use beef, and the Corfiots followed suit, though today you'll also find pastitsada made with chicken or rooster.
Even among talented chefs, there is shared nostalgia over pastitsada, as many families grew up eating it as their version of a Sunday roast; every Corfiot housewife has their own special twist. Annie Nounessi-Vassiliou, a lifelong Corfiot who later earned the nickname "Signora Bigoli" for the long-stranded Venetian pasta used in the dish, includes around 10 different spices in her recipe, stewing the mixture for hours. Cinnamon, black pepper, nutmeg, ginger, and cloves—all spices that the Venetians obtained from the Levantines and were of the highest value during the spice trade—mingle with tomatoes, red chile pepper, and red wine to form a surprising, warming dish that can perfume the whole house. The aromas are so potent, so lingering, that Signora Bigoli has a saying: "If your pastitsada is really good, you'll have to change your bra."
There is a certain balance of rules and freedom that result in a pastitsada worthy of a Corfiot grandma, or yaya. If you make it with beef, Signora Bigoli says, you must also add pork. Do not use Parmesan, as the cheese makes it too sweet. Only cook with wine that you would drink, and make sure to thoroughly sieve out the spices. Unless you're using spetsieriko, a popular Corfiot spice blend for making pastitsada, the blend is yours to create. Signora Bigoli's last rule: There can never be too much sauce.