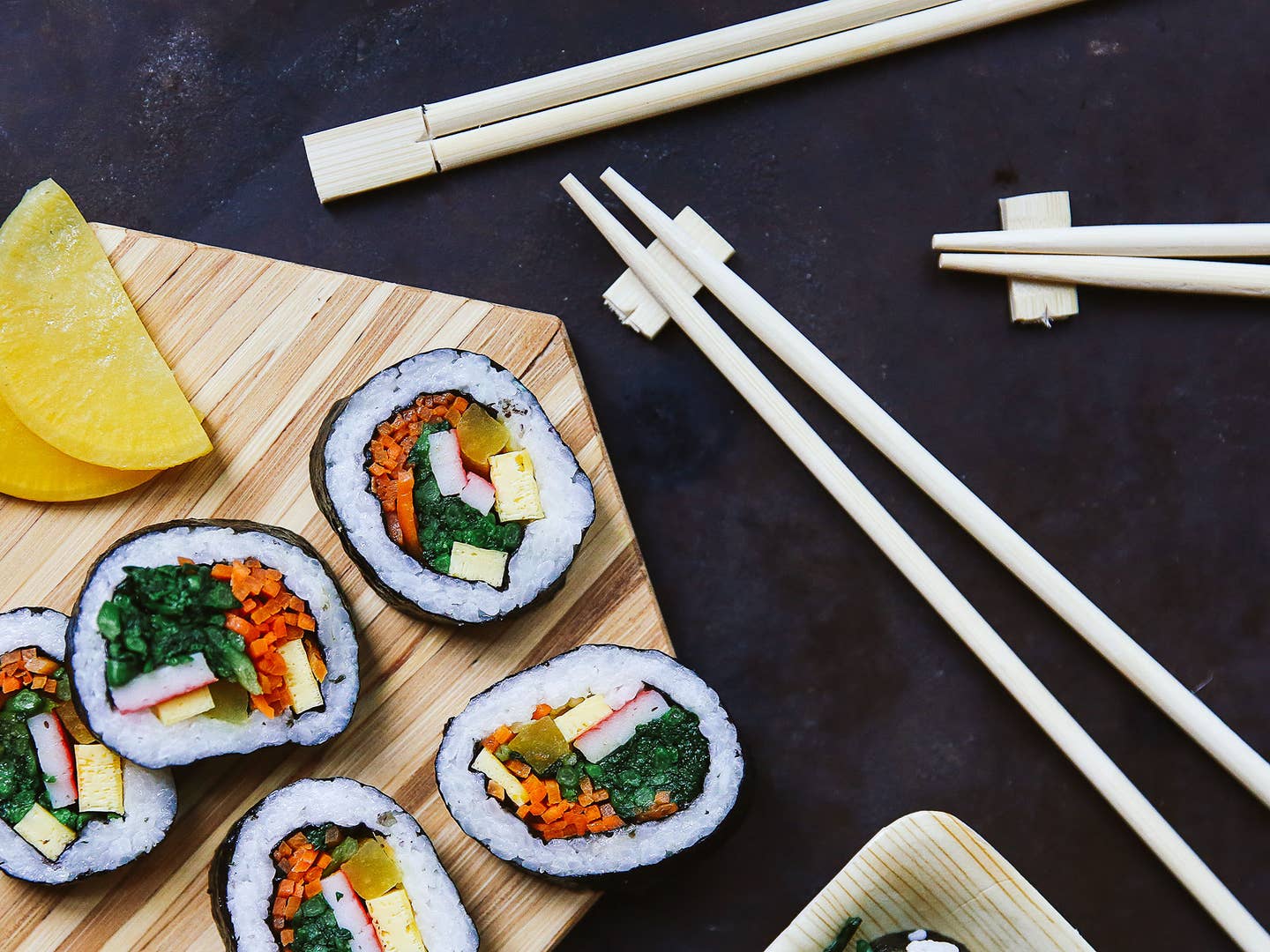 Culture
These Handy Chopsticks With Built-In Table Rests Are Here to Make the World Greener, One Bowl of Noodles at a Time
Mylen Yamamoto's Cropsticks fuse sustainability with innovation and authenticity
During a flight to Asia, Mylen Fe Yamamoto's chopsticks kept rolling off her tray table. In a moment of annoyance-turned-inspiration, Yamamoto, then an entrepreneurship professor at Loyola Marymount and Cal State University, came up with the "why didn't I think of that" idea behind Cropsticks: chopsticks with detachable ends that snap off to become chopstick rests.
Where much of the world's chopstick supply is made from wood, Cropsticks are formed from bamboo, a quickly regenerative crop, and the wrappers are made from recycled paper. Additionally, by working primarily with businesses, Yamamoto and her team will collect used Cropsticks, which will then be upcycled to create tiles, shelves, table tops, and more in a partnership with ChopValue, which creates recycled chopstick products.
The innovation of a built-in rest, coupled with an environmental ethos, landed Yamamoto and her Cropsticks on ABC's Shark Tank last month. Yamamoto, a fourth-generation Japanese-Filipino American born and raised in Hawaii, appeared in a traditional kimono to pitch her idea to the show's panel of billionaire investors, seeking $75,000 in exchange for 12.5 percent of the company. Despite a strong presentation—she came in with $21,800 in funding after a Kickstarter campaign, along with a promising $190,000 in initial purchase orders—Yamamoto didn't secure the deal.
"I remember being nervous right before the doors opened but as soon as I hit the carpet to pitch the billionaire investors, it was A-game time," Yamamoto tells SAVEUR. "Still, we walked away with no deal and that disappointment was crushing in the moment. Looking back, there are no regrets. We were about nine months into our company when it aired and we only had the prototype. So much has changed since then."
But since appearing on the show, Yamamoto has continued to secure major customers nationwide, such as Roy's Restaurants, and has also found an international distributor to scale up. Her ultimate vision is a chopstick-wielding future in which no trees are harmed; the Washington Post reports that 20 million trees a year are uprooted to satisfy China's chopstick needs alone, leading to extensive deforestation that wreaks havoc on ecosystems around the world. And Cropsticks are only the first product of her umbrella company, Cropmade, that will pursue future sustainable solutions to disposable products.
For Yamamoto, it's all about following in the footsteps of her family, particularly her Japanese-American grandfather who fought in WWII. "Being Japanese American, [my grandfather] fought so hard to prove his loyalty to America so that generations after him could enjoy being free," explains Yamamoto.
"I think with a similar mentality. It's simple: do better for the next generation."