Culture
What Could a Gas Stove Ban Mean for Cooks?
Gas is a familiar and beloved source of fuel for cooking at home, but electric and induction stovetops are bringing the heat. Just make sure you have the right cookware.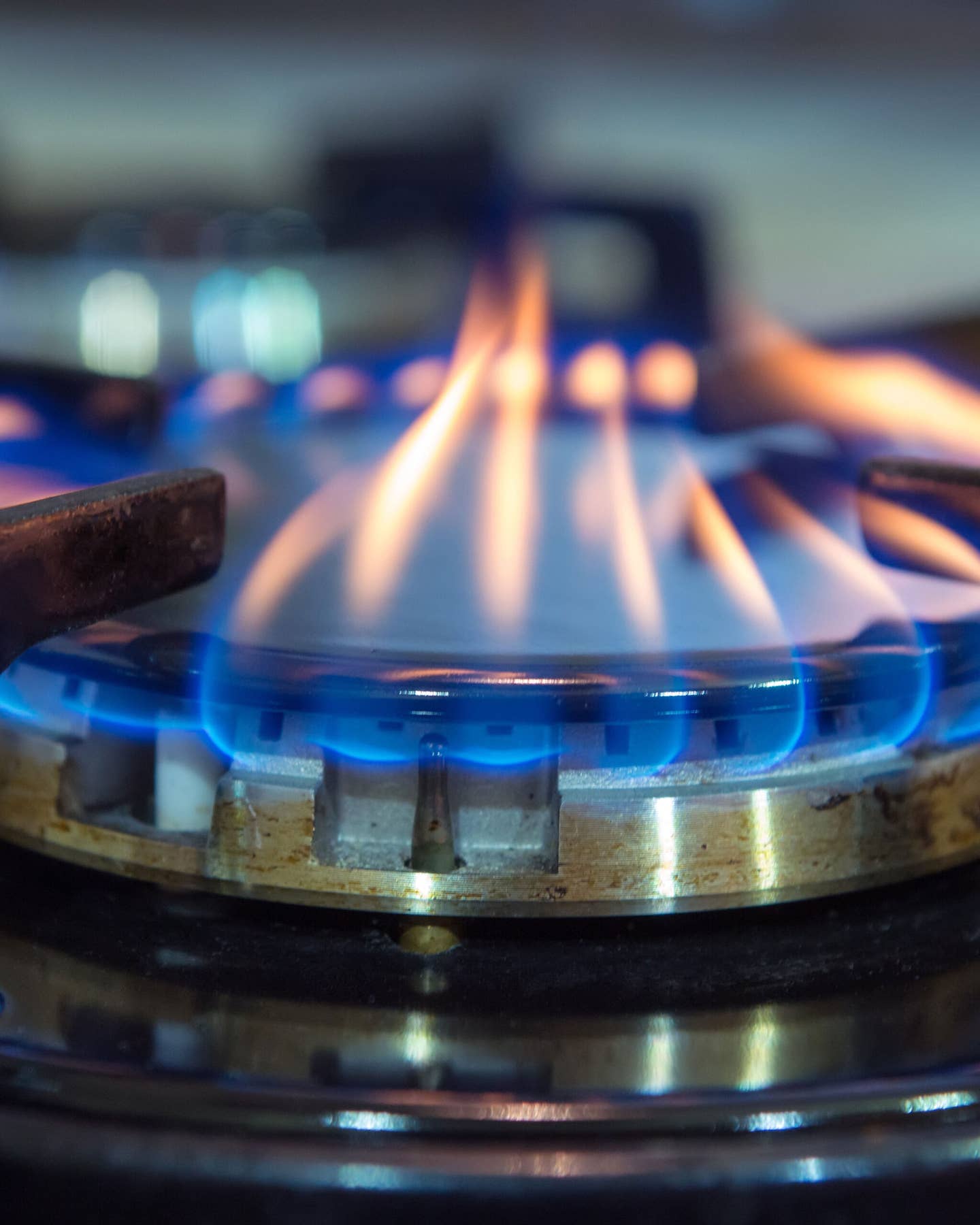 It's a familiar, reassuring moment for many cooks: the click of the knob, the hiss of the gas as it ignites, the blue-orange flame signaling that things are about to start sizzling. But despite Americans' long love affair with gas, cooking with it may become a thing of the past, as health and climate change concerns rise. Gas ranges have been this country's primary source of cooking energy for decades—now, the U.S. Consumer Product Safety Commission has called attention to negative health effects, and even discussing a nationwide ban on the installation of new gas stoves.
The proposed ban—which would be years in the future, if it were approved—stems from a recent study on its effects on children, which found that 12.7 percent of childhood asthma in America can be attributed to gas stove use. Gasses such as methane and benzene can leak from gas stoves even when not in active use, and in 2022, a team of Stanford researchers discovered that levels of nitrogen dioxide can spike above even the outdoor standards set by the Environmental Protection Agency. Homes in states like Illinois, where gas stove usage is around 80 percent, have the highest incidence of childhood asthma, coming in at 21.1 percent. In states like Florida, where gas stove usage is 9 percent, only 3 percent of children in those homes are similarly affected.
In reality, one in four American homes already uses electric stoves—whether that's coils, glass cooktop, or induction— with a rapid increase due to state and city-level building codes and mandates. Berkeley, California proposed a ban on natural gas hookups at new residences and commercial locations where electricity was a possibility; it went into effect in 2021 after a failed lawsuit challenging it by the California Restaurant Association. Other cities have moved to do the same, including San Francisco, Seattle, and Los Angeles. New York Governor Kathy Hochul has already announced a plan to implement the nation's first statewide gas ban by 2027.
"Most of these ordinances are for new construction, says Brady Seals, lead researcher on the asthma study and manager at RMI, a clean energy non-profit. "So we haven't seen retrofits, which I think would affect most people. I haven't heard much pushback yet, [namely] because we have seen that all-electric homes are actually cheaper to build than gas or mixed-fuel homes." Seals says she expects to see an increase in all-electric homes in the next few years as their affordability and comfort become more widely recognized. "For instance, electric heat pumps provide both air conditioning and heat, so for instance, in California where people don't have typically have air conditioning it's been helpful as temperatures rise."
Who is at risk from gas stoves?
"The most research we have is on children, so we know that children are susceptible to illnesses from air pollution for [many] reasons, but mostly because they're still growing and developing their lungs and immune systems, and they have higher breathing rates than adults," says Seals. "[Our] research shows children in gas stove homes have 42 percent increased risk of having asthma". Though negative effects from pollutants aren't limited just to children, their high activity levels and higher ratio of lung surface to body size make them uniquely sensitive.
It's not a new issue issue, either. "Health and air quality experts have been researching this for years and trying to get people to hear about these health harms," says Seals. That research extends beyond gas to other fuels like wood or coal, energy sources typically found in rural or impoverished areas. Chef Jose Andrés has been working to provide those communities with solar ovens to prevent the many health issues posed by close, continued contact with airborne pollutants. Meanwhile, most other developed countries have adopted electric cooking sources; contestants on The Great British Bake Off can even be seen fastidiously cooking their jams and pastry creams on induction burners.
How are chefs and home cooks reacting to the possibility of a ban?
Like any significant change in public policy, it's been a mixed bag. U.S. Consumer Product Safety Commissioner Richard Trumka Jr. clarified the agency's stance on Twitter, saying "To be clear, CPSC isn't coming for anyone's gas stoves. Regulations apply to new products," and further illuminated the ban's status in an interview with Bloomberg, saying a ban is merely "on the table" as the agency continues to research the issue and explore potential regulations.
So, what are the alternatives?
First of all, if you're currently using a gas range in your home and do not wish to switch to electric, know that the proposed ban would apply to new construction. No one will force you to rip that stove out of your kitchen, though there are many reasons to change it of your own volition. Additionally, any ban would be years down the road as researchers and lawmakers begin further to assess their risks and a ban's viability.
Meanwhile, those who do wish to make the change to an electric or induction stove can expect hefty rebates via the Inflation Reduction Act. Consumers could receive up to $840 when replacing a gas stove with an electric or induction stove, and even more for rewiring or replacing an electrical panel to accommodate the new appliances. Read more on the pros and cons here.
However, if you're not able or willing to make the change from gas, there are a few options to mitigate risk. Upgrading your hood is a powerful first step; most homes utilize "ventless hoods" that recirculate the air without venting it outside or filtering out pollutants. "Open a window and try to get as much ventilation as possible in the room," says Seals. "The next step is to see what kind of cooking you can displace." That includes the use of appliances like air fryers and Instant Pots rather than firing up your gas oven or burners for extended periods. Single induction burners are an excellent alternative that can be found for under $100. Ultimately, says Seals, the best way to eliminate the source of pollutants is to change to electric or induction.
What's the deal with induction?
Most people are familiar with electric stoves, whether using coils or a glass cooktop, but induction cooking has been recognized as the most efficient and precise method of heating in the kitchen, though it remains less than five percent of the market share.
Induction is a very different method of cooking than a simple glass cooktop, though they look almost identical. Rather than using electricity to heat the cooking surface and the pan, induction cooking uses a copper coil beneath the surface of the cooktop to generate electromagnetic energy that transfers energy directly to your cookware, making it up to 90 percent efficient. As a result, induction cooktops do not become hot to the touch, and are very precise, allowing cooks to choose the exact temperature required. That means no pots boiling over, scalded milk, or other hazards of fluctuating heat sources. And, because the transfer of energy is so efficient, water boils almost twice as fast as an electric cooktop.
A concern for many considering making the switch to induction: will it require new cookware? Not necessarily. Pans made from aluminum and anodized aluminum won't work on induction, but stainless steel and cast iron will. "We've been induction ready for the entire time our company has been around," says Kelly Peterson, a representative for Lodge Cast Iron. "The nice thing about cast iron on induction is that the entire skillet is conducive to that electromagnetic heating; it makes it heat really evenly." Our guide to the best cookware for glass cooktops includes many compatible options.
Seals advises to try induction if you can. "It's just a better product. Gas stoves are 35 percent efficient, so [much of] your heat is going into your room and around your pan. Induction is often 90 percent efficient." Whether you're on the fence, or firmly in one camp, it's a conversation that's just starting to gain traction.