Culture
The North African Cookbook Everyone's Talking About
An interview with the author offers a glimpse into the magic of Maghreb cooking, from Morocco to Libya to Algeria and Tunisia.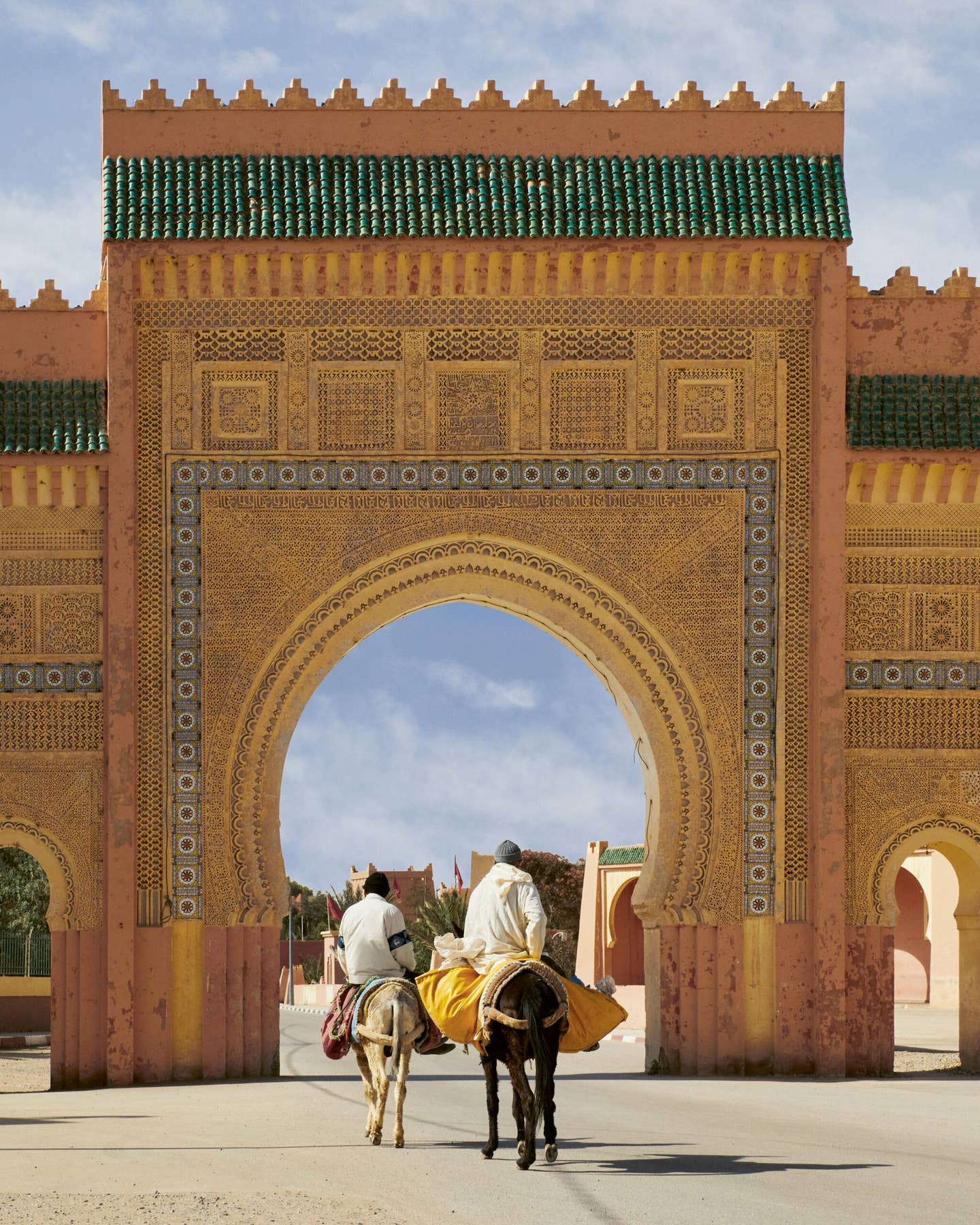 This story is brought to you by SAVEUR Cookbook Club, our passionate community of food-loving readers from around the globe celebrating our favorite authors and recipes. Join us as we cook through a new book every month, and share your food pics and vids on social media with the hashtags #SAVEURCookbookClub and #EatTheWorld.
On the Western half of the crown of the African continent sits a region known as the Maghreb, comprised of the countries of Morocco, Algeria, Tunisia, and Libya. Despite the distinct cultures, faiths, and languages of these countries, historians, philosophers, and politicians have often referred to the region as unified by its culinary traditions, particularly its common love of couscous. The word "Maghreb" comes from the Arabic word meaning "the west" or "the place where the sun sets," but it also expresses the inherent diversity of a cuisine that emerges from mountain peaks and river gorges, ancient forests, and fertile valleys full of fig orchards and citrus groves. Though the Maghreb may have couscous at its core, that dish is only one of the many iconic foods it has produced.
Since the late 1990s, the Barcelona-based journalist Jeff Koehler has been taking notes on the Maghreb, now available in his new book, The North African Cookbook, a gorgeous, inspiring blend of recipes and history. During his repeated trips across the countries of the Maghreb, Koehler found himself at a round table, which he learned had both a practical and symbolic purpose. "The cuisines of North Africa are meant to be eaten together," Koehler noted, and "with no 'head of the table,' there is a natural leveling in the hierarchy, at least during mealtimes." In addition to exploring many couscous and tagine recipes across the Maghreb, Koehler was able to pull together a thoughtful portrait of the region's expansive cuisine while also sharing the histories of essential techniques and ingredients such as semolina, smen (preserved salted butter), and argan oil. As a result, the 460 pages of his book feel both encyclopedic and intimate, a love letter to a region of ancient and constantly evolving tastes.
I chatted with Koehler over video chat from his home in Barcelona, as we explored the trajectory of his research, why color and presentation are such important elements of Maghreb cuisine, and what he wants readers to take away about this vast, complex culinary region:
JC: You talk a lot about food as a social experience across the regions of the Maghreb, even in the opening proverb you feature in the book: "Feed your guests, even if you are starving." Why did you want to open with a statement about hospitality?
JK: There's a way you treat the food for your guests, and the people who are at your table, that comes with wanting to do more, to offer the best, most balanced combination of flavors. It's not just about pleasing the palate—when you look at the chicken couscous, at the toppings of the hardboiled eggs and the fried almonds, it's always intentionally placed, especially with that sweet raisin tfaya topping on top. The visual experience is part of the hospitality: when you go to somebody's house, they don't offer you a couple of cookies, they offer you a whole platter. In Tunisia in particular, all-white food is less appreciated, because food should have color. There's an inherent visual appreciation of color, of patterns, of a variety of ingredients of textures. The most famous couscous is the seven-vegetable couscous, seven distinct vegetables—part of it is about flavor, and part of it is about what's visually appealing. There are so many different levels of pleasure, and it's a big mark of sophistication in the cuisine.
JC: What are the essential ingredients and tools you need to have on hand for this cuisine?
JK: Fresh herbs: cilantro, parsley, and mint, which are so important for the teapot, but also the perfect accompaniment to so many things. I always have good cumin, paprika, and dried ginger, and cinnamon. Sometimes orange blossom water, because a few drops go a long way, especially stirred into a tea or drizzled on a beet salad. Double-concentrate tomato paste is used in so many dishes, and of course, harissa, which is a more complex chile paste than most. (Tunisia's most famous export is that famous yellow can of harissa from Cap Bon.) I always have medium-grain couscous and barley couscous, and I have my tagine pot and my couscoussier—but you can go without it. The quick couscous method in the book, which is made in a big wide bowl, works well if you're going to eat it right away. (Just use cold water, not boiling water!)
JC: What was your research process like?
JK: I was always asking, "What is unique to this house or this village? And what is more standard?" "How do you make it? How does your mother make it?" I didn't just talk to restaurant chefs; I asked friends, and their parents, and their grandparents. I wanted to capture as wide a spectrum of cooks as possible, from urban to rural to high-end to palatial cooking to rustic. What I heard all the time was, "Here, it is done like this." And then I'd go next door and they'd say, "We never do it like that, we do it like this." I also wanted to see things done firsthand. I wanted to go to the women's collaboratives and see them grind the amlou, to see the goats eating in the trees, to see where the roses grew in the valleys of the High Atlas of Morocco. And I wanted to see the same thing across regions—the date harvest in Tunisia, but also in Morocco. While harvesting saffron, I'd see that the family plucking the threads was also making saffron tea. It was amazing.
JC: So many of the ingredients in the book—such as argan oil, which is extracted from indigenous trees in the Anti-Atlas Mountains of Morocco—depend on the geography of the region. But you remind us that this isn't the fantasy landscape of "earthen kasbahs and oases shrouded in date palms."
JK: I think the region gets reduced down to the Atlas or Marrakech, but it's so much more beyond that. People don't fully realize how powerful and important, globally speaking, this part of the world used to be. People don't always think of this cooking as part of Mediterranean cuisine, but when you think about landscape, you can start to see the connections. Perhaps it's the cuttlefish served throughout Tunisia, which is so close to Italy, or the way cumin is used as a seasoning, or the use of fresh mint in lemonade. These are things you see all the time across the Mediterranean, but here, it's something that the Maghreb has put its spin on.
The diversity of the landscape is such a surprise, and it offers the cook everything you could want, especially in Morocco (which is like the California of the region). Within each country, there are also regional cuisines, and each one is connected to whatever people have available. Things are, of course, shifting due to climate change—in one valley on the east side of the Berber-dominated High Atlas mountains, there used to be a lot of barley, and now when the rain is a bit less, they're growing a little less. But there's also more movement, and as a result, there are more ingredients coming across regions. The weekly markets remain enormously important, and when the flavor gets better and the price goes down, that's what goes in the pot that day.
JC: You specify a location at the top of each recipe, giving us a general sense of where each recipe originates, but you also note that there is no single way to prepare anything. Tell us about some of these variations you observed from place to place.
JK: Couscous is the most obvious one. You see that Tunisians love the spice and chile from the harissa, and the color that comes with it. In Algeria, the couscous tends to be more rustic, whereas in Morocco, you'll see a little emphasis on aromatic spices. Libyan couscous also tends to be spicy, but they also love the busla, an onion and chickpea topping. Couscous is truly perfect, and how you make it is completely logical and brilliant. Traditionally, if you're working with a couscoussier, you're steaming the grains over the stew below, so even the steam is an ingredient. It is also completely adaptable: it's made in every season, the country, in the city. It can be as rustic, or as spicy, or as subtle as the cook wants to make it. But there are even variations on dishes within a single country. Fresh mint tea may seem simple, but there are at least six versions in the book. There are at least three versions of eggplant zaâlouk salad—one chopped and pan-cooked, one steamed with tomato, and one grilled over embers and seasoned with vinegar. Even if the differences are small, they're not insignificant.
JC: Are there any parts of the book that readers will be especially surprised to explore?
JK: I think of the section on salads as a great showcase for the region, since it gives you a kind of daisy chain between savory and sweet versions of the same dish. Take the carrot salads: You can have a boiled version with cumin and chili, one grated with orange juice, and a Tunisian one that's spicy, mashed, and chilled. The connections between those dishes are such a great window into the variety in the landscape, and they offer the cook the chance to play with, and be surprised by, different flavors from the Maghreb region.
This interview has been edited and condensed for clarity.