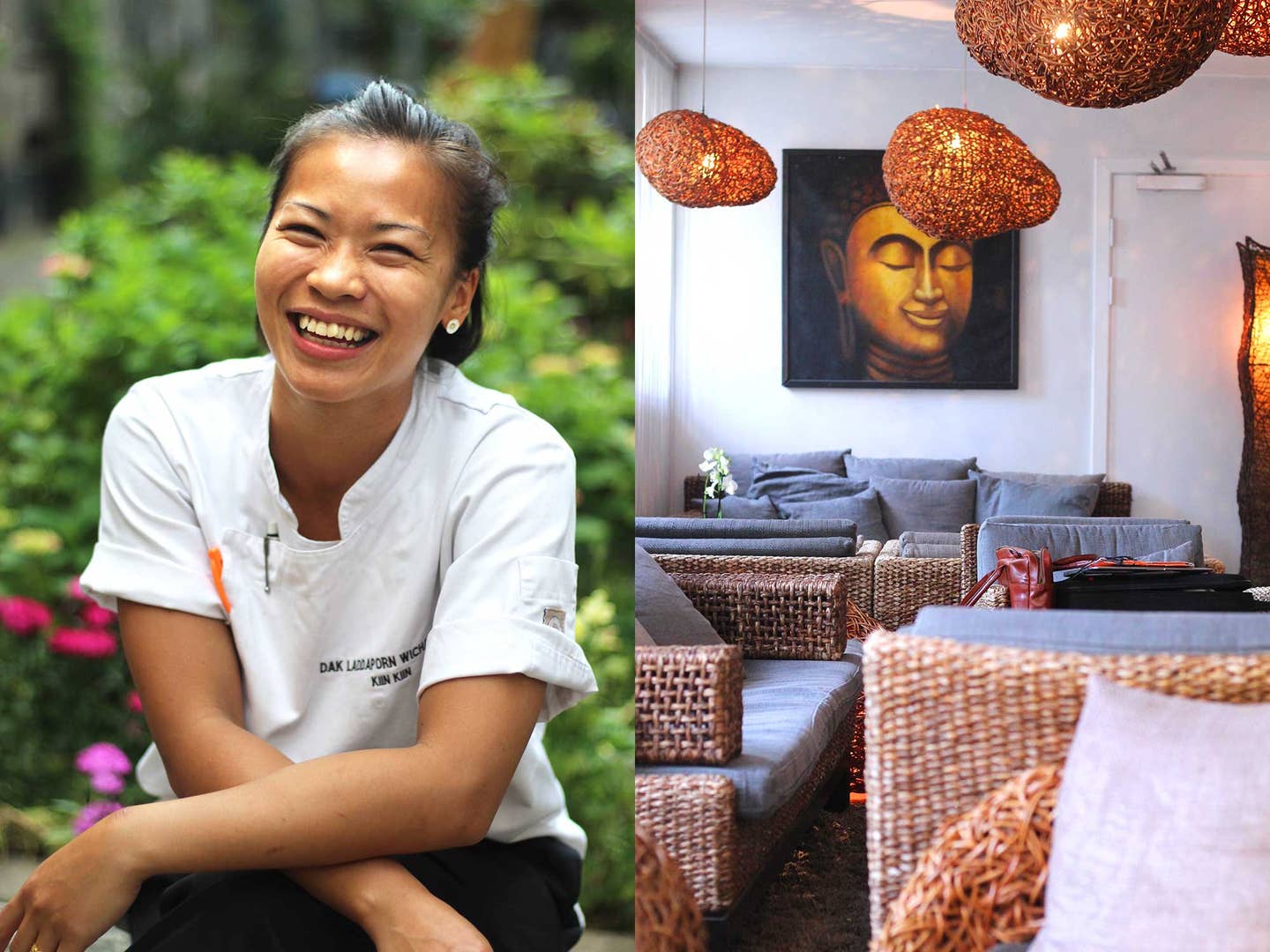 Culture
The Young Chef Changing Copenhagen's Mind About Thai Food
Dak Laddaporn, the chef of Kiin Kiin, on running a Michelin-starred Thai restaurant in a place that's very much not Thailand
Dak Laddaporn is a Michelin-starred chef in Copenhagen, but unlike most of her colleagues at other restaurants, she is neither male nor has ever tweezered ash-covered root vegetables onto a plate. As the chef of Kiin Kiin, the one of the few Thai restaurants in the world to receive a Michelin star, she's not doing so much tweezering of any kind. And when she turns to fermentation, so in vogue in the Nordic city, she's doing it to maker her own fish sauce.
In the crowded restaurant culture of Copenhagen, Laddaporn's food stands out.
"I may be 4'11, but there'll always be a chair, and I'll step on it," the 29-year-old chef says. She talks loud and laughs louder than anyone else in the kitchen, but, she notes, "people take me seriously because I'm not all about talking. I actually do it."
You'll try a mini wonton cone filled with eggplant, ginger, and peanuts; grilled baby squid, presented to you fresh on the grill, topped with coriander; and a small chicken sausage enclosed in a bell jar filled with smoke that aims to resemble that of what you'd smell in the market. Then you head upstairs for your proper meal, where Laddaporn pays tribute to the flavors and techniques of Thailand while also turning them on their heads. The langoustine red curry, for one, comes frozen.
"What we do is take a dish that Thai people know, split it into 5,000 pieces, and then build it back up with the same flavor but maybe not the same texture," Laddaporn says. "So when you eat a dish, it reminds you of the original, but the look and texture of it is different."
Born in Nong Khai in Northeast Thailand, Laddaporn grew up on a steady diet of Isaan cooking: crunchy papaya salads, spicy minced pork larb, and hot-and-sour soups. However, she only spent the first seven years of her life there before moving to Jutland, Denmark, where half her dinner table was dedicated to Thai cuisine and the other half to the Danish foods of her stepfather. She always loved to cook but never imagined becoming a chef—until she read a newspaper clipping about this Thai restaurant run by a man named Henrik Yde-Andersen that had a Michelin star when she was 16 years old.
"I became curious, and was like, 'how did he do it? How did he put this very down to earth way to eat, where everything is by hand, out of the street kitchen?'" she says. So she took an international cooking class at culinary school in Silkeborg Hotel og Restaurant, working part-time at a fine dining French restaurant in Aarhus, Sweden, and then went straight to eat at Kiin Kiin after graduating. She started four months later, and in 2013, she became the head chef at 25.
Yde-Andersen says Kiin Kiin has been fully booked for the past 10 years, but there are still challenges winning over the public and certain members of the fine-dining world. Kiin Kiin has had a Michelin star since 2007 (a year after it opened), but this year, of the 20 Michelin stars awarded to 16 restaurants in Copenhagen, Kiin Kiin was still the only Asian restaurant to receive any. Furthermore, only two of those restaurants featured female head chefs: Laddaporn and Anita Klemensen of Den Røde Cottage. But Laddaporn isn't trading in her fish sauce for bechamel to court public attention.
"We've always been an underdog because the focus for the past few years has been the Nordic cuisine, so sometimes we feel overlooked," she says. "But people are finally recognizing our flavor. The Danes do love their red curry."
Correction, Sept. 12th, 2016: An earlier version of this story stated that Kiin Kiin is the only Thai restaurant outside Thailand to receive a Michelin star. That is incorrect, and we've updated the story accordingly. SAVEUR regrets the error.