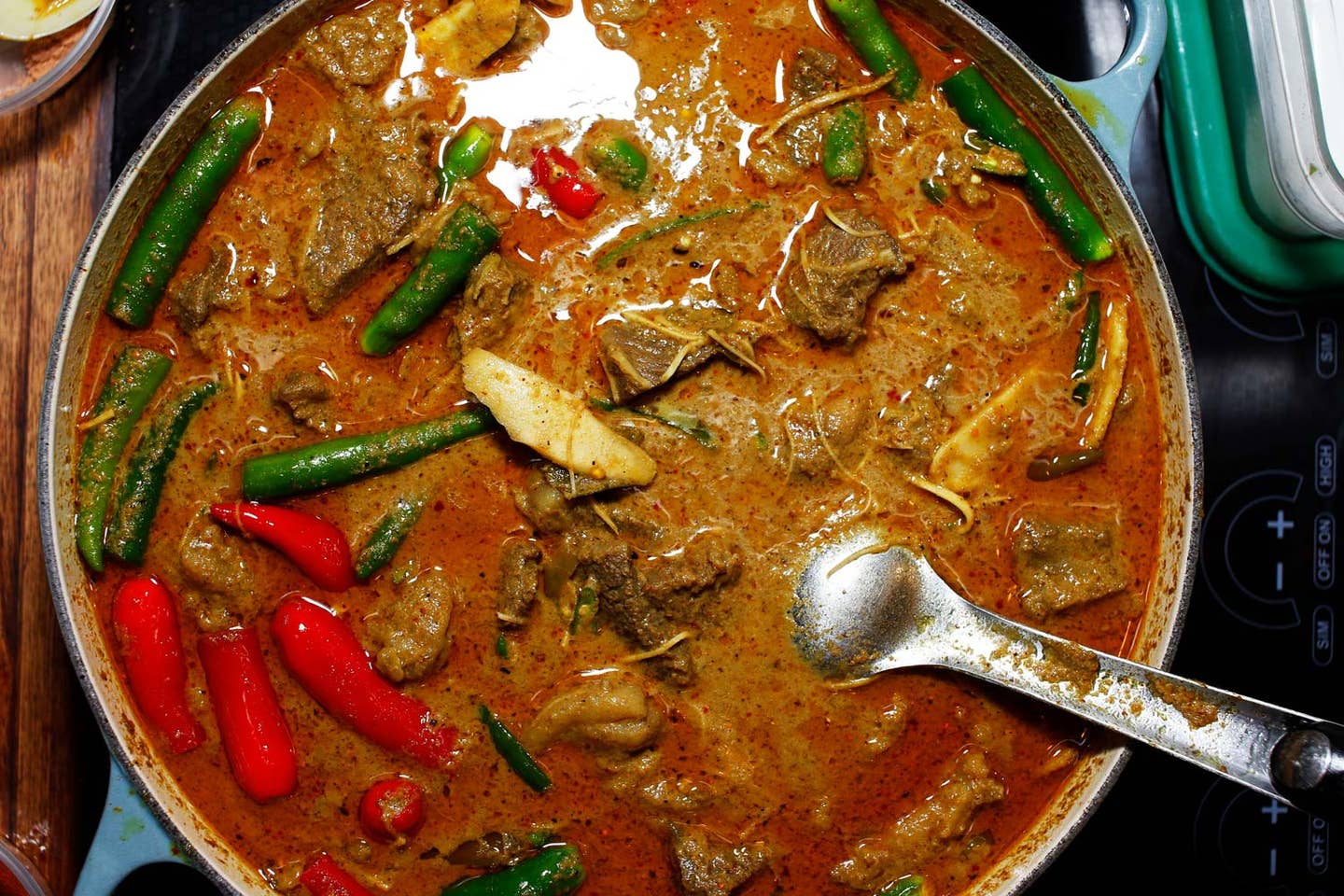 Culture
Chef David Thompson Wants You to Cook More Thai Food
His new company Khong Thai is bringing premium Thai ingredients to cooks in the U.S.—and to the SAVEUR test kitchen
Australian chef David Thompson has been cooking Thai food for more than three decades, and in that time has become an ambassador for the cuisine all over the world. In 2001, he opened his restaurant Nahm in London's Halkin Hotel to immense critical acclaim, and it was the first Thai restaurant to receive a Michelin star. Nine years and two cookbooks later, Thompson moved Nahm to Bangkok, where it was also awarded a Michelin star. In 2014, he opened Long Chim, a Thai street food restaurant in Singapore, and locations quickly followed in Melbourne, Sydney, Perth, and Seoul. With a long list of accolades and a growing restaurant empire, Thompson's reputation precedes him, but he will be the first to tell you that it's the ingredients that do most of the work. "One thing that has bamboozled and frustrated me is the disparity [in quality of ingredients] that is available in Thailand and what is available outside," says Thompson.
That's why he and partner Jate Sopitpongstorn of Dusit International, one of Thailand's leading hoteliers, have their sights set on your pantry, rather than a location for a new restaurant. Both strong believers in the importance of premium ingredients in Thai cuisine, Thompson and Sopitpongstorn have created a line of products that will make those ingredients available outside of Thailand. From curry pastes to pad thai and satay sauces, all of the products come from Thompson's own recipes and are made with ingredients sourced from local farmers and producers. They've christened the company Khong Thai, which translates to "all things Thai," and a recent SAVEUR Supper served as a delicious showcase for what the products can do.
With the help of the Fish Cheeks team and surprise guest chef Andy Ricker of Pok Pok fame, Thompson prepared richly flavored curries in every color, bracingly fresh salads, and an unforgettable sticky rice dessert. "If I can cook good Thai food, you can, too—with the right ingredients," says Thompson. Get a behind-the-scenes look at the Supper below.