Restaurants Are Closing Across the Country Today for a Day Without Immigrants
The hospitality industry is showing solidarity with the immigrants that make restaurants possible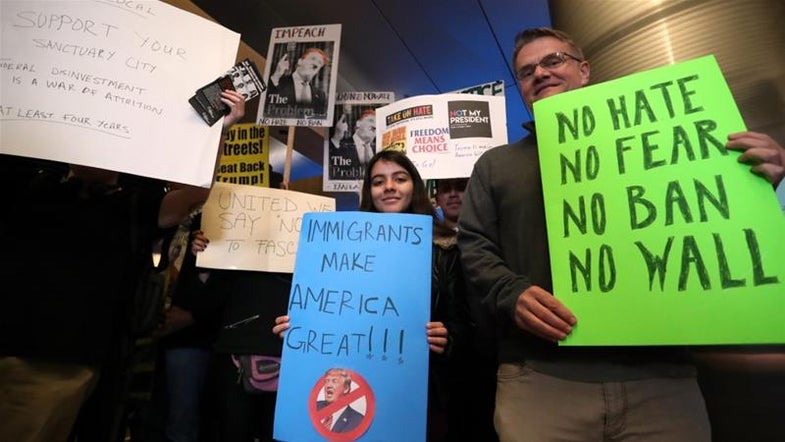 Cities across the U.S. are declaring today a "Day Without Immigrants" in order to demonstrate the profound effect that immigrants have on the country's economic and social makeup. The movement, which Al Jazeera reports was primarily organized through social media and word of mouth, encourages immigrants to "miss class, work, and not to shop on Thursday," instead participating in organized protests.
The restaurant industry in particular is showing strong support for this action. Al Jazeera cites the Pew Research Centre, saying that "Undocumented immigrants make up about 9 percent of employees in the hotel and restaurant industry in 2014," and a piece in the Philadelphia Inquirer further illuminates their role: in this "$550-billion-a-year restaurant trade, in which immigrants—some here legally, some not—play essential roles as chefs, line cooks, servers, and dishwashers." The Inquirer reports that a number of restaurants in the city have posted signs early this morning stating that they will not open today, and they're showing their support in various ways: "Some restaurants around the region are closing for the day in support of foreign-born staffers. Others plan to pay employees whether they show up to work or not. Some plan to serve drinks but not food, saying they can't open their kitchens without immigrants."
The Day Without Immigrants follows a week of seemingly nonstop immigration raids, culminating in over 680 arrests. (NPR notes that while 75 percent of the 680 arrested had criminal convictions, the range of severity isn't known; per NPR, "The Department of Homeland Security did not specify how many of the convictions were for the most serious crimes, like homicide and sexual assault; in regional fact sheets, ICE provided more detailed information on only 15 arrested individuals. It's also unclear whether the 75 percent statistic includes more minor crimes than the examples listed.")
Greg Dodge owns Tredici Enoteca and Zavino, two restaurants operating in different parts of Philadelphia, and told the Inquirer that management has decided to close both locations today. Dodge said, "I've been in the business since I was 14…and in 30 years I have never seen such an outpouring of support for a cause. We want to support our employees. There's no political agenda here. If an employee wants to make a point, the least I can do is support him…To not listen to them would be a mistake."
Chef Jose Garces also owns a number of restaurants around Philadelphia, and while he will not be closing his businesses, he recognizes the protest's importance to some of his employees. The Inquirer gives a comment from a spokeswoman for Chef Garces: "We recognize the immigrant community is an essential part of the hospitality industry. Since 2012, the Garces Foundation has provided health, nutrition, and education resources for immigrant families in need…We support the right for hospitality-industry employees to have their voices heard."
Other business owners in other cities that have expressed solidarity include salad chain Sweetgreen, which will be closing its DC locations for the day. Chef José Andrés will also be closing his restaurants in DC and Maryland, and chef Rick Bayless plans to close four of his Chicago businesses to show support. The list goes on, with news organizations reporting closures in Minneapolis, Austin, New York, Boston, and other other cities across the country.
It's impossible to deny the profound effect that immigration, both illegal and legal, has on all of the country's structures. Just this morning Atlanta Magazine notes that despite prolonged efforts to find a service industry dishwasher willing to be profiled in an upcoming issue as an "unsing kitchen worker," not one was comfortable being put in the spotlight. "They don't want their picture taken, name given, or anything that would draw attention to themselves," said a representative for an Atlanta restaurant group that wished to remain anonymous. The representative pointed out that over two thirds of the group's kitchen employees are Latino immigrants, and that "if things keep going this way, we may start losing a lot of our Latino help. Most of my guys are running pretty scared right now."