Culture
Dining with James Baldwin
Jessica B. Harris remembers a summer week in Provence, dining and drinking with the iconic writer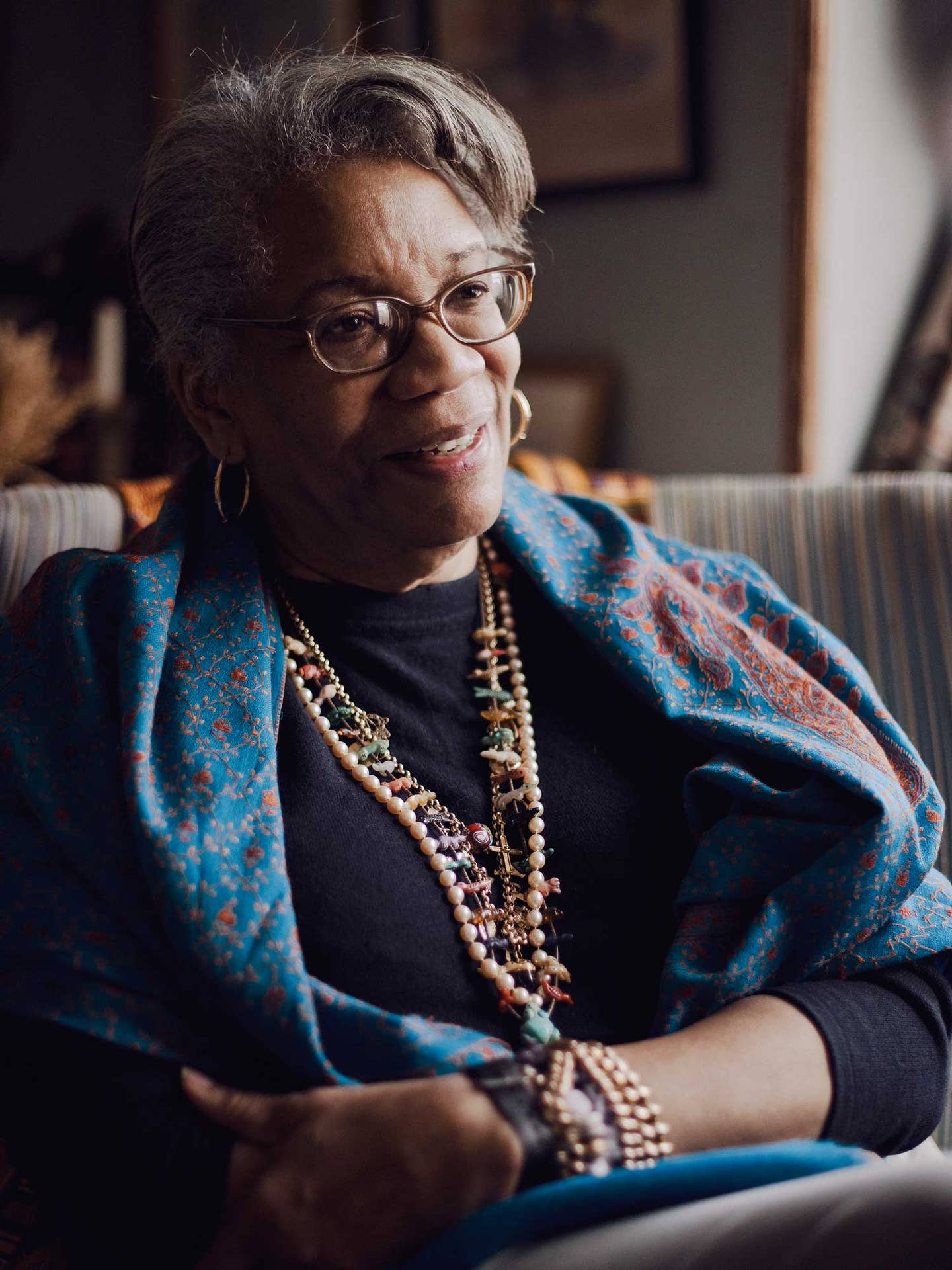 The summer I visited James Baldwin at his home in Provence he was working almost constantly, fine-tuning the manuscript that would become If Beale Street Could Talk. Most of our exchanges occurred around the table at lunch or dinner. It was 1973, and I was a 25-year-old fledgling French professor, who just happened to be dating Baldwin's best friend, a fellow Queens College professor named Sam Floyd. Just after our arrival we gathered presciently around what Baldwin would later baptize as his "welcome table," an outdoor dining table nestled under a grove of towering cedars. He had just come up from a self-imposed sequestration in his basement living quarters where he spent most of his days writing.
I'd met Baldwin before in New York City with Sam, and his face was a familiar icon to any Black person of the period. I was invariably impressed by the kindness and the caring, the absolute seriousness backed by an elfin twinkle, and the enormous humanity of his smile every time I saw him. I said my awestruck hellos and we sat down to a lunch prepared by his housekeeper and cook, Valerie Sordello. I recall an oh-so-splendid soupe au pistou that greeted us at the table. Dense with minced vegetables and heady with the pungent garlic that is the hallmark of the region's cooking, it was the perfect introduction to Provence.
The south of France has long held a special place in the hearts of the French—and the world beyond—luring writers and artists, the famous, the infamous, and the merely ordinary for centuries. As a result, in the 1970s, Provence became the nexus of many significant culinary conversations that continue to resonate with American eaters almost half a century later. Richard Olney, who would become the editor-in-chief of the Time-Life Good Cook series later in the decade, settled alone in the hills above Toulon. Julia Child, at the height of her initial television fame, entertained M.F.K. Fisher and James Beard at her home, La Pitchoune. To the east, Michel Guérard was reworking la cuisine classique into the lighter, more delicate cuisine minceur, and to the south, near Cannes, Roger Vergé was opening Le Moulin de Mougins and pioneering la cuisine du soleil, a transformation of classic Provençal cooking. The culinary world was making a major shift that influences us until this day, and James Baldwin was an unlikely observer.
The dappled sunshine and warm weather of the south of France beckoned Baldwin, who arrived there from Paris in the early 1970s to roost in Saint-Paul-de-Vence, one of the villages perched precariously on the hilltops above Nice. The days there were simple, and mostly organized around Baldwin's writing schedule. Baldwin enjoyed food, and his meal breaks from writing allowed him to indulge his omnivorous appetite and knowledgeable, international palate. Some were taken at the local Café de la Place, where, if the gods had conspired, a prix fixe luncheon special might be accompanied with a view of the boules pitch down on the town square, where a heated game might be going on between such notables as tough-guy character actor Lino Ventura and honey-voiced Yves Montand, the unofficial mayor of the town. Many nights, there was a libation or two at La Colombe d'Or; still helmed then by Paul Roux's wife, Titine, the legendary hostelry was the spot for special meals and preprandial drinks. Baldwin became a regular on the bar's low wooden stools that seemed better suited to milking cows than supporting the backsides of the rich and famous.
One evening, after drinks with Baldwin and his close friend Bernard Hassell, a road trip was conjured from the mists of Scotch and wine. We would visit the acclaimed chef Georges Garin and his wife, Mary, Baldwin's good friends who had also lately abandoned Paris. Recently retired from their two-Michelin-starred Chez Garin, the duo packed up their things and their beloved Abyssinian cat, Tikété, and moved to Solliès-Toucas, 65 miles southwest of Saint-Paul-de-Vence. The walk back down the hill to Baldwin's home concretized our plans, and it was decided that we would head out the following day: myself, Sam, Bernard, and the man that I had learned to call Jimmy.
A car appeared in the morning, a rather large Mercedes as I recall, and we all loaded in, heading over hairpin turns toward the sea. As the sun rose in the sky we wended our way west along the glittering Azure Coast, past the familiar towns of the French Riviera—Antibes, Saint-Tropez, Le Lavandou, Hyères—before, finally, on the outskirts of Toulon, heading up to Solliès-Toucas. Culturally, it was a distance as well from the Italian influences of eastern Provence to the hills of Provence proper, the absolutely French place that has held the imagination of artists for generations. In the car, conversation centered on nothing more dramatic than the weather, the enduring friendship of Jimmy and Mary Garin, the woman to whom he'd dedicated Another Country, and the anticipation of a superb meal prepared by Georges.
In Solliès-Toucas, Georges Garin did what many chefs do in retirement—he opened another restaurant. Le Lingousto was smaller, more casual in feel than Chez Garin, but no less exacting in its menu offerings; the meal did not disappoint. The new place was just the right blend of rustic Provençal and Parisian style, a lighter, sunnier version of Chez Garin. Our aperitifs for the evening were not the usual Provençal pastis, but rather for Jimmy, Sam, Bernard, and Mary, the Scotch that was de rigueur at all the gatherings of this circle of friends. (I was quite happy with several glasses of the local Bandol.) The luncheon menu began with the eponymous lingousto, a Mediterranean langoustine grilled and served with an airy sauce about which all raved. I, unfortunately, had to take their word for it because of a shellfish allergy. We then proceeded to a main of roasted lamb, done to a turn and accompanied by baby carrots, zucchini, string beans, and one of the unctuous vegetable purées that Georges had pioneered in Paris. The lamb was pink, fork-tender, and flavored with herbes de Provence, the seasoning blend that in gastronomic synesthesia captures all of the fragrances of the region, mixes them with sunshine, and transforms them into a taste. A true Provençal mesclun followed, brilliantly dressed with vinegar, local olive oil, and (I imagined) a hint of the lamb jus. A cheese course accompanied by crusty baguettes showcased southern specialties—I recall that there was a Roquefort because at an earlier meal at Georges' Paris place, he had taught me how to eat it as some French families do, by mashing butter into it before slathering it on bread or a firm, ripe pear, thereby making it at once milder and richer. Dessert was simple and simply perfect after a languorous lunch in the sunshine: fresh pineapple. Ripe and sweet-tart, it sealed off the meal brilliantly.
Conversation that evening floated from the profound to the banal. As often happens when old friends meet, its thread seemed to spool onward from some previous time. Friends were evoked, discussions continued, glasses refilled, and all too soon the sun began to sink. Replete with wine and warmed by the Provençal air and the balm of friendship, we piled into the car and headed back down the hills and along the coast to once again ascend to Saint-Paul-de-Vence.
Jessica B. Harris is a James Beard Award-winning author and culinary historian. Her memoir, My Soul Looks Back (Scribner), was published in 2017.