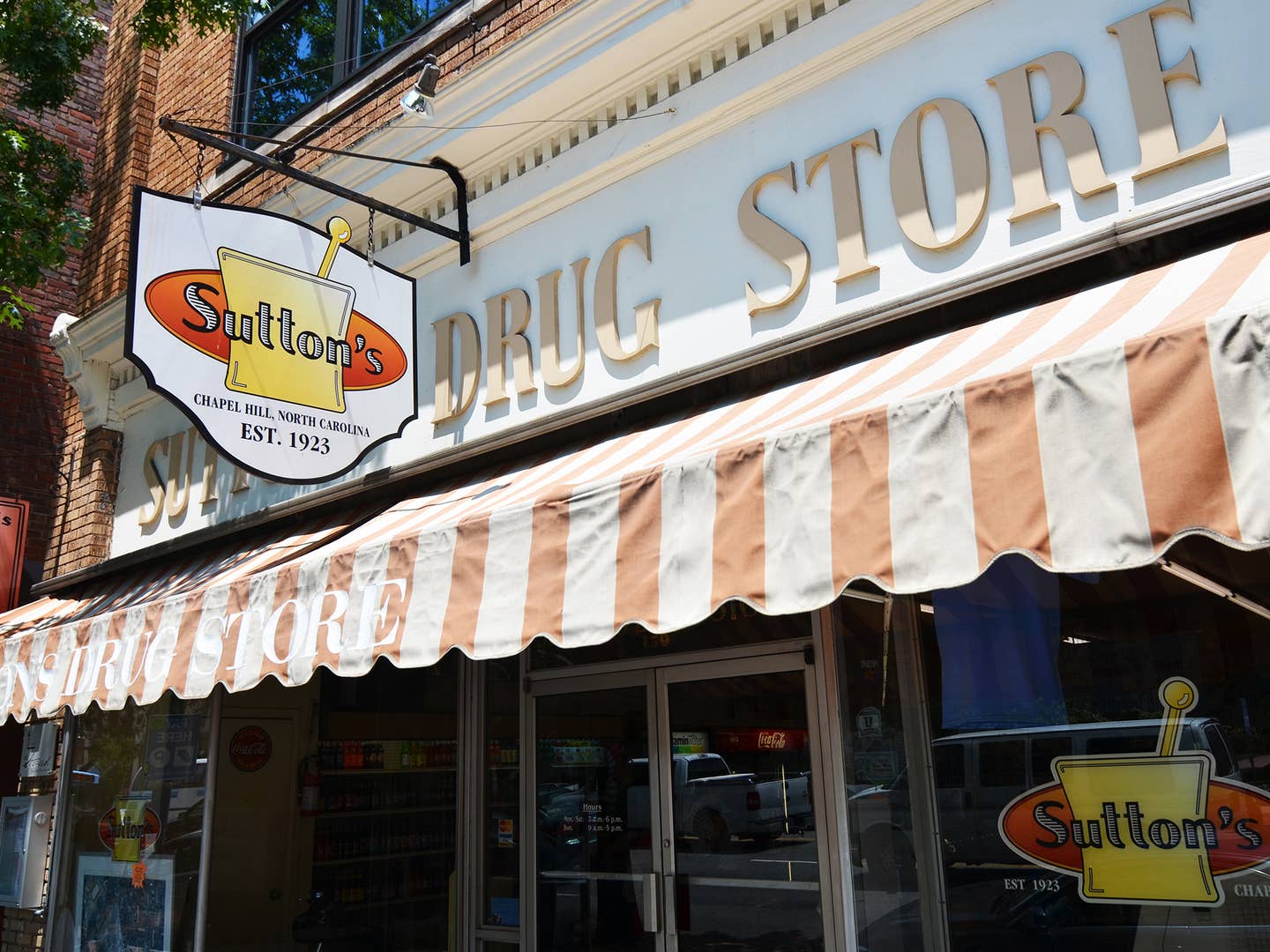 Travel
Dispatch: Burgers and Fries in Chapel Hill, North Carolina
No-frills, former drugstore Sutton's serves classic diner fare to a spirited college town
Restaurants mysteriously disappear from Franklin Street, the main drag at the University of North Carolina at Chapel Hill. I've watched as Qdoba, Caribou Coffee, Top This!, and Gigi's Cupcakes came and went with the passing semesters. Sutton's Drug Store, however, remains a constant fixture.
In 1923, Linwood and Lucy Sutton opened the drugstore, where they also sold groceries and other essential items. When the store was sold in 1977 to business partners, John Woodward Jr. and current owner Don Pinney, they decided to clear out a portion of the merchandise area in order to make room for a lunch counter and dining tables. Starting with just 18 seats for in-house dining, they've gradually added more and more booths, allowing families, students, and visitors to Chapel Hill to frequent Sutton's for cheeseburgers (their most popular item), hot dogs, and sandwiches.
Sutton's is the mecca for delicious comfort food in Chapel Hill. In June of 2014, the drugstore portion of Sutton's was sold to CVS Pharmacy, a newer addition to Franklin Street. Now that the pharmacy is no longer part of the store, the only vital remedy that Sutton's offers is a bacon, egg, and cheese to a crowd of ailing college students on Sunday mornings.
Aside from comfort food, they also sell jams and jellies made from family recipes that draw on local, seasonal ingredients. The crowd favorite is "Frog Jam," which consists of figs, raspberries, orange juice, and ginger. In July 2014, Sutton's began stocking 30 varieties of vintage sodas. One year later, they now carry 87 different sodas, and the best sellers are Cheerwine, RC Cola, and Nehi. They make for the perfect sweet counterpart to your meal, whether glugged straight from the glass bottle or poured over a cup of the best crushed ice in town (seriously, it's important).
If you're looking for Chapel Hill's trendiest restaurant, I'd tell you to shift your gaze towards any of the newer joints along Franklin Street. At Sutton's, the food is uncomplicated and impossible to dislike, but the best part is the experience. The service is always friendly and welcoming*, and the atmosphere is casual and fun. Pinney says, "We want you to feel like you're family when you walk in." The walls are covered in UNC athletic rosters, Tar Heel paraphernalia, and autographed pictures of the movie stars, past presidents, and professional athletes that found their way to a Sutton's booth. Your chances of spotting a UNC athlete are also pretty good, which is a huge incentive for young sport fans or eager college students looking to be mildly socially relevant. It's nearly impossible sink your teeth into a burger without making eye contact with a historic UNC figure plastered on the posters throughout the store. I always leave reeking of a combination of fries and unrivaled greatness.
It's only right that the oldest (unbiased) and greatest (biased) public university in America is home to a joint like Sutton's. I go because it's a special place with at least one familiar face, a meaningful history and great chicken fingers. I also go for the ice. I'm telling you, it's really great.
*Can't speak for Duke fans