In Marrakech, Mealtimes Come with Extras on the Side
From culinary classes to contemporary cocktails, here are five restaurants in this bustling city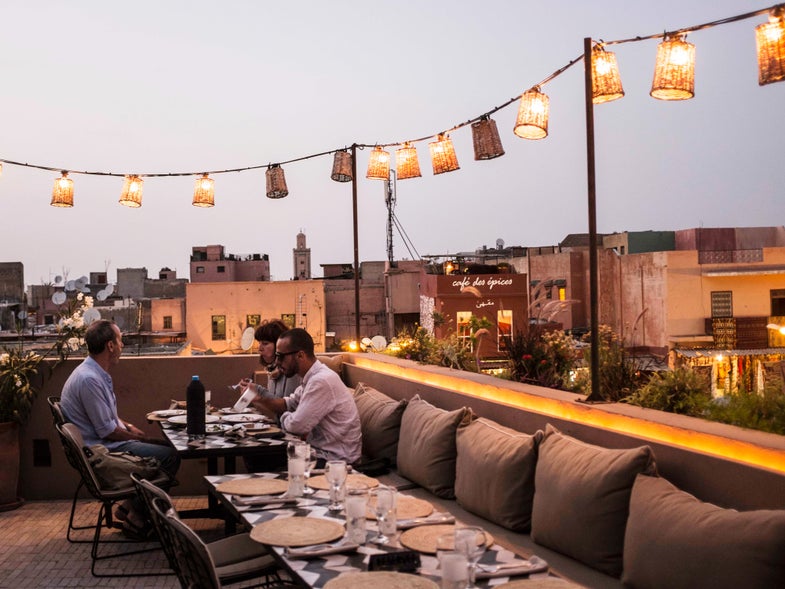 Morocco is the land of spices, herbs, and scents; of seven-vegetable couscous and clay tagines that stew up anything from chicken to beef to fish with little more than an occasional stir. While classic kebabs and slurpy snail soup can be found in the nightly stalls of Marrakech's bustling Jemaa el-Fna Square, where snakes are charmed and bright round oranges are pressed into pulpy juice, there's no shortage of more traditional restaurants either. But traditional doesn't mean predictable. Each of these five spots offer a little something extra with mealtime: From Parisian chefs whipping their Michelin stars into north African delicacies while live music plays in the courtyard to local dadas (traditional female cooks) who eschew blenders for their hands and will teach you to do the same.
To Escape the Medina, with Lunch and Juice: Le Jardin
After you've haggled the price of your Berber carpet and picked out all your copper lanterns from the souks of Marrakech's maze-like medina, or old city, weave your way to this lovely respite in the center of souk El jeld. Surrounded by lush greenery where turtles roam the garden eating lettuce at your feet, it's a great spot for a fresh juice (try the orange and beet), a milky date shake, or something simple, like a club sandwich and a side of fries. There are Moroccan dishes, too, but the space, with its upstairs pop-up shop full of high-priced kaftans from Algerian-born designer Norya Ayron, caters especially to visitors and expats—but won't make you feel like you've just gotten off the tour bus.
Le Jardin
32, Souk Sidi Abdelaziz
+212 5 24 37 82 95
Monday-Sunday, 10 a.m.-12 a.m.
For a Traditional Tagine that Comes with a Lesson: La Maison Arabe
What started out as a restaurant back in 1946 is now a full-fledged hotel with 26 rooms and a first-rate cooking school where students can spend four hours with a dada, learning how to preserve lemons and then mixing them up with chicken and olives in a tagine. Two classes are held daily: One at the hotel and one on their off-site property 15 minutes away, where eclectic herbs like lemon verbena and chocolate mint grow wild in the garden. During the class, participants get their own cooking station, complete with a video screen to mimic the dada, and ingredients to chop and measure. Once all's been stirred and stewed, you'll feast outdoors before receiving a completion "diploma"—and your own mini tagine to take home. It's an absolute must in the medina.
La Maison Arabe
Derb Assehbii
+212 5 24 38 70 10
Half-day cooking courses at 10 a.m. or 3 p.m.; 600 dirham pp not including alcohol (or $62 at 9.67 dirham to the $1)
For Late Afternoon Story Telling with a Snack: Cafe Clock
"Morocco is not only about monkeys with diapers in the square," said an apprentice storyteller before introducing his mentor Hajj Ahmed Ezzaraghani, 75, who shares tales that date back thousands of years—known as hikayat—at Cafe Clock every Thursday night. The cool hangout, opened in 2014 by British expat Mike Richardson, is not only a self-proclaimed "cross-cultural" destination for fables or morning yoga classes—it serves starters and snacks like creamy artichoke soup and a vegetable bastilla, or savory pie, and it's home to the famed Clock Camel Burger with homemade "Tza" Ketchup (loaded with cinnamon), which is out of this world.
Cafe Clock
224 Derb Chtouka
+212 5 24 37 83 67
Monday-Sunday, 10 a.m.-10 p.m.
For a Michelin-Starred Dinner with Music: Le Grande Table Marocaine
From the pouf (a pillow-top stool) provided for your handbag to the orange blossom water brought over to your table for hand washing, this is decadent dining in all its glory. If you can't afford to stay in one of the Royal Mansour's private riads—a traditional, open-roofed house—for upwards of €1,000 a night, settling for Parisian chef Yannick Alleno's Moroccan Table (his Table Francais is just across the courtyard) is an excellent alternative. Here, snails are grilled and stuffed into ravioli, clams from the country's Dukkaha Abda region are cooked in a tagine, and beef is served with gnocchi spiced with saffron from Ourika in the Atlas Mountains. Start with a glass of Laurent Perrier Rosé Champagne before the meal where a man plays an Arabic string instrument called an oud in the blue-tiled, open-air courtyard. There's not a worry in the world—except maybe the bill.
Le Grande Table Marocaine
Rue Abou Abbas El Sebti
Dinner only, Monday-Sunday from 7:30 p.m.
For a Modern Moroccan Dinner, with Cocktails: Nomad
This rooftop spot, which opened in November, is just steps from the historical Jemaa el-Fna Square—but it couldn't be more contemporary and cool. Co-owned by Brit Sebastian de Gzell, who collaborated with Serge Becker on Miss Lilly's in New York City's SoHo, it's a multi-level restaurant dressed up in designs from local artisans but maintains a more minimalist look with tan cushions and black and white patterned placemats. The modern Moroccan cuisine features eclectic twists on classics such as a bastilla filled with vegetables and goat's cheese (instead of pigeon) and calamari from Agadir in a cumin and anchovy-infused sauce with harissa. Alcohol can be hard to find in this city, but here, cocktails like cucumber martinis or mojitos are on tap for international clientele.
Nomad
1, Derb Aarjan
+212 5 24 38 16 09
Monday-Sunday, 11 a.m.-11 p.m.
Sara Lieberman is a freelance lifestyle and travel journalist whose work appears in the New York Times, Hemispheres, The Daily Beast and more. She enjoys practicing yoga in unusual places, all things New York and Paris (her two "homes"), and considers one piece of pizza the perfect snack. Her personal musings on self-discovery while discovering the world can be found on her blog News Girl About Towns.