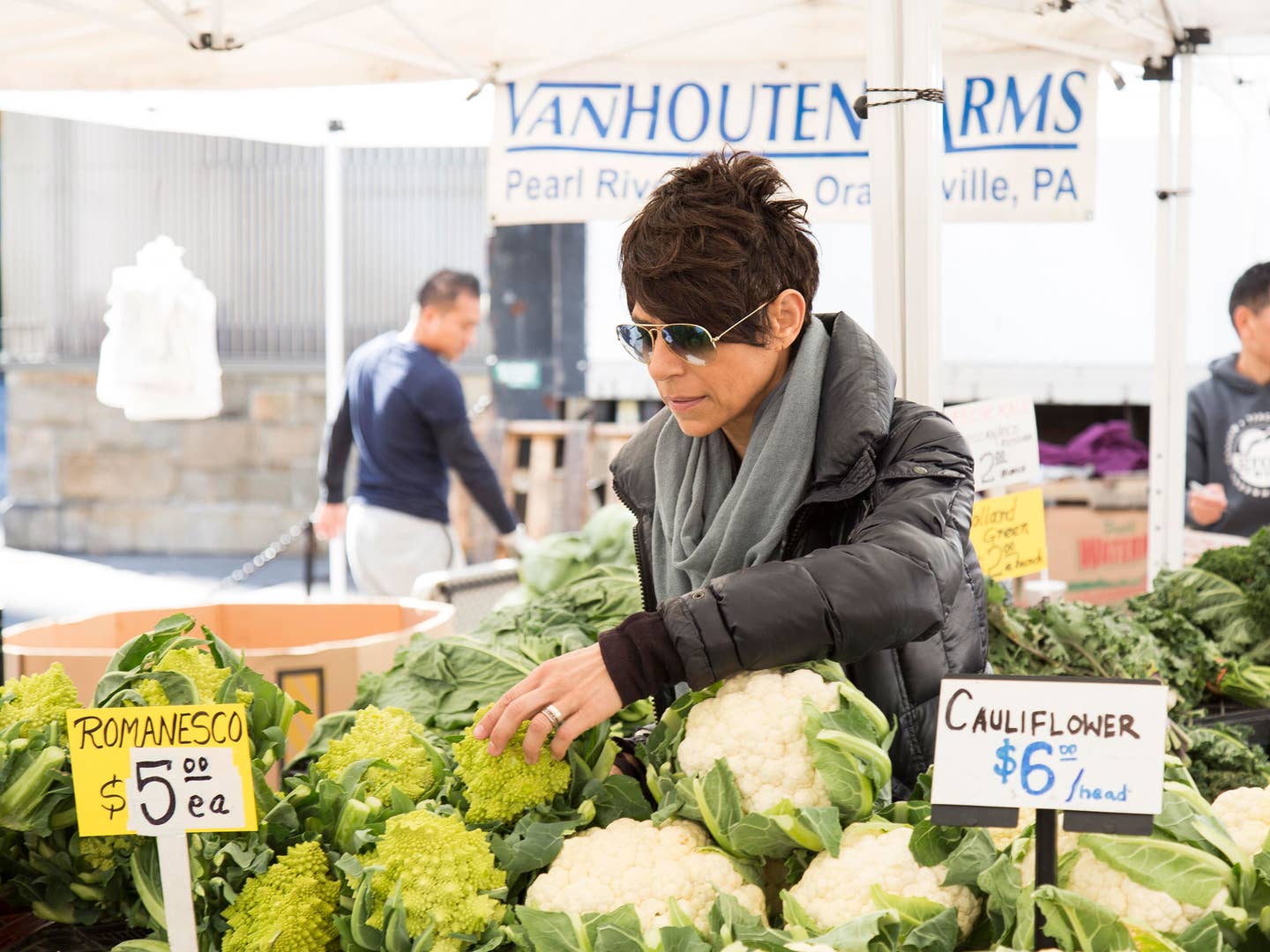 Culture
What Happens When You Set Dominique Crenn Loose in New York's Biggest Farmer's Market
The California chef on finding inspiration from the unexpected—and how to make a killer gratin
"When you go to any type of market," says Dominique Crenn, "I don't think you should have any idea of what you want to do." Crenn is the chef/owner of Atelier Crenn, a two-Michelin starred restaurant in San Francisco. Running Atelier Crenn, or her recently opened Petit Crenn, or any restaurant, takes a lot of planning. Whim and impulse are not part of the dinner rush.
But that's not to say improvisation is not in Crenn's wheelhouse. In fact, her poetic, romantic approach to cooking is all about spontaneity. So when she was in New York for the release of her new book, Atelier Crenn: Metamorphosis of Taste, we decided to put her on the spot, setting her in the Union Square farmer's market to take a dish from ingredients to ideas to execution.
"It's all about adaptation," Crenn says. "I think you need to go with the flow and see what's available." The thermometer on our visit suggested summer, but the calendar—and the market's offerings—said fall. Crenn was far from her Bay Area home and the comforts of local markets she's used to there, but you can tell she flows through any market with grace and aplomb.
She made eyes with bright turnips, purple and white, stacked under nearly every tent. "Turnip is an amazing vegetable, so the idea came to do a dish that was kind of a take on an old classic; a gratin." The next step was to track down a variety of turnip types, because, "When I do a dish," Crenn says, "it's all about taste and texture. It's kind of emotional. I want every nuance that a vegetable can give me." So with a dish in mind and turnips (Purple Top, Gold Ball, and Japanese) in hand, Crenn turned her attention to the rest of the ingredients.
"What I love when I come to the markets here on the East Coast, especially in New York," Crenn says, "is the cheese here, and the butter." The butter would provide some of the fat, but she planned to use milk instead of cream. "So I wanted to add some more fat content to the dish," she says. For that, she chose an aged cow's milk cheese. "The fat content is pretty high," she notes, tasting a sample of the cheese before deciding to buy it. "It's been aged. So there is kind of a nuttiness and funkiness to it. This is what you want to do against a vegetable that is very light." The last ingredient was fresh herbs—lemon thyme and sage in this case—because they breathe life into the dish and contrast the heavier milk and butter.
In the test kitchen, Crenn got to work without a recipe. There was no need for a play-by-play; she was going on instincts. The idea is a simple one, and it starts with a sturdy sauté pan over medium heat. She added a generous heap of butter, then rinsed turnips and cut them into wedges while it melted. Crenn laid the wedges into the pan in a single layer, sprinkled them with coarse salt, and left them to cook until the butter started to bubble. That's when she turned the wedges and added milk, then thin slices of the cheese as the turnips melted into the dairy. It all went into a 350 degree oven until the cheese blistered, browned, and bubbled. Voilà.
More than a few pairs of curious eyes, raised by tiptoes, witnessed this transformation take place. Once it had, the gratin came out of the oven and got attacked by an office full of baguette-wielding staffers. None of whom could have planned for how good it was. Not even Crenn herself.
Video: Making Root Vegetable Gratin with Dominique Crenn